A Sensory-Friendly Holiday Season in Myrtle Beach
A Sensory-Friendly Holiday Season in Myrtle Beach
Before you know it, Thanksgiving and Christmas will be upon us once again. This can be a special time of sweet memories and joy.  For families with autism, certain challenges can exist which make the occasion stressful, but with a little forethought, having fun can be accomplished!
Thanksgiving and Christmas are typically seen as a chance for families to gather, cook for each other and catch up on their lives. It can be fun, loud and fulfilling but also exhausting even for typical people. In order to minimize stress at the holidays, here are a few pointers:
If traveling to an unfamiliar destination, arrive a day or two before the gathering to get a good rest and acclimate to new surroundings.

Explain to your child who you will be visiting and get them involved in preparations for the holiday so they can feel a part of the experience.

When you arrive at the host's house, ask if you may determine a quiet space for your child to escape to if things get too loud. I often ate in another room with my son because the noise at the table was overwhelming for him. We regrouped with the family afterwards. 

Bring toys or devices that your child finds comforting. My son always brought his IPad which he could spend time with alone or share with his cousins. 

Understand that your child may not be able to stay for hours on end at a party which might have numerous stressors present. Be up front with your host that you may not be able to stay all day.

If you have food limitations, such as gluten or dairy, be sure to let your host know or bring your own meal for your child with their favorite foods.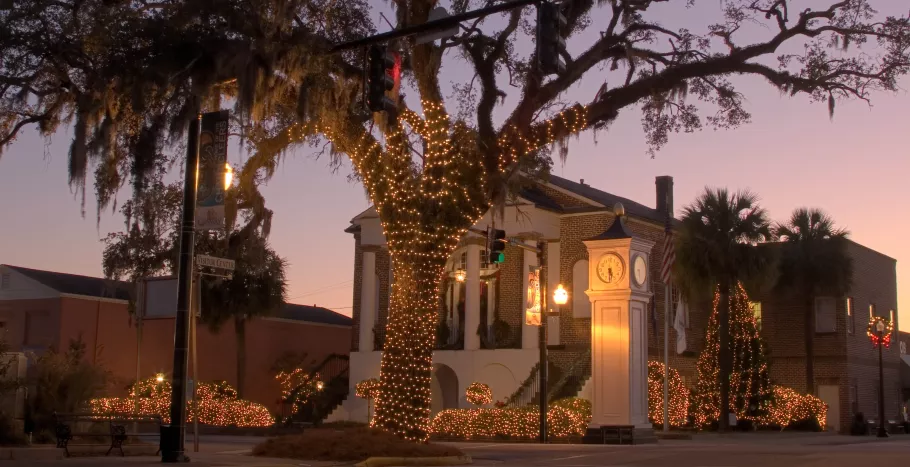 Now, if you are lucky enough to be in Myrtle Beach for Christmas, there are some wonderful events you can attend that are on the quiet side.
Hosted by Champion Autism Network (CAN), this sensory friendly event will be held at Crown Reef Resort Conference Center on December 10, 10:00-12:00. Caroling, crafts, food and photos with a very kind and patient Santa will be available. $5 for adults, $3 for kids.
If you need a Christmas eve distraction, CAN will host a sensory friendly movie, Puss in Boots: The Last Wish at 10:00 a.m. at Grand 14 Movie Theater. Lights will be up and the sound will be down. Kids are free to roam about. This event is free with your CAN card which you can get at their website, Championautismnetwork.com.
An amazing holiday light show will be along at Boardwalk in downtown Myrtle Beach. This easy, walk through display also features a Family Fun Zone with fun holiday-themed inflatables and many spots for photo opportunities. This event starts November 17 and goes until December 23 from 6-9 p.m. 
Festival of Trees
Ripley's Aquarium gives a discount to all CAN card holders. At Christmas the aquarium is filled with over 50 trees celebrating the diversity and culture of the United States. The display is visible from November 5 to January 2. 
If you want an early viewing of Santa, be sure to visit Market Common on November 19. Santa will appear, and there will be free carriage rides, a tree lighting, mini train rides, face painting, balloon art, bounce houses and vendors putting you in the holiday mood. Events start at 5 pm and finish with live entertainment at 8 p.m.
The Skywheel is a great, relaxed experience and will give you amazing views of the boardwalk holiday lights. CAN card holders get to move to the front of the line. If your child gets nervous, requests for an emergency exit can be easily accomplished by the push of a button. Right near the Skywheel, you will find the Family Fun Zone hosted by Southwest Airlines. Here you will find a variety of attractions such as slides, rides, snow angel yard, s'mores making and easy access to the lights along the boardwalk.  Tickets cost $1 per attraction or $5 for a wrist band to access all of the attractions.
One final event that is unique to our area is the Intracoastal Christmas Regatta. It will be held November 26 from 5-7. Boats of all sizes will be decked out in holiday decor and flow past numerous restaurants along the intracoastal. The following restaurants will have visibility for their customers: Grand Harbour Marina, Key West Crazy, Crab Catchers, Cricket Cove Marina, Snooky's, Myrtle Beach Yacht Club, Officer's Club, Cherry Grove Marina, Captain Archie's, Filet's, and Boardwalk Billy's
If you want to actually be in the parade, buy a ticket to ride on the Barefoot Queen Riverboat Cruise. Games, prizes, entertainment and food are included. This event is also a fundraiser to collect toys and pet supplies for families and animal shelters in need. Use this opportunity to teach your child about giving to others.
Whatever you decide to do during your holidays at Myrtle Beach, you are sure to find one that meets your needs. Remember to get your CAN card and visit their website to learn about all the restaurants, hotels, and attractions that give discounts or special services to their members.