A History Buff's Guide to Myrtle Beach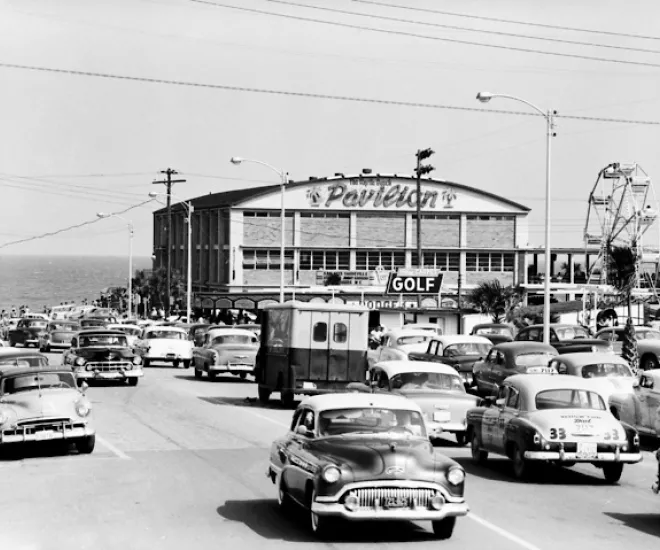 Exploring all that there is to see and do on the Grand Strand is one thing, but going back in time to discover the history rooted in our area adds another layer of charm.
There is so much history on the area to dig up like buried treasure, that I'm going to guide you through a lesson in a timeline of events, town by town, continuing with a focus on Myrtle Beach.
Late 1800s/Early 1900s
Believe it or not, until the late 1800s/early 1900s, the coastline and beaches within Horry County were rustic and practically uninhabited because of the area's poor economy at that time, and the beaches were geographically inaccessible east of the Waccamaw. That all changed when Burroughs & Collins Company, a timber/turpentine firm that owned a large amount of beachfront property, began developing what would one day become the City of Myrtle Beach as a resort town.
1901
Burroughs & Collins Company builds Myrtle Beach's first hotel, the Seaside Inn. *Fun fact: In 1901, oceanfront lots sold for $25, and buyers received an extra lot if they built a house valued at $500 or more.
This same year, Myrtle Beach receives its name! Formerly known as Long Bay, Withers, or Withers Big Swamp, the beach community was (rather uncreatively) also known simply as New Town. Good thing The Horry Herald sponsored a contest to officially name the area. Mrs. F.E. Burroughs, wife of the founder of Burroughs & Collins, won with the name Myrtle Beach, chosen because of the abundance of wax myrtle trees growing wild along the shore. The name Edgewater came in second.
1920s
A group of businessmen begins constructing an upscale resort, Arcady, at the north end of Myrtle Beach, which featured Pine Lakes International Country Club, which opened in 1927. This landmark would be the area's first golf club, where Sports Illustrated was born in 1954, and home of the legendary, grand Ocean Forest Hotel.
February 21, 1930
The Ocean Forest Hotel officially opens its doors and quickly becomes known as a gorgeous vacation destination for the country's elite. It was the vision of owner John T. Woodside, a textile magnate, to make the most luxurious resort on the East Coast. And he succeeded, with its unrivaled wedding cake-style architecture, 10-story central tower, 202 guest rooms, 13 acres of oceanfront property that featured pools, gardens, and horse stables. It would be the inspiration of many other resorts that followed in Myrtle Beach. Unfortunately, because the hotel did not keep up to code over the years, it had to be razed in 1974.
1936
The Intracoastal Waterway is opened to pleasure boats and commercial shipping, increasing the traffic into and attraction to Myrtle Beach.
1938
Myrtle Beach is incorporated.
1940s
A base for the U.S. Army Air Corps is established and used for training and coastal patrols during World War II. For nearly 50 years, Myrtle Beach was a military town, as the home of the Myrtle Beach Air Force Base, which started in the 1950s. The base closed in 1993,
1949
The Myrtle Beach Pavilion is built oceanfront, with the historic band organ and carousal installed in 1954. There were two pavilions built prior to this, but each one was destroyed by a fire, first in 1908 and later in 1923. (Guess the third time's the charm.) A gathering place for families and special events, it was the heartbeat of the Myrtle Beach community until 2006.
October 15, 1954
Hurricane Hazel, one of the deadliest, most destructive hurricanes, hits Myrtle Beach. It destroyed 80 percent of oceanfront property from Little River to Pawleys Island.
1957
Myrtle Beach becomes a city, with a permanent population that topped 5,000. 
1960s
During the rebuilding phase, post-Hazel, there was a golf boom, with new courses being built each year, leading to Myrtle Beach's moniker of being the "Golf Capital of the World." Today, there are more than 100 golf courses.
1970s-1990s
The Myrtle Beach Convention Center opens in 1970. During the 1970s, new construction in the area topped $75 million, and the permanent population tripled. In the 1970s and 1980s, construction of attractions, homes, retail shops, and other attractions steadily increase, which leads to a massive development boom in the early 1990s.