A History Buff's Guide to Murrells Inlet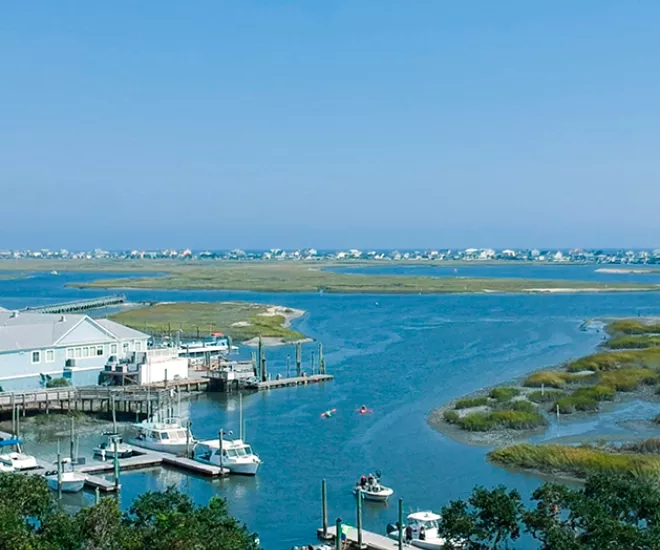 Exploring all that there is to see and do on the Grand Strand is one thing, but going back in time to discover the history rooted in our area adds another layer of charm.
There is so much history to dig up like buried treasure around here, that we're guiding you through a lesson in a timeline of events, town by town. This time, it's Murrells Inlet, a small waterfront fishing village on the south end of the Grand Strand with one of the richest histories in South Carolina.
Here's a brief timeline:
1731
Murrells Inlet is founded by English colonist John Morrall, most likely the town's namesake. 1731 is 61 years after the colony of South Carolina in Charleston, about 90 miles south, smack in the center of the state's rice empire planted in the surrounding Waccamaw Neck. Murrells Inlet quickly became a busy (but not big) port, shipping out not only rice, but also indigo, turpentine, cotton, and peanuts to ports in Great Britain and the northern colonies. The plantations of Murrells Inlet are: The Oaks, Brookgreen, Springfield, Laurel Hill, Richmond Hill, and Wachesaw.
Colonial Era (Through 1776)
The legendary Pirate Period disembarks onto the inlet, where it's said that pirates like Blackbeard and Stede Bonnet would cruise the waters and search the coast for fresh water and a ship cleaning. Legend also says the pirates would bury their stolen booty.
1800s
By the 1800s, local rice plantations are producing almost 47 million pounds of rice, which is more successful than the tobacco and cotton plantations of the Southeast at this time. Murrells Inlet also became a sort of summer escape for rice planters to heal from malaria and other illnesses they thought were caused by the plantation swamp grasses. They would travel by steamboat and dock at the Wachesaw River Landing.
Civil War Era
Because Murrells Inlet has secret shipping routes to buyers in Great Britain and the north, it was attacked multiple times during the war. Federal naval warships blockaded this port and others along the South Carolina coast, but local blockade runners managed to evade capture, shipping instead through Nassau, Havana, and Bermuda.
1863
In the fall, the Confederate cavalry captures Northern sailors that had gone ashore to burn a beached blockade runner. In December, Admiral John Dahlgren of the U.S. South Atlantic Blockading Squadron sent six warships and hundreds of troops with a purpose to invade and destroy Murrells Inlet, but to no avail. A mighty wind storm blew the force of ships off-course, but one still managed to shell the inlet and set fire to a blockade runner loaded with a cargo of turpentine.
1864
Murrells Inlet suffers yet another blow from Northern sailors who landed off the USS Ethan Allen and destroyed 2,000 bushels of salt at a nearby Confederate saltworks.
Post-Civil War
Slavery is abolished, which puts an end to the area's plantations and shipping from the ports. A number of hurricanes also destroy the rice fields during this time. The natural beauty, the plantation homes, and the industry itself are ruined.
1894
President Grover Cleveland revives the area with a nationally publicized trip to the inlet for a duck hunt.
Early 1900s
Soon after this, northern business owners follow suit, attracted to the inlet and surrounding area, as well as its abandoned plantations at bargain prices. This includes one wealthy power couple, Hispanic scholar and philanthropist Archer Huntington and his wife, Anna Hyatt Huntington, a world-famous sculptor. They moved from New York and purchased property in 1930 that would become Brookgreen Gardens.
Also during this time, Murrells Inlet evolves into the resort destination it is today, with residents of nearby towns, like Conway, Marion, and Florence, traveling here by steamboat down the Waccamaw River to stay in the cottages here, enjoy the coastal breeze, and belly up to the oyster roasts the inlet is known for.
1913
The post office officially names the town Murrells Inlet.
1950s-Today
Word spreads, and Murrells Inlet, known as the "Seafood Capital of South Carolina," gains momentum and the reputation it's known for today as one of the best places to grab a fresh catch. Today, the Murrells Inlet Historic District is listed in the National Register of Historic Places.
Take a walk on the Murrells Inlet MarshWalk and discover for yourself all of the restaurants, events, charm, and entertainment this fishing village has to offer.