A History Buff's Guide to Last Minute Shopping in Myrtle Beach
Unique Stores in Myrtle Beach
Whether you have a history buff on your list or you are a history buff who enjoys shopping in historic places, here are some ideas for Myrtle Beach shopping. 
916 North Ocean Boulevard, Myrtle Beach
There is a sticker that you can buy at the cash register that says something to the nature of "The Gay Dolphin…Making People Happy since 1946."  And that it has.  It is so much more than a store.  It's an adventure.  You can also buy stickers and t-shirts that say that "I got lost in the Gay Dolphin."  It's not hard to do.  The tower of Myrtle Beach's oldest and most unique gift shop stands as a sentry over North Ocean Boulevard near the SkyWheel beside Plyler Park (named for the store's founder, Justin Plyler…now run by his son, Buz). The store is filled with every kind of merchandise from kitschy souvenirs to upscale collectables.  I have a whole collection of vintage postcards that I bought from there growing up.  Now, they sell retro versions of those cards.  Nowadays, I buy the nautical pieces that you find on the ocean side of the store along the boardwalk.  I can think of no shopping experience in Myrtle Beach that boasts a better view.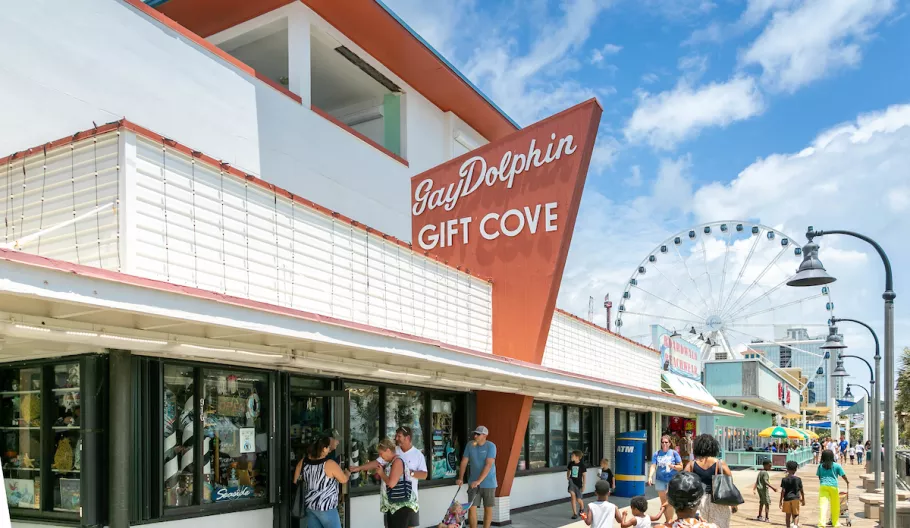 Jack Thompson Gallery
611 Broadway Street, Myrtle Beach
There is no more quintessential Myrtle Beach history gift than a Jack Thompson photograph.  It is a must-have for locals and the best of souvenirs for visitors.  He has a lovely coffee table book that encompasses some of his most popular works, if you can't choose the ones to buy.  Jack, himself, is a living legend.  I call him "Myrtle Beach history personified."  Though an octogenarian, he is on the move.  But you may be able to catch him at his gallery in the afternoons to get your purchases autographed.  If you do, you will have a drop-the-mic moment when your gift is opened by someone who loves Myrtle Beach history.
1519 Executive Avenue C, Myrtle Beach
This suggestion is for your hardcore Myrtle Beach history fans.  Native Sons created a collection of t-shirts called Vintage Myrtle Beach.  They have recreated shirts from the mid to late twentieth century of hotels, clubs and some tourist spots that pre-date even me.  If you want to warm the hearts of long-time residents and visitors, give one or a dozen of these replicas and you will throw them into a  state of nostalgic bliss.
4017 Deville Street, Myrtle Beach
What is now Myrtle Beach's premiere shopping, dining and entertainment destination was once the Myrtle Beach Air Force Base and a United States Army Aircorp airfield during World War II.  While shopping at these upscale national, regional, and local stores, you may notice historic markers along the sidewalks sharing its rich military history.  Nearby, there is Warbird Park with planes on static display and a little military museum inside the General Robert H. Reed Recreation Center. 
The Franklin G. Burroughs, Simeon B. Chapin Art Museum
3100 South Ocean Boulevard, Myrtle Beach
Museum gift shops are some of my favorite places to visit because you tend to find cool things not offered elsewhere and your purchase goes to support whatever museum you happen to be in.  The one at our city's art museum is no exception.  You'll find clever, beautiful gifts that are sometimes handmade by local artists.  Often they have items reflecting whatever exhibition is going on at the time.  So you could buy a related gift and then bring the recipient to the museum to enjoy the show. Our museum is named for two of Myrtle Beach's first visionaries and the front part of the building is actually a 1924 beach house that was saved from the wrecking ball and moved to that location for its current purpose.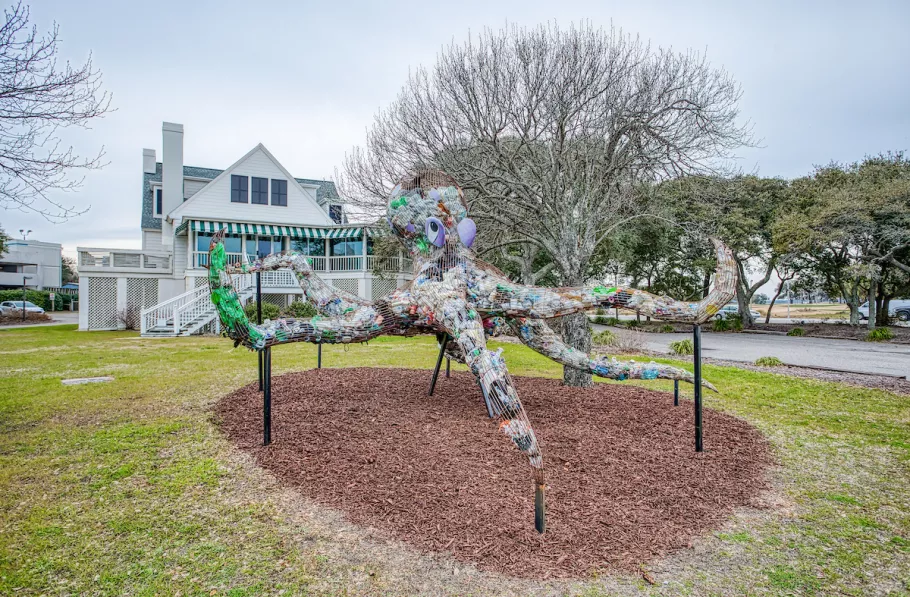 Pine Lakes International Country Club 
5609 Woodside Avenue, Myrtle Beach
While you can buy gift certificates for rounds of golf at Myrtle Beach's very first course where Sports Illustrated was born and the course itself was designed by the first president of the PGA, Robert White, I send you there for another reason.  Their pro shop is beautifully stocked with all sorts of useful golf accessories bearing the club's striking crest.  If you wander through the building into the memorabilia room, you may notice that the crest is featured in a Time magazine article from the late 1980s telling about when Pine Lakes sued Ralph Lauren for trademark infringement when he began using a crest on his polo shirts that looked a lot like Pine Lakes'.  Pine Lakes won the lawsuit. 
Brookgreen Gardens 
1931 Brookgreen Garden Drive, Murrells Inlet
If you are at Brookgreen Gardens at the holidays for the incredible Nights of A Thousand Candles or visiting the paradisiacal location during the day, pop into Keepsakes, their museum shop.  Their selection ranges from cute souvenirs to local history books and high end gifts.  Everything is tastefully curated and a joy to browse.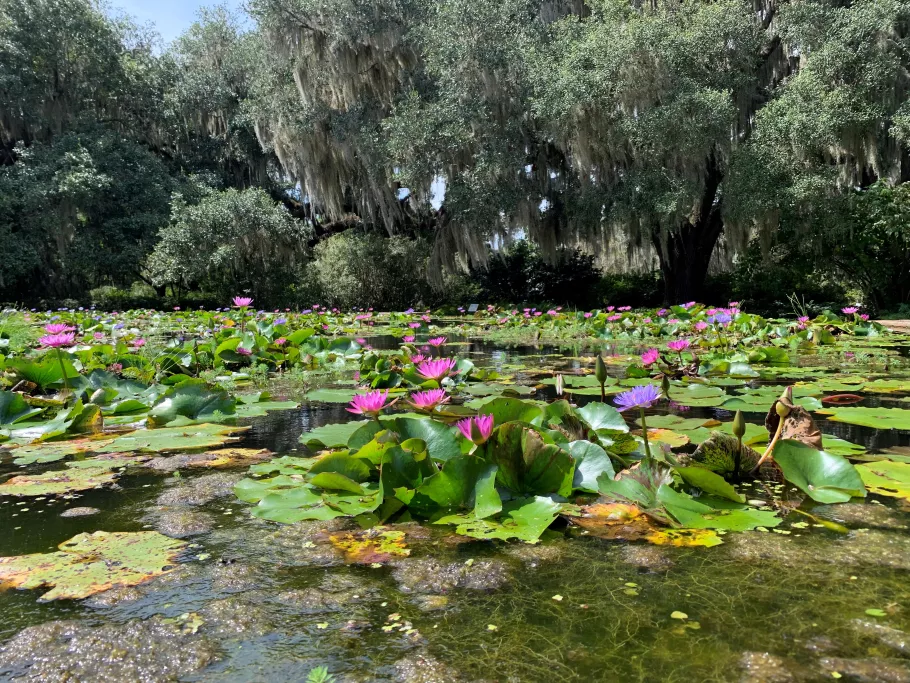 10880 Ocean Highway, Pawleys Island
I always think of the holidays no matter when I visit the Hammock Shops because, from before I was born, my mother would make her annual pilgrimage down there to pick out the perfect Christmas cards.  In fact, some of those became my birth announcement the year that I came along in early December.  I was the third child, so no personalized announcements for me.  My multitasking mom had a rubber stamp made up with all of my vital information and inked the news of my arrival in that year's batch of holiday correspondence (that stamp is now one of my most cherished possessions). 
More than a half-century later, there are a lot more stores there to shop, 21 altogether.  They offer clothing, shoes, jewelry, handmade and other fine gifts.  What they are known for are the world famous hammocks that have been sold there since 1938.  You may even get to see a demonstration of them being made onsite.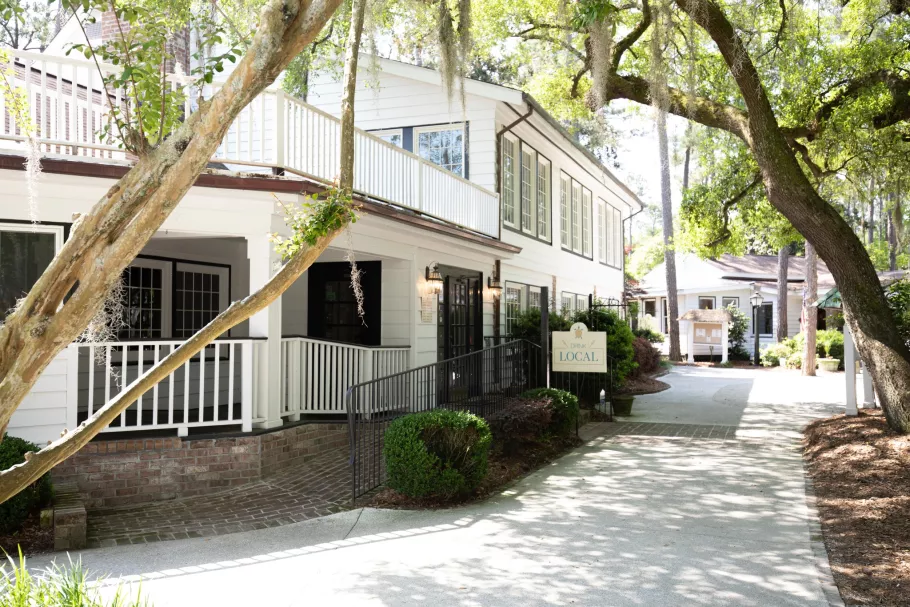 Tours start at 4002 Deville St, Myrtle Beach, SC 29577
So you have completely run out of time to shop and there is one more Myrtle Beach history enthusiast on your list. What do you do? Grab your phone or any device with which to access the Internet and buy them discounted tickets for the Myrtle Beach History Trolley Tours. There are four to choose from, but they are designed to complement each other so you can buy all four.  If you don't know which tour they would prefer or what date they are available, that's okay. Book any tour and then they can change the tour or date, if they would like. For the person who has everything, a unique experience like this just might be their favorite gift of all.
I am not alone is some of my recommendations. The website, Best Things South Carolina, compiled a list of their own of the 15 best holiday shopping destinations around the state and two of my picks made the cut, The Market Common and the Pawleys Island Hammock Shops. 
Other Myrtle Beach locales in their lineup are Barefoot Landing and Coastal Grand Mall. Nearby, they included Downtown Conway, South Carolina.
But, if we're going to mention small historic towns in the area with great shopping, then Front Street in Georgetown, South Carolina, can't be overlooked. Southern Living Magazine did a whole feature on this quaint municipality. The article lists its own fabulous shop choices in the write-up. Add to that there are four great museums and a beautiful historic house on or near Front Street as well, then it is both a shopper's and history buff's dream.