Myrtle Beach's Sun Fun Festival Celebrates 68th Year May 5-7 With Live Music, Parachute Jumps and Parade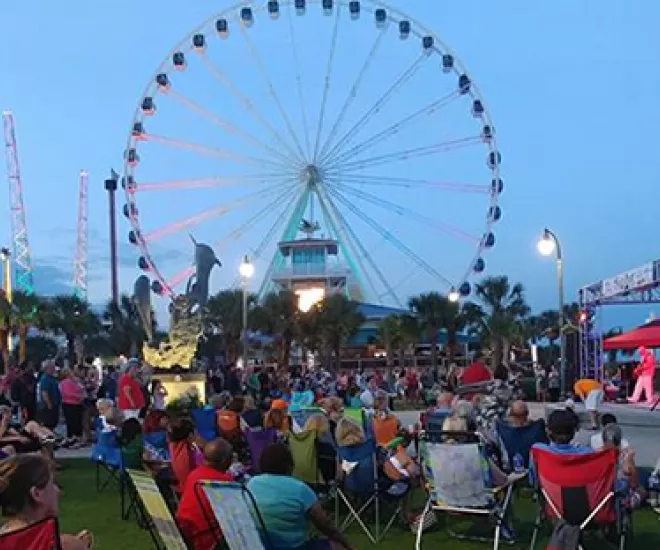 MYRTLE BEACH, S.C.—The Sun Fun Festival celebrates its 68th year on May 5-7, 2023, by offering a host of free entertainment in downtown Myrtle Beach from live music and kids activities to exciting parachute jumps and the beloved Sun Fun Parade.
The three-day event kicks off on Friday evening with Trial By Fire on stage at Plyler Park. The North Carolina-based musicians will perform crowd-pleasing Journey classics like "Don't Stop Believin'" and "Wheel in the Sky."
That same night at 9 p.m., the U.S. Army Golden Knights Parachute Team will light up the skies over the beach with their famous Pyro Jump. Two daytime jumps are also planned for Saturday at Noon and 4 p.m.
The festival's parade strolls along Ocean Boulevard from 8th Ave. N. to 16th Ave. N. on Saturday at 10 a.m. with bands, Shriner cars, floats and fanfare. Registration is open for participants and cash prizes will be awarded to the best Sun Fun themed, youth and nonprofit entries.
Additional musical performances include Cassette Rewind playing '80s hits on Saturday at 2 p.m., followed by beach music from Swinging Medallions at 7 p.m., and wrapping up the weekend are The Tonez on Sunday at 3 p.m.
"The Sun Fun Festival is Myrtle Beach's longest-running event, first starting in 1951 as a way for locals to come together before they welcomed back vacationers for the summer season. While festival activities have changed over the years, the nostalgic love for this time-honored tradition remains as strong as ever," said Karen Riordan, president and CEO of the Myrtle Beach Area Chamber of Commerce (MBACC) and Convention and Visitors Bureau (CVB).
This year's Sun Fun Festival is produced by The Gay Dolphin Gift Cove with the support of the Myrtle Beach Area Chamber and CVB. For more information, visit SunFunMB.com.
# # #
Editor's Note: For images from the event, contact Marlane White at [email protected].
About Myrtle Beach Area Chamber of Commerce and Convention and Visitors Bureau:
Since 1938, the Myrtle Beach Area Chamber of Commerce (MBACC) has stood as the unified voice of the Grand Strand's business community — serving Myrtle Beach, North Myrtle Beach, Little River, Loris, Atlantic Beach, Carolina Forest, Conway, Aynor, Socastee, Surfside Beach, Garden City Beach, Murrells Inlet, Litchfield Beach and Pawleys Island. The U.S. Chamber of Commerce has awarded MBACC its five-star accreditation — one of only a few chambers in South Carolina to earn this distinction. The Myrtle Beach Area Convention and Visitors Bureau (CVB) and its destination marketing arm Visit Myrtle Beach promote tourism through various partnerships and initiatives to advance the economic success of the Grand Strand. For more information, visit MyrtleBeachAreaChamber.com, MyrtleBeachAreaCVB.com and VisitMyrtleBeach.com.