Salvation Army Angel Tree
November 15, 2023 - December 11, 2023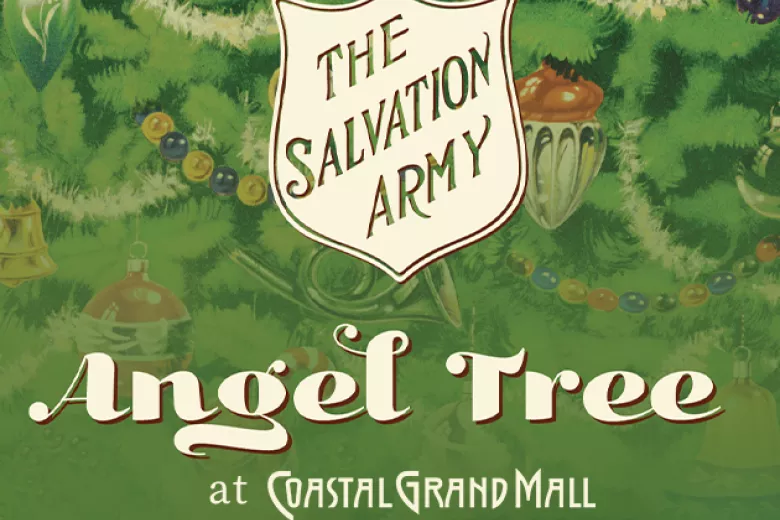 Be an angel this Christmas. Provide new, wished-for toys to local children in need, who might otherwise be left out during the holidays.
Stop by the Salvation Army's Angel Tree, located near the Food Court inside Coastal Grand Mall, to select a tag with a child's wish. Purchase the gift(s) and return them to the Angel Tree location by December 11th for distribution by the Salvation Army.
Your Gift Helps Bring Joy To Families in Your Local Community!
Wednesday, November 15, 2023 | 12:00am
Thursday, November 16, 2023 | 12:00am
Friday, November 17, 2023 | 12:00am
Saturday, November 18, 2023 | 12:00am
Sunday, November 19, 2023 | 12:00am
Monday, November 20, 2023 | 12:00am
Tuesday, November 21, 2023 | 12:00am
Wednesday, November 22, 2023 | 12:00am
Thursday, November 23, 2023 | 12:00am
Friday, November 24, 2023 | 12:00am
Saturday, November 25, 2023 | 12:00am
Sunday, November 26, 2023 | 12:00am
Monday, November 27, 2023 | 12:00am
Tuesday, November 28, 2023 | 12:00am
Wednesday, November 29, 2023 | 12:00am
Thursday, November 30, 2023 | 12:00am
Friday, December 1, 2023 | 12:00am
Saturday, December 2, 2023 | 12:00am
Sunday, December 3, 2023 | 12:00am
Monday, December 4, 2023 | 12:00am
Tuesday, December 5, 2023 | 12:00am
Wednesday, December 6, 2023 | 12:00am
Thursday, December 7, 2023 | 12:00am
Friday, December 8, 2023 | 12:00am
Saturday, December 9, 2023 | 12:00am
Sunday, December 10, 2023 | 12:00am
Monday, December 11, 2023 | 12:00am