Live in Concert: Edwin McCain
November 17, 2023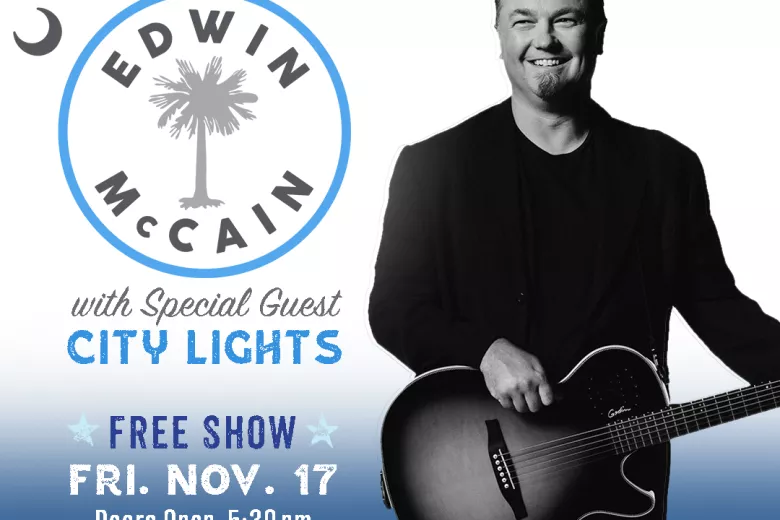 The Hangout is pleased to announce that Charleston-born artist, Edwin McCain, will perform a free, live concert November 17th. McCain's performance at The Hangout, home to the largest outdoor stage in the area and 2023 winner of "Best Live Music Venue" in the Grand Strand, is sure to be a "can't miss" musical event.
The musician is best known for recording I'll Be and I Could Not Ask For More, songs which have been covered by Justin Bieber and Charlie Puth. Contestants on "American Idol" and "The Voice" regularly turn to McCain's ballads to win over fans and judges.
Now performing upwards of 100 shows annually, McCain has had multiple albums on the Billboard 200 and was deemed the "great American romantic" by the New York Times, a "street corner prophet" by USA Today and an "aching tenor" by Slate Magazine.
"Since my days at Coastal Carolina in Tom Yoders guitar class to our gigs at the Afterdeck, I have a special place in my heart for Myrtle Beach. It always feels like a homecoming and a class reunion all rolled up into one! Really looking forward to this!" McCain said.
The Hangout, known for great food, all-ages-family-fun and tabletop dancing, opened its second location in Myrtle Beach in June of 2022. The 1200-seat restaurant has quickly become a key stop for locals and tourists alike thanks to its large, Gulf Coast inspired menu, free live music, special events and 20+ free fun things to do on its campus.
"McCain's music appeals to so many people and we're excited for him to have him on our stage this November," said Shaul Zislin, co-founder of The Hangout Hospitality Group. "We are all about creating lifelong memories and experiences at The Hangout and Edwin's performances feel like long-time friends coming together to have a good time. It's a perfect fit."
Zislin is also the founder of The Hangout Music Festival which brings nearly 40,000 people to Gulf Shores, Al. each year. The 2023 performers included the Red Hot Chili Peppers, SZA, Calvin Harris, Paramore, Skrillex and many more.
The free concert will take place at The Hangout, located in the Key West Village of Broadway at the Beach on Friday, Nov. 17th. Gates open at 5:30 p.m. and City Lights will kick off the show before McCain takes the stage later in the evening at 8 p.m.
Tickets are required. RSVP for this free event at thehangout.com/event/edwin-mccain-free-live-concert
Friday, November 17, 2023 | 5:30pm