Simpsons in 4D - Save $2
Jan 1, 2022 - Dec 31, 2022
Save $2 on Aztec Theater tickets. Ticket purchase at Box Office only. Offer valid for up to four (4) tickets. Cannot be combined with other offers. Expires 12/31/2022.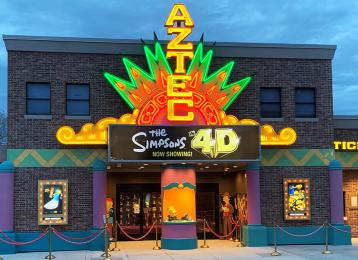 1199 Celebrity Circle Myrtle Beach, SC 29577
Visit the fully-themed Aztec Theater and join Homer, Marge, Bart, Lisa and Maggie for an animated special effects experience with 4D motion! Shows run every 15 minutes. There's more to explore with the Kwik-E-Mart next door! Stop by and enjoy a Squishee, Buzz Cola, Lard Lad Donut and more! All tickets include your own digital photo with The Simpsons to share.