Giant Crab Seafood Restaurant - $4 Off Adult Buffet
Jan 1, 2022 - Dec 31, 2022
$4 Off Adult Buffet. When seated between 2:00-3:30 p.m. Jun. 1 - Sep. 5 or 3:30-4:30 p.m. Sep. 6 - May 31. Good for each adult buffet. Present coupon upon arrival. Not valid with any other coupon or discount. Expires 12/31/2022 Chamber 2022.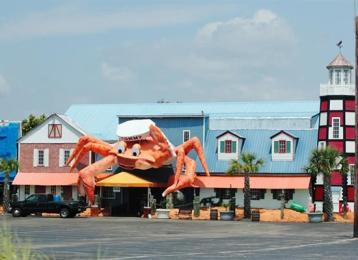 9597 North Kings Highway Myrtle Beach, SC 29572
At the award-winning Giant Crab Seafood Restaurant, quantity takes a back seat to quality. We offer the freshest, best-tasting seafood buffet in town. From the minute you see The Giant Crab, you know it's not just another all-you-can-eat seafood buffet. Sure, it specializes in serving seafood, but it does so in such tremendous, really, "giant" fashion with an emphasis on freshness.