FREE, FREE, FREE! FREE Fall Nights
Sep 2, 2019 - Nov 30, 2019
Give me an F, F! Give me an R, R! Give me an E, E! And another E, E! What does that spell? FREE!!! That's right, we're all cheering for Free Nights this Fall. Come stay with us this Fall now - November 30th and when you buy 2 nights, you get the third night FREE! But hurry, we can only cheer for so long and when that stops so does your savings.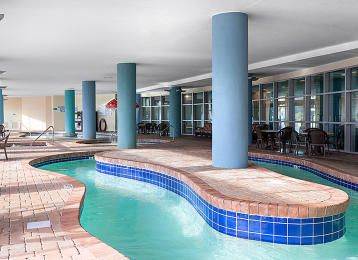 504 North Ocean Blvd. Myrtle Beach, SC 29577
Conveniently located on the new Myrtle Beach Boardwalk, Bay View on the Boardwalk offers modern accommodations and amenities including: indoor pool, hot tubs and a lazy river, Kids Splash Deck, Starbucks, fitness center, secured parking garage, FREE DVD Rentals and a FREE daily tickets to some of Myrtle Beach's most desired attractions.