Save up to an extra 7% off your reservation when you pay your balance in full at time of booking for a total savings of up to 40%! On-site amenities include the oceanfront pool deck, two seasonal outdoor pools, indoor & outdoor whirlpools, sauna, fitness room, free Wi-Fi and so much more. For more information call 855-400-6929.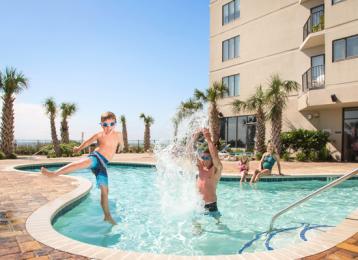 1605 South Ocean Blvd. Myrtle Beach, SC 29577
The Palace's all-suite layout offers you plenty of room to stretch out and relax. Take a dip in one of two oceanfront pools and soak in one of the hot tubs during your Myrtle Beach vacation. Guests can relax in the sauna, step into the steam room or work out at the on-site exercise room. Palace Resort is centrally located to attractions and restaurants for fun, food, and excitement!