Experience the Ride or Drive of Your Life!
Feb 12, 2019 - Oct 26, 2019
Historic Myrtle Beach Speedway is Home to NASCAR Racing Experience February-October 2019. You Can Ride or Drive in a REAL NASCAR Race Car! Present Coupon at the Track to receive up to 50% off retail price while booking your NASCAR Experience Ride or Drive at Myrtle Beach Speedway. Valid only at Myrtle Beach Speedway (Schedules may vary due to special track events)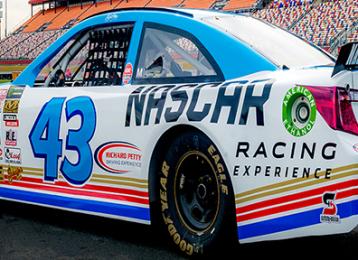 455 Hospitality Lane Myrtle Beach, SC 29579
Experience NASCAR firsthand during your Myrtle Beach vacation! NASCAR Racing Experience is for the NASCAR race fan that wants to drive a real NASCAR race car on the Myrtle Beach Speedway! Following the drivers meeting with Crew Chief, get a taste of what it's like to drive a real NASCAR Race Car!