Event Rentals
Sep 17, 2020 - Dec 31, 2021
Use Pelicans Ballpark for your next private event! Rent the field or host a meeting or watch parties for groups of 10 or 20. Field rentals include private access for 90 minutes. Meetings and watch parties will take place in the Home Clubhouse or Restaurant Suite. All packages are designed to follow the current social distancing guidelines and include a pre and post-event COVID-19 cleaning.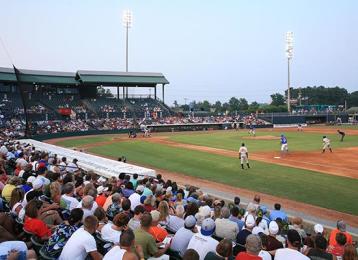 1251 21st Avenue North Myrtle Beach, SC 29577
The Pelicans, affiliate of the Chicago Cubs, play at TicketReturn.Com Field located at 21st Ave. N. across from Broadway at the Beach. Outside of game nights Pelicans Ballpark is available for rent. With numerous facility options, a full-service in-house catering team, easy on-site parking, and more, the ballpark offers a unique, memorable space that is perfect for any crowd. 843-918-6000.