Coastal Distance with Us this Fall!
Sep 8, 2020 - Dec 1, 2020
Are work and school plans presenting you with some unusual opportunities to explore fresh surroundings this fall? Whether the kids are in virtual home school or you have a lot of video conferencing planned in your future, consider visiting Garden City Beach this fall. September and October are perfect months to coastal distance and our Travel Insurance offer protects your off-season investment.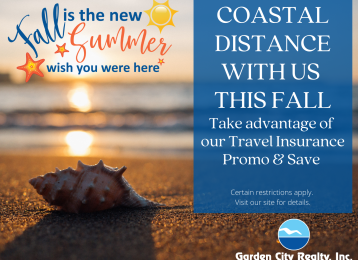 608 Atlantic Avenue Garden City Beach, SC 29576
For more than 46 years Garden City Realty has been bringing satisfied property owners, guests, buyers and sellers together in one of the east coast's most frequented vacation destinations. Whether you want a fun-filled family vacation or a quiet retreat for two, our Vacation Specialists and on-site Real Estate Sales Team can make your dream vacation or home a reality.