25% Off Summer at Grande Shores
Jun 1, 2022 - Sep 15, 2022
Book today and save 25% off your summer vacation! Flexible cancellation included. Enjoy our indoor and outdoor pools and lazy rivers, onsite dining, and quiet beachfront location on the northern end of Myrtle Beach. Choose from hotel rooms or 1-3 bedroom condos! Book online or call 1-855-969-2657.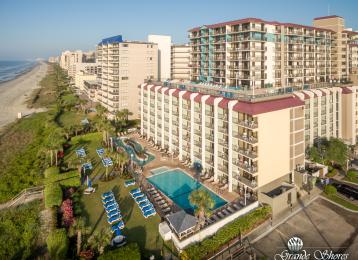 201 77th Avenue North Myrtle Beach, SC 29572
Enjoy your slice of paradise at this oceanfront, family-friendly resort that offers affordable oceanview condos and hotel rooms. Relax all day one of the 11 indoor and outdoor pools and did we mention the one-of-a-kind rooftop pool, lazy rivers, and spas? Close to attractions, shopping, and attractions plus outstanding customer service makes this a great family or golf getaway.