Myrtle Beach is home to more than 100 amazing hotels, condos and resorts – each with its own fabulous amenities. Other than the beach, one of the most important amenities is the types of water features that are available to guests during their vacation. These days hotels are built with on-site waterparks, giant water slides, winding lazy rivers, special zones just for kids, whirlpools, private cabanas, tiki bars and so much more! This list will make it easy to decide where to stay during your next trip to the beach based on the hotels with the best pools. Dive in and find your new favorite Myrtle Beach resort!
2311 S. Ocean Blvd., Myrtle Beach, SC
With more than 20 different pools and water features, it's not hard to see how Compass Cove would make the list! Take your pick from a Silly Submarine, lazy river, outdoor pools, indoor pools and hot tubs. Get your thrills from their newest water slides called the Compass Cruiser and the Schooner Screamer.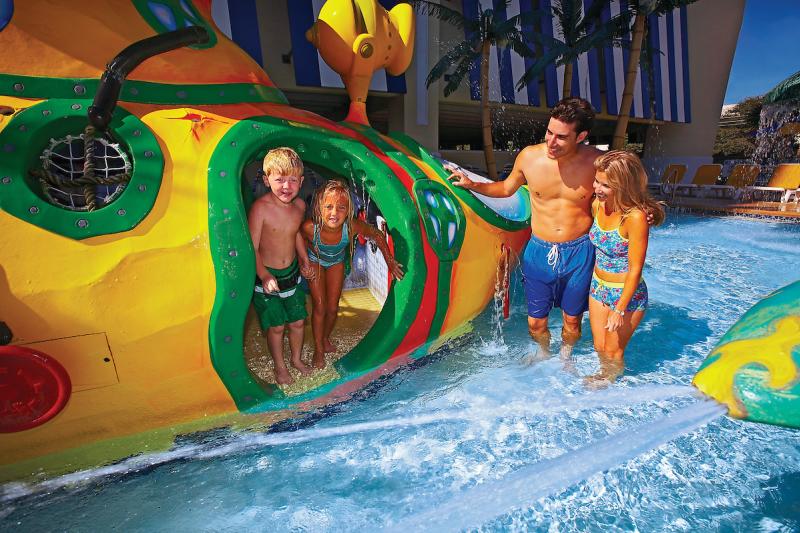 5200 N. Ocean Blvd., Myrtle Beach, SC
Dunes Village Resort is consistently ranked as one of the top resorts in Myrtle Beach and we have a feeling their pools and water amenities help them reach that title. The resort is home to two full-sized waterslides, hot tubs, indoor and outdoor pools and a designated splash area for the little ones in its very own waterpark.
2913 S. Ocean Blvd., Myrtle Beach, SC
The waterpark at Crown Reef is open year-round and features Salty's Splash House, the twister body slide and the explosion tube slide. If that's not enough the resort also offers guests a kiddie slide, lazy river, shady whirlpools, the island pool, the bridge pool and a silly sub! Dry off on their four-story sundeck.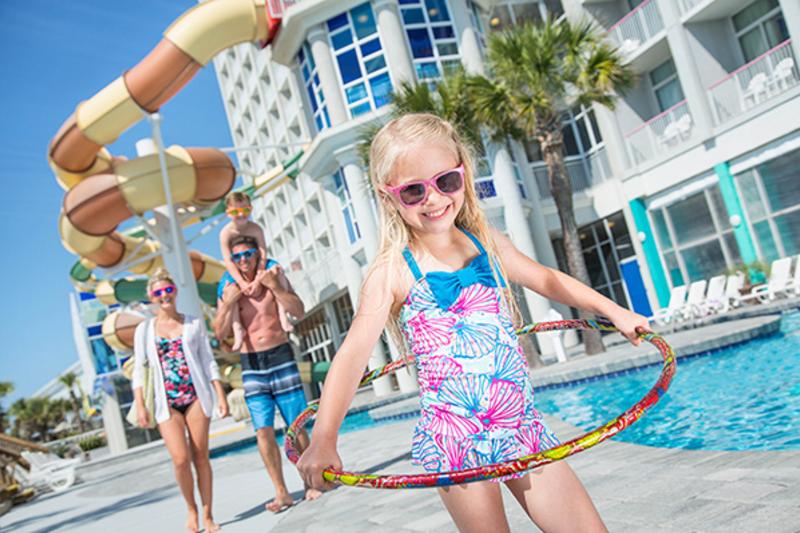 520 N. Ocean Blvd., Myrtle Beach, SC
As one of the newest resorts in Myrtle Beach, Homewood Suites by Hilton Myrtle Beach Oceanfront has plenty of bragging rights when it comes to fun in the water. The waterpark at the resort has two giant waterslides, a splash pad for the kids a large swimming pool and great views of the ocean. It's enclosed for the cooler months, so you have all year to splash around.
7200 N. Ocean Blvd., Myrtle Beach, SC
Set up shop for the day at the expansive outdoor pool deck at Grand Cayman Resort or check out the private Savoy Pool for a little alone time. They've also got whirlpools, a Silly Submarine Water Park and a three-story waterslide that's open seasonally. Don't forget to check out the indoor pool and lazy river!
2104 N. Ocean Blvd., Myrtle Beach, SC
Breakers Resort has been a family favorite in Myrtle Beach for decades. With nearly 20 different water attractions and pools, it's not hard to see why folks choose to stay here every year. The Sunken Pirate Ship, indoor and outdoor pools, lazy river and expansive outdoor pool deck are just a few of the highlights found at Breakers Resort.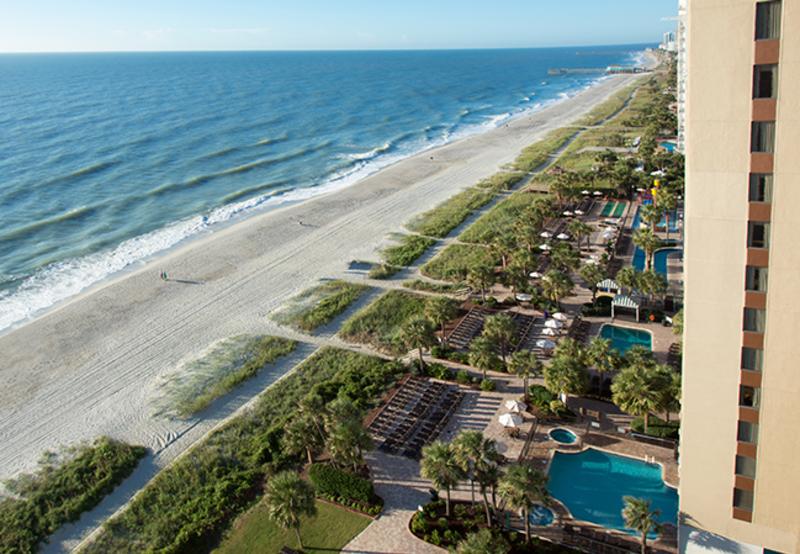 3000 N. Ocean Blvd., Myrtle Beach, SC
Caribbean Resort and Villas is located in central Myrtle Beach and offers guests a stunning beach vacation with plenty of poolside fun. Favorite water attractions include the Pirate's Plunge water slide, a Silly Submarine, indoor and outdoor pools and hot tubs, an oceanfront water park and plenty of pool deck options.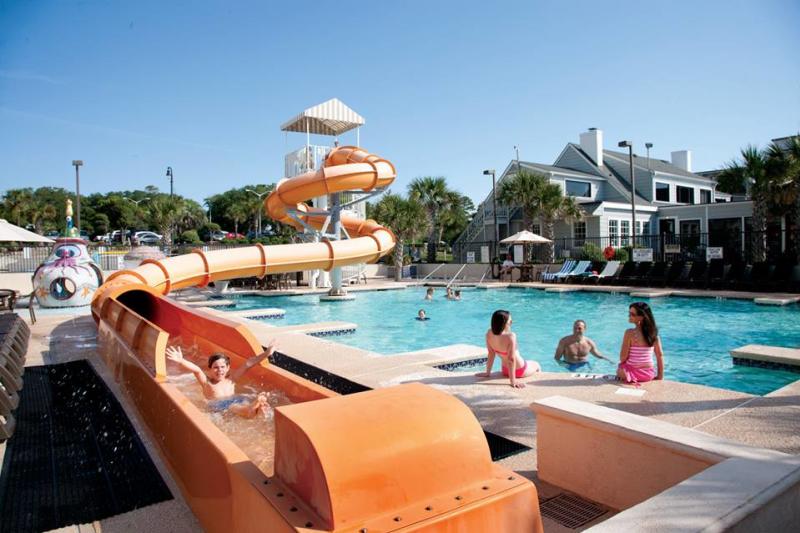 719 North Beach Blvd., North Myrtle Beach, SC
The Caribbean-themed poolscape at North Beach Resort is a one-of-a-kind experience for your next vacation. Rent a cabana and then enter the large outdoor pool and hang out at the swim up pool bar. The gorgeous poolscape is home to several lounging pools, bubbling hot tubs and plenty of space for relaxing in the sun.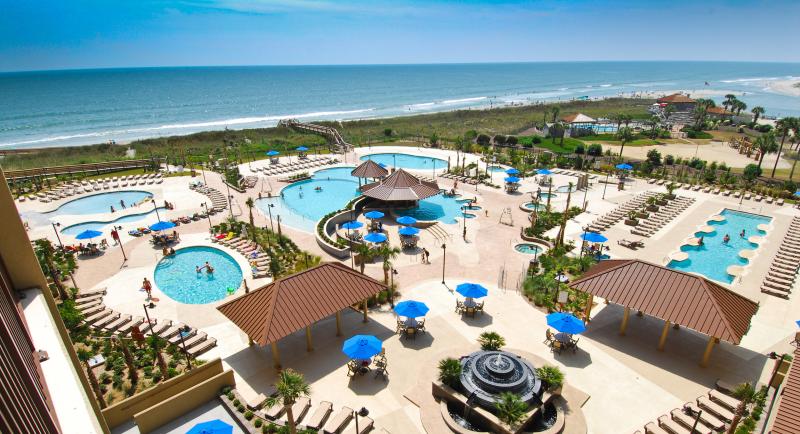 705 S. Ocean Blvd., Myrtle Beach, SC
hotel Blue's swim-up bar was named one of the best in the U.S. by ABC News and that's not all they've got! They have unique sun shelves sitting in six inches of water – the perfect place to spend your days. There's also an outdoor whirlpool, large outdoor poolscape and an indoor pool and whirlpool just in case you need a break from the sun.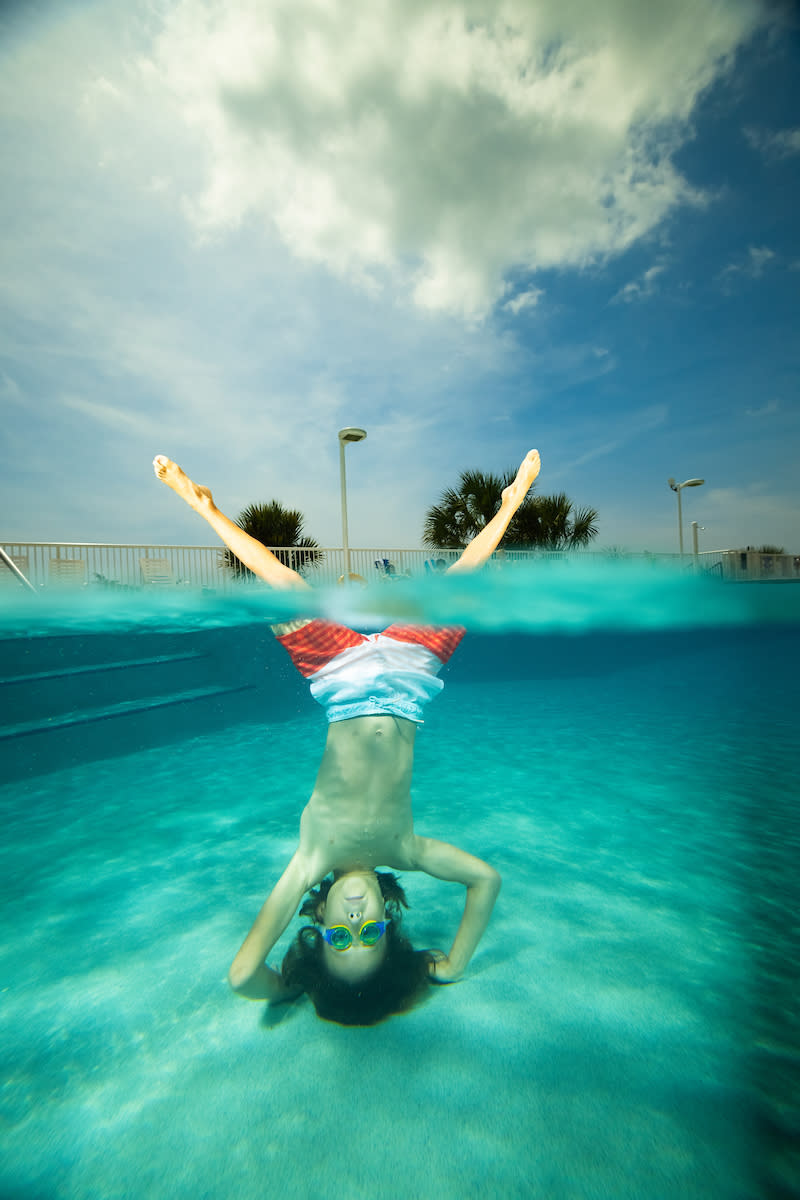 6900 N. Ocean Blvd., Myrtle Beach, SC
The Caravelle Resort has an entire block of pool space and water attractions for you and your family to enjoy. The giant area houses a lazy river just for kids, Wild Water Pool with dump buckets, whirlpool, heated pool and an additional lazy river for the big kids (grown-ups too)! There's also a pool on the 7th floor inside to take advantage of year round.
6000 N. Ocean Blvd., Myrtle Beach, SC
Wash your worries away in the luxurious pools at Island Vista Resort located along a private residential stretch of beach in Myrtle Beach. They have indoor and outdoor pools and whirlpools along with a beautiful ancient-themed kids' pool area. Float around the lazy river or just lounge under an umbrella with a drink from the on-site tiki bar.