We recently had the chance to check out Tin Roof, Myrtle Beach's newest oceanfront music venue, and it did not disappoint. They are offering a complete oceanfront entertainment experience with live music, cold drinks, and a delicious menu much larger than I was expecting! You might be familiar with the popular music venue, as this is the 15th location they've opened… but of the ones I've visited, this one is easily my favorite.
Tin Roof is located on the third level of a 55,000 square foot, newly constructed building in the 1400 block of Ocean Boulevard in Myrtle Beach. The venue is separated into three areas, so guests have the ability to choose among outdoor patio seating, indoor seating with live music or indoor seating with a dance floor and DJ. Each area has a full bar, and the generous open windows and doors gives the entire venue an open, breezy feel.
We chose to sit outside in some shade, and it was well worth the extra heat. The outdoor view includes beachfront, the Myrtle Beach boardwalk and Pier 14, along with views of the SkyWheel and downtown Myrtle Beach. It was also nice that it is such a laid-back, casual atmosphere, because I was coming straight from the beach in a swimsuit and coverup.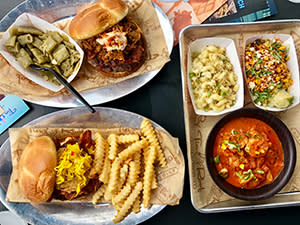 Perhaps one of the biggest (and best!) surprises was the size of the menu. While I've visited other Tin Roof locations, I've never ordered food… or even known they served sit down meals. We sampled the Southern Comfort Burger, Smashville Burger, VooDoo Shrimp, and Moon Pie Split, and everything we ordered was delicious. All of the menu items seemed to be inspired by Southern cooking (no complaints here), and next time we go we plan on ordering the Nashville Hot Chicken.
While we were just there for lunch, we'll definitely be back for the live music. The proximity of Tin Roof to downtown Myrtle Beach is perfect for those wanting to spend a night out along Ocean Boulevard. As with most Tin Roof locations, some of the concerts are ticketed. There will also be a $5 cover charge after 10 p.m. on weekends, but those looking to avoid cover charges can register online to get on a free 'guest list' for Friday and Saturday nights. Tin Roof will also host music trivia and karaoke nights, and the venue will be open throughout the year! For more information or to take a full look at their menu, check them out online at TinRoofMyrtleBeach.com.