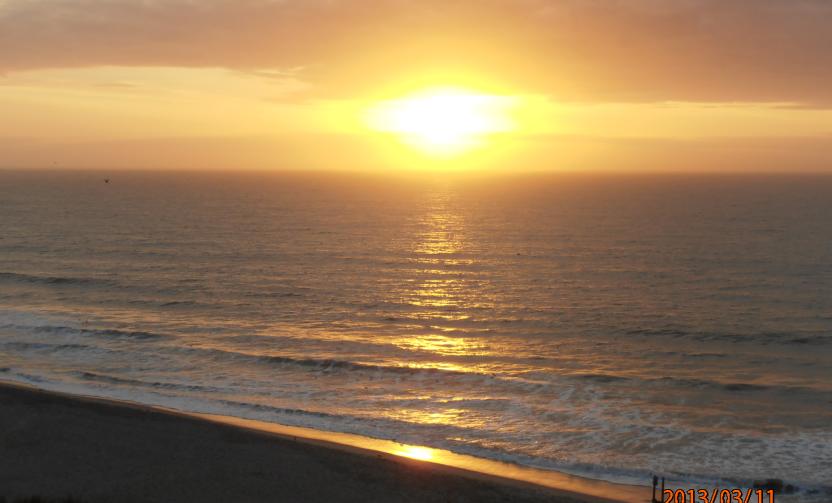 Editor's Note:  This entry is submitted by guest blogger Mary McPherson, who visited the Myrtle Beach area with her husband, son and daughter in March 2013. She is from Ontario, Canada.
The view this morning was considerably better than the gray skies and snow-covered roofs that we usually see from our bedroom window in Ontario, Canada. Today is our first full day in Myrtle Beach. Listening to the surf and watching the waves is a great way to start the day.
My seven-year-old daughter said it is as if the ocean waves are trying to make enough noise to get us out of bed and onto the beach... there are so many sandcastles to make and waves to dodge!
Our family stroll along the beach took us to the boardwalk, and we loved it. We stopped to enjoy authentic New York pizza on a patio and watched the waves roll in and out. We would have loved to take in the view from the giant SkyWheel, but is was closed for maintenance. It was the friendliest "sorry but we're closed" speech I ever heard. The lady at the ticket booth apologized for disappointing us, encouraged us to come back on the weekend and told us about the wonders we would see from the top. But we won't be back on the weekend... by then we will be miles away, heading back up north. I told my son that you can't do all of the fun things on your first trip and explained that it's a Myrtle Beach tradition ...to leave some fun things for next time.
It has been years since I visited Myrtle Beach. I came here as a child and now, as a parent, I am giving my children the same, fun beach experience I enjoyed. Things have changed... hotels are bigger and taller, attractions are new... but the heart of the place remains the same: family beach fun.
For this trip, we will have to take in the sights and sounds from right here on the boardwalk. But we'll be back...