The Myrtle Beach area is home to a number of outstanding live entertainment theatres. From dinner shows with medieval knights or pirate ships to yearly Christmas specials and tribute artists, there is something for everyone visiting our shores. One of our longtime favorites is the much beloved Alabama Theatre, located at Barefoot Landing in North Myrtle Beach, South Carolina.
Opened by country superstar group Alabama in 1993, The Alabama Theatre produces two large scale musical variety shows annually. From February through October, visitors will find regular, nightly showings of an amazing production called ONE The New Show. And as the holidays approach, The Alabama Theatre is home to The South's Grandest Christmas Show, a festive showcase of seasonal favorites.
Since we are in the midst of our summer season, Alabama Theatre's nightly production is called ONE The New Show. ONE The New Show features a large cast of talented singers and dancers who bring country, gospel, Broadway, pop and rock favorites to life alongside a state-of-the-art sound and light system. While I'm always wow'd by the entire lineup of performers (and the costumes!), I think it's safe to say my two favorite people to watch onstage at The Alabama Theatre are both Greg Rowles and Ricky Mokel.
Greg Rowles acts as Emcee for both ONE The New Show and the South's Grandest Christmas Show, but he's so much more than an Emcee. He plays his guitar, sings, makes jokes and builds a rapport with audience members that has them ready to visit again before the show is even over. Often found alongside him between songs is Ricky Mokel, a favorite comedic character who entertains with his crazy 'down-home boy' antics. ONE The New Show begins at 7:30 p.m., six nights a week, so there are plenty of chances to experience this fantastic show and attraction.
Whenever the all-star cast takes a night off, however, The A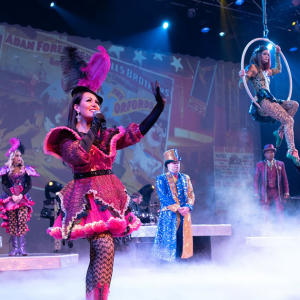 labama Theatre hosts guest artist concerts showcasing the biggest names in Motown, pop, and country, or comedy shows featuring local and touring comedians and entertainers. Here's a look at some of the upcoming guest artist performances at The Alabama Theatre:
June 30, 2019 - Bee Gees Gold. A Tribute to the Bee Gees.
July 6, 2019 - Forever Motown
July 14, 2019 - The America I Grew Up In Tour starring Jeff Allen
July 19, 2019 - 1964 The Tribute (recreates an early 1960s Beatles concert)
July 27, 2019 - Ricky Mokel Summer Comedy Special
August 3, 2019 - Terry Fator, The Voice of Entertainment (America's Got Talent winner)
August 10, 2019 - Elton John Tribute Featuring Elton Rohn
August 24, 2019 - The Temptations and The Four Tops
August 25, 2019 - The Edwards Twins
Be sure to make dinner reservations before your show at one of the many great restaurants at Barefoot Landing (where The Alabama Theatre is located) to round out the perfect summer date night out. To purchase tickets to any of The Alabama Theatre's shows, visit them online at www.alabama-theatre.com.