If you're one of the millions of people who are now telecommuting for work due to the Covid-19 pandemic, you're in the perfect position to take a much-needed break and head to the beach. Work in the morning, beach in the afternoon, or vise-versa! That's the beauty of it. You get to choose!
Let's face it. 2020 has been stressful! And with most vacations, concerts, and other gatherings canceled, you're probably long overdue for a break! Why not take advantage of your telecommuting situation and head to the beach? Here, you can unwind and relax and still keep up with work.
Obviously, if you choose to travel, we ask that you keep certain safety measures in mind. Wear a mask in indoor public spaces, keep your hands clean, stay socially distanced. With 60 miles of beautiful beaches, it is very easy to socially distance and still kick back and reconnect with family or enjoy time alone.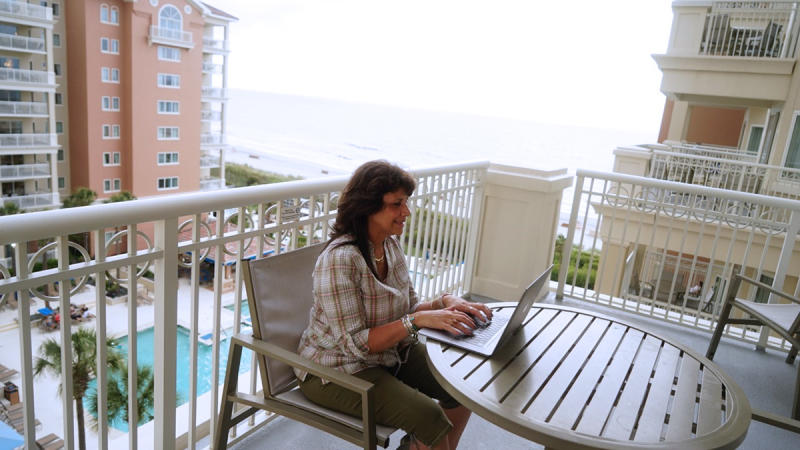 "Since I have to work from home, it might as well be at the Beach! Nothing like those ocean breezes to help get the creative juices flowing."  - Michelle K, Virginia
If you do want to work from the beach and you work on a laptop, keep in mind that you might have to deal with glare from the bright South Carolina sun! Here are a few things you can try if you find yourself on the beach squinting at your laptop:
Work in the shade. Rent or buy an umbrella or stay on your beachfront balcony.
Tape a piece of cardboard (or something) to the top of your computer to shade the screen.
Wear polarized sunglasses. This might help; it depends on your computer screen.
Turn your screen brightness up.
Or, just put yourself on a schedule, work inside your room and leave the computer behind when you head to the beach.
Combine the flexibility of telecommuting with the flexibility of a dynamic, varied destination like Myrtle Beach, and you can totally change the concept "work." In fact, many experts say that this new way of working can be beneficial for both employees and employers! Happy employees=good work=happy employers. It's time to test the theory!