Last week, I took my eldest son (age 4) on a 'date night' for a special treat from one of his favorite spots, Peace Love and Little Donuts, located at The Market Common. After we enjoyed our donuts, we took a complimentary carriage ride around the tree-lined streets of The Market Common. He had a blast!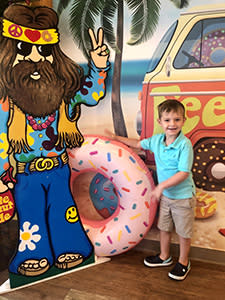 Throughout the summer months, The Market Common provides these complimentary carriage rides on Tuesday nights from 6 to 9 p.m. Pick-up and drop-off is in front of Dolce Lusso Salon and Spa (3050 Howard Avenue) and rides last around six to seven minutes in length--which means any line you might encounter moves pretty quickly! We got there about 30 minutes before 6 p.m. to finish eating our donuts and were the third ride in line.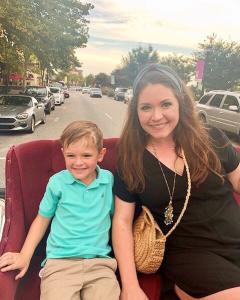 The horse is a beauty, the driver friendly, and the time of day perfect. Temperatures are cooler towards evening and The Market Common usually boasts a nice breeze any time of day (it's not that far from the ocean!). It's also not an area that experiences heavy vehicle traffic, which I also liked. Beyond the summer months, they also offer complimentary carriage rides on certain holidays, like Valentine's and Halloween, and also throughout the Christmas season. We saw all ages enjoying the rides, and we're glad to have been able to finally participate ourselves!
Two other cool events also offered during the summer season include the Friday night 'Movies Under the Stars,' and the Saturday morning Deville Street Farmers Market. Through August 2, every Friday night at dusk (around 8:45 to 9 p.m.), a free movie is shown at Valor Park. Guests are encouraged to bring their own blankets and lawn chairs for the family-friendly films.
Then on Saturday, vendors from the Waccamaw Market Cooperative set up shop on pedestrian-friendly Deville Street from 10 a.m. to 3 p.m., offering customers an array of fresh, local produce, meat, baked goods and more. The market returns on Wednesday evenings as well, from 3 to 7 p.m. and lasts through the end of September.