Those of us who call the Myrtle Beach area home love October - and we like to say that you can get "Summore Summer" at The Beach. The weather is sunny and still oh-so-warm, and there is something to do practically every day of the month. Listing every single October festival and event in a blog post would require some hefty reading from our visitors, so we've compiled a good list rounding out some of the many events celebrating Halloween in Myrtle Beach instead. Or head to our events calendar, where you'll find a good many more to choose from! 
Starting October 1st, the Boardwalk in downtown Myrtle Beach will be transformed into a haunted experience on Friday and Saturday nights. While you are enjoying two haunted houses, zombies will be roaming the area, creeping up when you least expect it. There will also be a Halloween-themed movie playing in Plyler Park for those who would rather sit and enjoy the chilling evening. Each weekend there will be a variety of street performances, a kids zone, and more. 
In this haunted mansion, zombies and other scary creatures lurk behind each corner to 'welcome' you to the Haunted Adventure. You will be given a laser gun to help take down the zombies and defend yourself as you make your way through the house. Open every Friday and Saturday throughout October from 3:00 pm to 11:00 pm for ages 8 years and up. 
This just may be the biggest Halloween Bash yet! This event will take place on The Avenue located at Broadway at the Beach on October 30 at 7:00 pm. A live DJ and a costume contest are just the beginning for this event! Then, head back to Broadway at the Beach the next night, October 31, for Trick-or-Treating around to your favorite shops, restaurants, and attractions. These festivities will take place from 4:30 pm to 6:30 pm, perfect timing if you have little witches in tow. 
Enjoy a free, family-friendly evening with a kid's costume contest, candy, and pumpkin decorating at LuLu's North Myrtle Beach Annual BooLu's Halloween event. Grab a broomstick and fly in for the fun on Friday, October 29, 2021, from 6 to 8 p.m. LuLu's will provide candy and allergy-friendly treats for little ones and a pumpkin decorating station. Registration and judging for the costume contest, by age category, will take place from 6 to 7:30 pm. Kids can come dressed in their most creative costumes such as witches, zombies, ghosts, super heroes, fairies and more to take part in the Costume Contest with prizes for the winners. LuLu's is located in Barefoot Landing in North Myrtle Beach.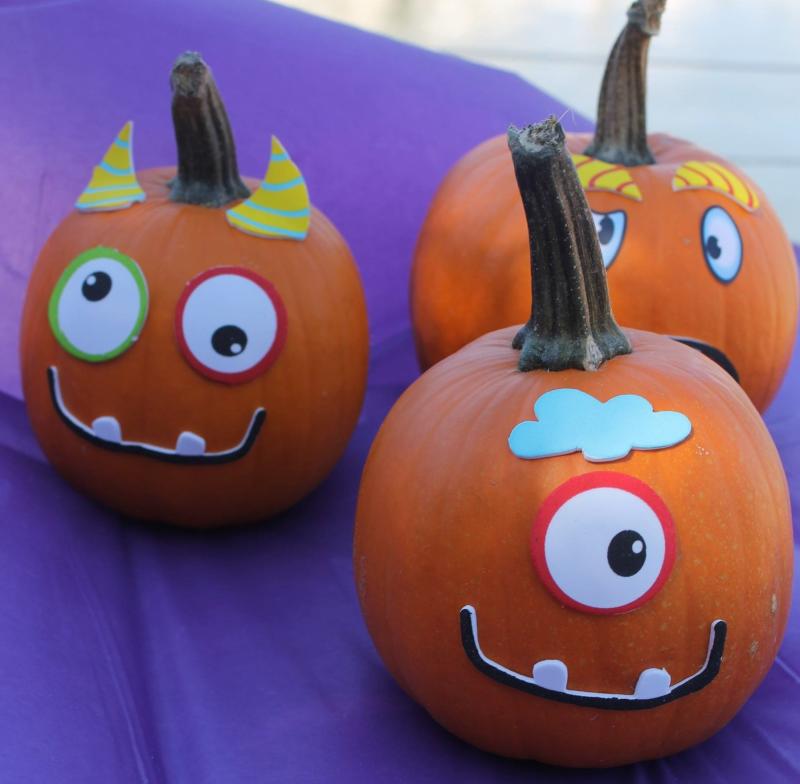 If you are looking for haunted stories and a history lesson, then look no further than The Annual Conway Ghost Walk. The ghost walk departs 428 Main Street aboard a Coastal Carolina University trolley and travels to the 9th Avenue section of Historic Conway where costumed storytellers will tell you all the spooky tales. These stories can be humorous or scary, so brace yourself for an evening stroll that will definitely thrill you.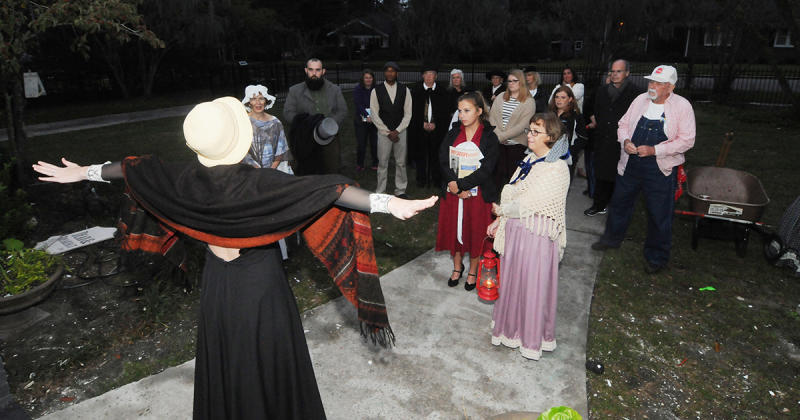 The North Myrtle Beach Park and Sports Complex transforms into a haven for the thrill seekers of North Myrtle Beach on Saturday, October 30, 2021 from 5:00 to 8:00 pm. Open to all ages, the Parks and Recreation Department in collaboration with Coastal Carolina University's Recreation Management class converts the North Myrtle Beach Park and Sports Complex into a spooktacular site for an array of activities that includes hayrides, marshmallow roasting, trick-or-treating and much more. Both 'Scare Free Zones' and 'Scare Zones' offer a variety of excitement levels sure to satisfy all. Admission is $2 for adults (ages 15 and up), $1 for children (ages 5-14) and free for children 4 and under. 
Halloween weekend fun begins at The Market Common on Friday, October 29, with the first ever Zombie Crawl. This creepy walk will begin on Howard Street and continue down to Barnes & Noble and will showcase the very best zombie impressions The Market Common has to offer. Then on Saturday, October 30, bring the family for a screening of The Nightmare Before Christmas in Valor Park starting at 6:30 pm. A trolley tour "Local Ghosts, Historic Folk and Pirates Tour" will also take place on October 29  Lastly, on Halloween night (October 31), The Market Common will host "Hometown Halloween", a community of costumed adults, children and pets from 5:00 to 7:00 pm for trick-or-treating at the stores, restaurants and entertainment venues. There will also have spooky carriage rides around the Market Common from 4:00 – 7:00 p.m
Whether you have human kids or furry kids, BooFest! is the place to be on Saturday, October 30, from 12:00 to 4:00 pm. in North Myrtle Beach for activities, costume contests and more! Registration for all costume contests will begin at 11:00 am. and continue until noon. The contest categories are as follows: Pets (12 p.m.), 3 years of age and younger (1 p.m.), 4 years to 7 years of age (2 p.m.), and 8 years to 12 years of age (3 p.m.). Prizes will be awarded for 1st, 2nd and 3rd place in all three children's age and pet categories. 
On Halloween (Sunday, October 31) Barefoot Landing will also host trick or treating for families with young children from 5 to 7 p.m. throughout the various shops and restaurants in Barefoot Landing.
Crawl into your scariest costume and join us in Carolina Forest on Saturday, October 23 for a Fun Run and trunk-or-treat event! The 'Ghosts on the Coast 5k' that will snake through the Panther Run in the Carolina Forest Recreation Center. After the race is complete, everyone is invited to a Trunk-or-Treat festival feature games, face painting, inflatables, and, of course, lots of candy. 
The Murrells Inlet MarshWalk Halloween celebration is one you won't want to miss. Taking place on Sunday, October 31, the Marsh Walk will host costume contests for kids and adults and trick-or-treating beginning at 5:00 pm. The kids' costume contest is up first with prizes for Most Creative, Best Group, Funniest, and Scariest for ages 3 and up. Kids ages two and under will compete for the "Awes Applause" award. Prizes include trophies, ribbons, and candy bags and will be awarded in front of Drunken Jack's at 6:00 pm. Finally, the adult costume contest begins at and will award over $4,000 in cash and prizes. Compete for peoples' choice, best duo/group, best individual, big & bulky, Murrells Inlet-themed and honorable mention. Ceremonies will be held at Wicked Tuna at 10:00 pm. Enjoy food and drinks at all the eight MarshWalk restaurants throughout the evening!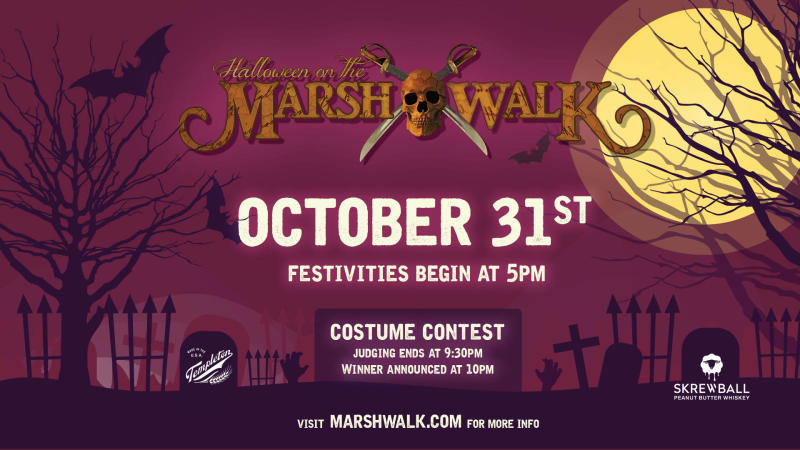 Trick or Treating 
There are many spots around the Grand Strand that offer trick or treating for the kiddos or for all ages, where you can show your costume off and rack up some candy! 
October 29 - Myrtle Beach Pelicans, 5-7 pm for kids 12-under
October 29 - Harley Davidson Shop in North Myrtle Beach, 2-5pm for all ages
October 30 - Surfside Beach Pier, 10-3pm 
October 30 - North Myrtle Beach Park and Sports Complex, 5-8pm for all ages and will feature hay rides, pumpkin painting and marshmallow roasting. 
October 30 - Belin Memorial Methodist Church, 5-7pm and will feature face painting, costume contests, balloon animals, and hay rides
October 30 - Murrells Inlet MarshWalk, 5-10pm
October 30 - Shepherd of the Sea Lutheran Church, 4-6pm
October 30 - Thompson Farm and Nursery, 10-6pm and will feature a corn maze, petting zoo, hay wagon rides, and helicopter show. 
October 31 - Broadway at the Beach, 4:30-6:30pm
October 31 - Barefoot Landing, 5-7pm 
October 31 - Stone Theatre at The Market Common, 4-7pm and will feature carriage rides, scary movies, and a dance party
October 31 - Cooper House and Event Center, 4-7pm
October 31 - St. Andrew Catholic Church, 2pm and will feature a costume contest 
For more information on things to do in the Fall in Myrtle Beach, check out our Fall Vacation Guide. Happy Halloween from your friends in Myrtle Beach!