Those of us who call the Myrtle Beach area home love October. It's easy to understand once you've visited the Grand Strand in the fall. The weather is sunny and still oh-so-warm, and there is something to do practically every day of the month. Listing every single October festival and event in a blog post would require some hefty reading from our visitors, so we've compiled a good list rounding out some of the many events celebrating Halloween in Myrtle Beach instead. You'll find both family-friendly events and some more adult geared events below but if none of these fit the bill, head to our events calendar, where you'll find a good many more to choose from! 
SkyWheel Things Haunted Experience
Experience 'Stranger Things' at the Myrtle Beach SkyWheel after hours in a private event on October 30, 2019. From 8 p.m. to midnight, haunted thrill seekers will be transported back in time for the strangest SkyWheel adventure ever held. Tickets are $20 per person and include entrance to the SkyWheel Things Haunted Experience and a ride on the SkyWheel in the 'Upside Down.' Tickets are available online but are in limited supply. To purchase, visit SkyWheelMB.com.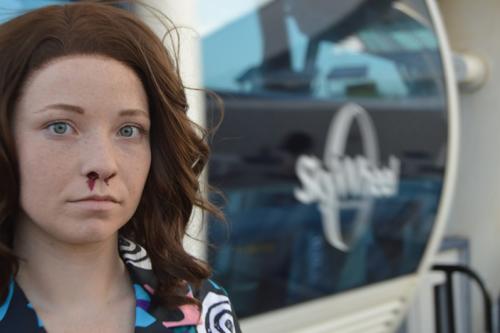 Ripley's Boo Splash Halloween Bash
Celebrate Halloween early at Ripley's Aquarium at Broadway at the Beach! Fang-tastic fun awaits those who attend their Boo Splash Halloween Bash on Saturday, October 19, 2019, from 4 to 7 p.m. The aquarium will provide food, games, a live DJ, and much more. They will also host a costume contest with an array of 'fin-tastic' prizes. Admission to the Halloween Bash is $20 for adults and $15 for children ages 11 and under. For more information, visit Ripleys.com/MyrtleBeach.
Halloween Week at Broadway at the Beach
Broadway at the Beach is always a fun stop on Halloween. They host events both for adults and kids, and end the spooktacular holiday with a fireworks extravaganza. Saturday, October 26, 2019, at 7 p.m. marks the start of their 'Halloween Bash on the Avenue,' which includes an adult costume contest with prizes, great live music, and tons of deals and giveaways. This party usually continues late into the night! On Halloween (Thursday, October 31) Broadway at the Beach hosts trick-or-treating for families with younger children. From 4:30 to 6:30 p.m., costumed little ones will find lots of treats at all the best Broadway spots. Then to round out the holiday, Broadway hosts a Fireworks Extravaganza at 8 p.m. over Lake Broadway sponsored by Helicopter Adventures.  
LuLu's BooLu's
Enjoy a free, family-friendly evening with a kid's costume contest, candy, and pumpkin decorating at LuLu's North Myrtle Beach 1st Annual BooLu's Halloween event. Grab a broomstick and fly in for the fun on Friday, October 25, 2019, from 6 to 8 p.m. LuLu's will provide candy and allergy-friendly treats for little ones and a pumpkin decorating station. Registration and judging for the costume contest, by age category, will take place from 6 to 7:30 p.m. Kids can come dressed in their most creative costumes such as witches, zombies, ghosts, super heroes, fairies and more to take part in the Costume Contest with prizes for the winners. LuLu's is located in Barefoot Landing in North Myrtle Beach, SC. For more information, call (843) 491-5011, or visit LuLuBuffett.com.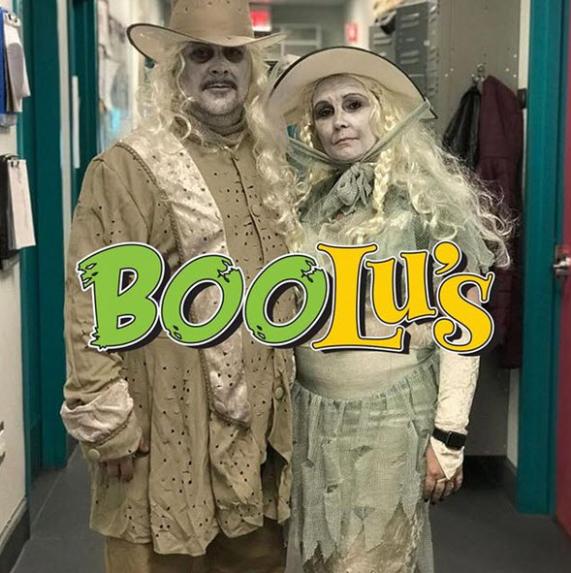 Long Bay Symphony's Halloween Extravaganza 
This musical evening begins at 4 p.m. on Sunday, October 27, 2019. In celebration of All Hallow's Eve, Long Bay Symphony will perform their popular concert of macabre masterpieces with favorite symphonic classics inspired by the frightful and fantastical. Included are Bach's Toccata and Fugue in D minor, Camille Saent-Saëns' Danse macabre, dramatic excerpts from the play Peer Gynt (including "Hall of the Mountain King" featuring actors from Atlantic Stage) by Edvard Grieg, Fantasy on "Faust" for Violin and Orchestra (featuring LBS Concertmaster William Terwilliger) by Pablo de Sarasate, Hector Berlioz' Symphonie Fantastique, and more! The concert will be held at the Myrtle Beach High School Music and Arts Center at 3302 Robert Grissom Parkway in Myrtle Beach. For more information or for tickets, check out LongBaySymphony.com.
Howl-O-Scream at the North Myrtle Beach Park and Sports Complex
The North Myrtle Beach Park and Sports Complex transforms into a haven for the thrill seekers of North Myrtle Beach on Saturday, October 26, 2019 from 5 to 8 p.m. Open to all ages, the Parks and Recreation Department in collaboration with Coastal Carolina University's Recreation Management class converts the North Myrtle Beach Park and Sports Complex into a spooktacular site for an array of activities that includes hayrides, marshmallow roasting, trick-or-treating and much more. Both 'Scare Free Zones' and 'Scare Zones' offer a variety of excitement levels sure to satisfy all. Admission is $2 for adults (ages 15 and up), $1 for children (ages 5-14) and free for children 4 and under. Concessions are sold separately. Please call the Rec Check Hotline at (843) 280-5570, ext. 1 for weather information and weather updates by 4 p.m. for Howl-O-Scream. 
Halloween Week at The Market Common
Halloween Week fun begins at The Market Common on Friday, October 25, 2019, with an interactive screening of The Rocky Horror Picture Show at The Grand 14 Theater at 10 p.m. Then complimentary hayrides will be held from 5 to 8 p.m., on Tuesday, October 29, in front of The Uncommon Chocolatier. A trolley tour "Local Ghosts, Historic Folk and Pirates Tour" will also take place on October 29 but is currently sold out. Lastly, on Halloween night (October 31), The Market Common will host a community of costumed adults, children and pets from 5 to 7 p.m for trick or treating at the stores, restaurants and entertainment venues. The Headless Coachman returns to offer Complimentary Haunted Carriage Rides, and a Monster Mash outdoor dance party for kids and adults will be thrown on the Grand 14 Plaza, both from 5 to 8 p.m.  810 Billiards & Bowling will host a kids' costume contest at 7 PM, and an adult contest the following night on November 1st. For more information on all upcoming Market Common events, including an encore SHAG movie screening at Tupelo Honey, visit them online at TheMarketCommonMB.com.
BooFest! at Barefoot Landing
Whether you have human kids or furry kids, BooFest! is the place to be on Saturday, October 26, from 12 to 4 p.m. in North Myrtle Beach for activities, costume contests and more! Registration for all costume contests will begin at 11 a.m. and continue until noon. WPDE's Ed Piotrowski will serve as this year's emcee and help award prizes in the following costume contests: Pets (12 p.m.), 3 years of age and younger (1 p.m.), 4 years to 7 years of age (2 p.m.), and 8 years to 12 years of age (3 p.m.). Prizes will be awarded for 1st, 2nd and 3rd place in all three children's age and pet categories. 
On Halloween (Thursday, October 31) Barefoot Landing will also host trick or treating for families with young children from 5 to 7 p.m. throughout the various businesses and attractions that call Barefoot Landing home.
Ghosts on the Coast Halloween Celebration
Crawl into your scariest costume and enjoy live music, delicious local food, street performers, carnival games and more fun for goblins of all ages during the Ghosts on the Coast Halloween Celebration at Marina Park on Saturday, October 26, 2019! This free event is open from 3 to 7 p.m. and will also feature a frighteningly fun costume contest. This waterfront venue is a fantastic spot for a spooky Saturday afternoon. Bring your own blankets and lawn chairs and cash to purchase any food or beverages. The day will also feature a 'Ghosts on the Coast 5k.' For more information, visit GrandeDunes.com/2019-ghosts-on-the-coast. All donations collected will be given to the Susan G. Komen Foundation. 
Strangest Things 80's Halloween Bash
Venture into the world of the Upside Down on The Deck during House of Blue's 'Strangest Things 80s Themed' Halloween Bash on Saturday, October 26, from 7 to 10 p.m. Admission is free and costumes are strongly encouraged. Dress as your favorite Stranger Things character or come head to toe in your best 80s apparel. A prize will be rewarded to the best costume of the night. Attendees will enjoy live music from Miracle Max & The Pet Monsters and DJ Bigg B! For more information on this strange Halloween event, check out HouseOfBlues.com/myrtlebeach.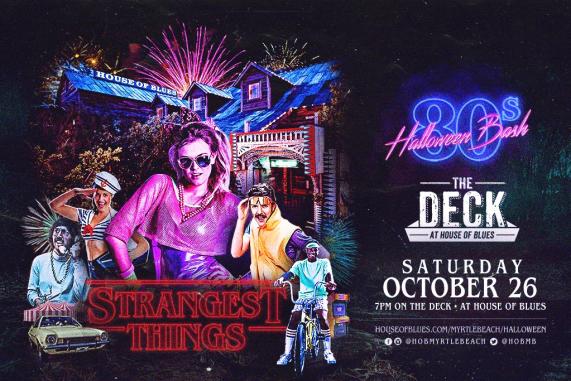 Halloween on the MarshWalk
The Murrells Inlet MarshWalk Halloween celebration is one you won't want to miss. Taking place on Thursday, October 31, the Marsh Walk will host costume contests for kids and adults and trick-or-treating beginning at 5 p.m. The kids' costume contest is up first with prizes for Most Creative, Best Group, Funniest, and Scariest for ages 3 and up. Prizes will be awarded in front of Drunken Jack's at the pirate. Finally, the adult costume contest begins with over $4,000 in cash and prizes. Compete for peoples' choice, best duo/group, best individual, big & bulky, Murrells Inlet-themed and honorable mention. Ceremonies will be held at Bovines at 10:00 p.m.