Brookgreen Gardens is a Grand Strand masterpiece on any day, but now, it's especially exciting to visit as they are hosting an amazing art exhibit by internationally known artist Bruce Munro. Munro's Southern Light exhibit opened on May 15 and it will run through September 12, 2020.
I had the opportunity to visit Brookgreen and view the exhibit in mid-May, and I was blown away. The evening began with us watching a recorded Zoom call between Brookgreen's marketing manager, Lauren Joseph, and Bruce Munro himself. He was supposed to be in attendance for the opening, but, as you can imagine, he was unable to make the trip from the UK during the pandemic. The video was entertaining enough, and it gave me a glimpse into the mind of this dreamy, quirky artist.
Munro, formally educated in the fine art of painting, first conceived of the idea of a "field of light" in 1992 while camping at Ayers Rock (Uluru) in Australia and gazing over the vast, rugged landscape. He sketched his idea in a book and went on to raise a family and choose a "responsible" career. In 2003, he purchased an historic home on ten acres in the UK, and in 2004, his dream became a reality. With the help of two local boys, he created his first "field of light" in his backyard, and it remained there for a year, earning recognition and invitations to recreate his artwork all over the world.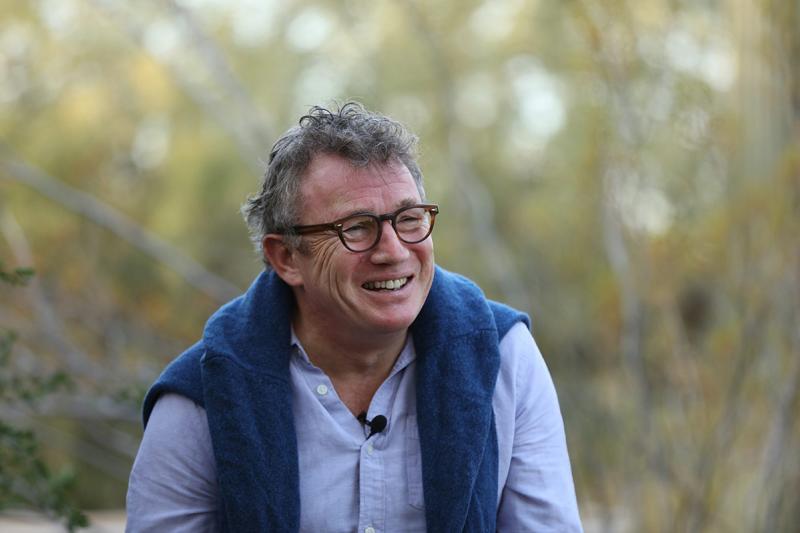 Munro was first contacted by Brookgreen in 2018, and he visited the 9,000-acre sculpture and botanical gardens in 2019. After his visit Munro said, "My site visit reinforced the notion of a garden being made up from a series of interconnected outside rooms. It also left me with an impression that the 'garden rooms,' populated by figurative sculptures, were surrounded by an untamed landscape. It's a magical place with an edge of the unknown!"
With the Brookgreen landscape as his canvas, he came up with seven works of art in light and mixed media, each designed specifically for the natural "garden rooms" where they are installed.
Water-Towers in the Visionaries Garden (10 towers made from over 200 stacked recyclable water bottles with animated light and sound.)
Time and Again on the Pegasus Lawn (37 stainless steel lilies forming a convex dome shimmering with radial star bursts of light.)
Hive in the Old Bell Tower (1,448 glowing "bees" who appear to have come home for the evening.)
Okonjima Choral Society Behind the Garden Wall at the Rosen Carolina Terrace (2,000 "frogs" with illuminated eyes and sound of a Namibian Amphibian Choir.
Fireflies Along Live Oak Allee (600 fiber optic sprays providing a stream of over 10,000 points of light.)
Field of Light Covering the Arboretum (11,700 stems of fiber optic flowers covering eight acres in changing colors that bloom at night.)
Reflections Along the Welcome Center Plaza Arcade (Animation projections on the sidewalk.)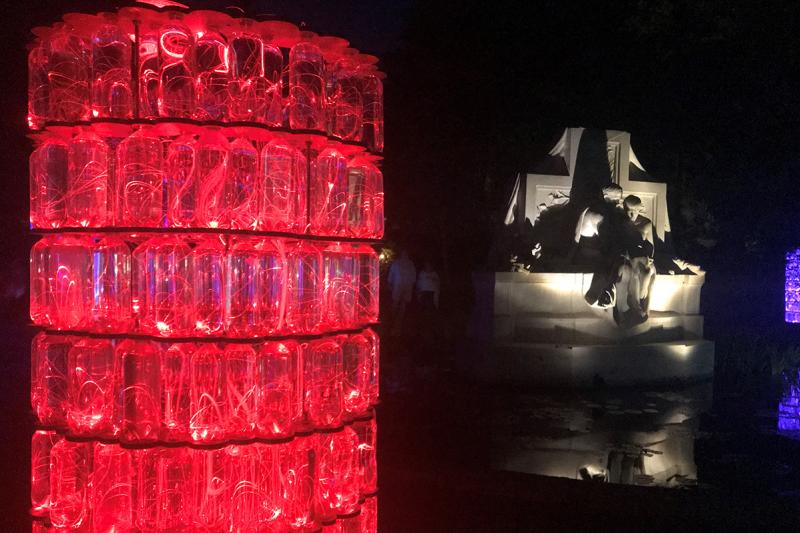 The displays are magical, whimsical, and very unique. You can't help but smile and appreciate the vision of the artist who once reported that a colleague told him he "had a butterfly mind." Indeed, that's the purpose of his particular art form. As Munro said in the video introduction, "That's the idea; bringing light and joy to people's lives."
"Art should be fun and joyful," he says. "It's about connecting, sharing and healing the spirit. We need a feeling of security to keep being human and look after each other."
With Bruce Munro's spectacular large-scale light sculptures, visitors will literally see Brookgreen Gardens in a new light.
Before You Go:
Here's some important information for attending the exhibit.
The exhibit is generally open 8:00 - 11:00 p.m. Wednesday through Saturday until September 12. Click here for a full schedule and ticket information.
MEMBERS: Adults-$20; Children 4 - 12, $12
NON-MEMBERS: Adults $25; Children 4 - 12, $15
Brookgreen encourages the use of face coverings.

Parking for the Bruce Munro exhibit is in the grassy parking area just before the Welcome Center. Handicapped parking is available in the paved parking lot.

To enter the exhibit, please line up in the indicated area near the Welcome Center. There are lines on the sidewalk to use as a reference for keeping a social distance of 6 feet from the party ahead of you.

To maintain social distancing, Brookgreen will stagger entry to the exhibit and ask everyone to keep 6 feet away from those not in their party. Several areas in the exhibit will have one-way only traffic to help with this.

Please wear comfortable walking shoes. The walk through the exhibit is approximately one mile.

The adult and child strollers are no longer available. If someone in your party requires a wheelchair or other mobility equipment, they are welcome to bring their own.

If you would like to walk through the exhibit a second time, please return to the entry line to begin again.
Find out more about attractions in the Myrtle Beach area.