While summer always shines for those visiting the Myrtle Beach area, my favorite season here will always be fall. Temperatures cool ever so slightly and it's less humid out, making all of the outdoor activities our family loves to do even more enjoyable. While things will undoubtedly look a little different this year for fall festivals and events, there is still a lot of fun to be had. Here are a few favorites that we plan on checking out:
Thompson Farm and Nursery at Brickyard Plantation
We love visiting Thompson Farm this time of year! This family-run farm business hosts a bevy of fall activities, from Friday night drive-in movies for the family to their October 24 and 25 'Touch-a-Tractor' event. We're actually hosting my oldest child's birthday party outdoors at the farm in a couple weeks! Our family loves their corn maze, pumpkin patch, petting zoo, playground, and more. They only host group tours Monday through Friday, so plan on visiting over a weekend. Fall 2020 hours are Friday, 5 to 10 p.m., and Saturday and Sunday, 10 a.m. to 6 p.m. For more information on tickets and activities, visit their website at ThompsonFarmAndNursery.com.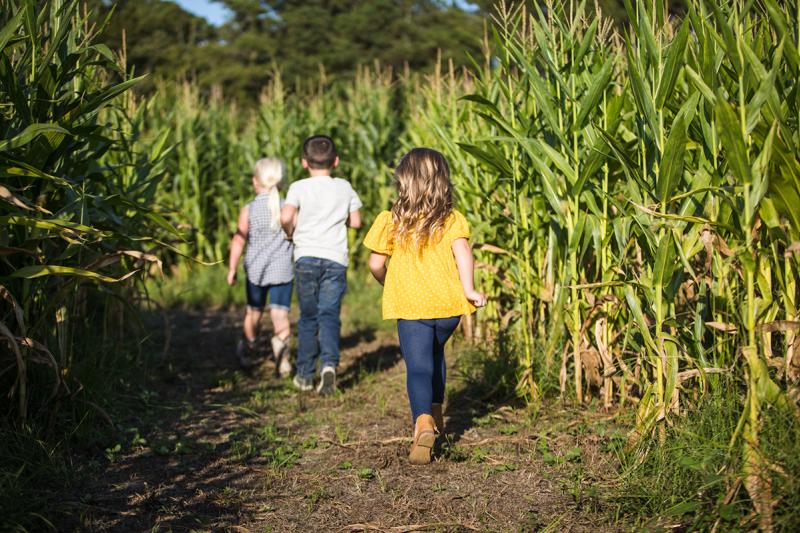 Visit the Farmer's Market
While I love visiting our many area farmers markets throughout the summer, we tend to make it more of a family activity as the weather cools some. Thankfully, our local farmers markets are in operation through the whole month of October! All of the markets managed by the Waccamaw Market Cooperative are great, and thanks to their organization you can find a farmers market open somewhere along the Grand Strand almost any day of the week. For family outings, we especially like the Market Common Farmer's Market (Saturdays through October 31, 10 a.m. to 3 p.m.). The boys enjoy helping pick out new foods to try, and then heading over to Savannah's Playground to run around or Barnes and Noble for some time in the children's section. For a complete schedule of farmer's markets along the Grand Strand, head to WaccamawMarkets.org.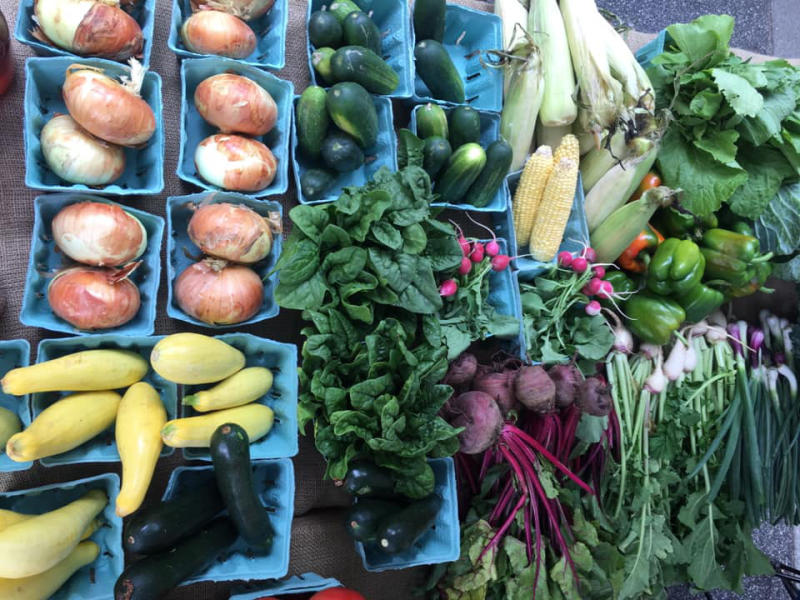 Complimentary Carriage Rides at The Market Common
My oldest loved doing this last fall! It's so much fun to enjoy a short horse-drawn carriage ride in the evening as temperatures begin to cool. Every Tuesday beginning September 29 and lasting through October, The Market Common offers shoppers and diners free carriage rides from 5 to 8 p.m. Pick up and drop off takes place in front of Dolce Lusso Salon on the corner of Howard Avenue and Nevers Street. Masks are required and only members of the same family/party are allowed in the carriage at once. For more information on carriage rides and other fall activities at The Market Common, check out their website at www.MarketCommonMB.com.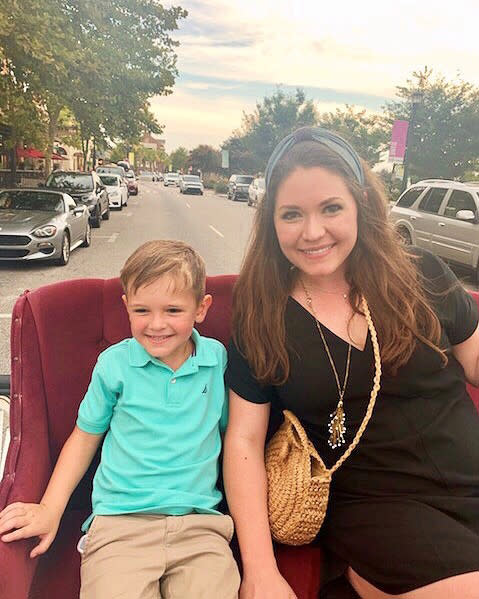 Celebrate the Peanut at L.W. Paul Living History Farm
My mother-in-law lives in downtown Conway and loves driving the boys out to explore L.W. Paul Living History Farm. This working farm provides guests the opportunity to experience the everyday life of farm family living in Horry County between 1900 and 1955 and observe and participate in activities that would have been commonplace on traditional family farms. And this coming Saturday, October 3, is peanut day on the farm. Visitors of all ages are invited to celebrate the peanut, try boiled peanuts and help harvest ones grown on the farm. They'll have a game of hopscotch and make-your-own-birdfeeders for kids to enjoy, as well! For more information, visit HorryCountyMuseum.org/farm.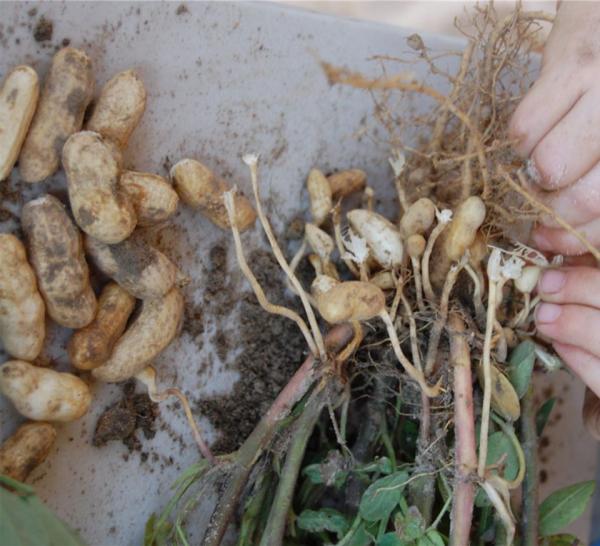 Go Fishing
Now this one will be a first for us this year! The boys are just getting to ages where I can trust them a little more around fishing equipment and the water, and fall is one of the best times for fishing in Myrtle Beach. If Myrtle Beach State Park ends up hosting their 'Take a Kid Fishing Day' at the end of October, we'll check it out. While another option is going out for a short family fishing charter trip with Captain Smiley (CaptainSmileyFishingCharters.com)! We could probably use a little help getting started anyway, as mom and dad haven't fished in some time. If you are an experienced fisherman however, I'd recommend checking out any one of our awesome area piers! However we end up making it happen this coming month, I know this is one fall activity the boys are going to love.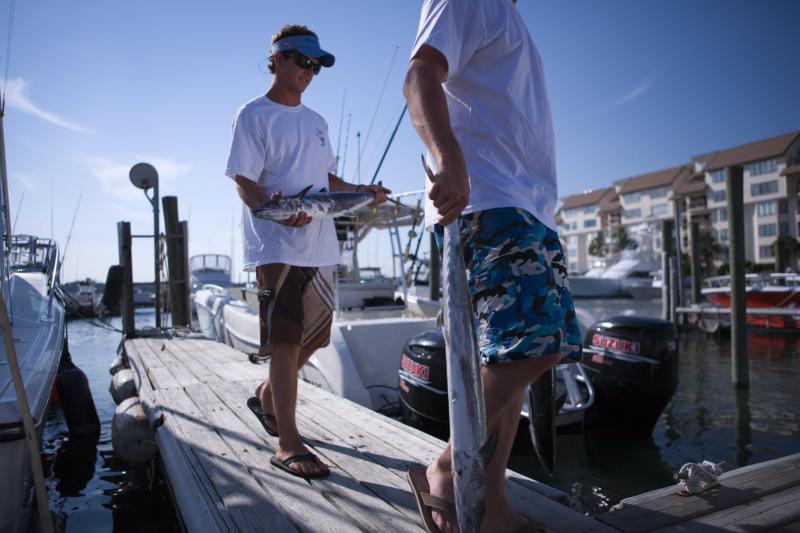 Brookgreen Gardens 'Harvest Home Weekend'
This coming Saturday, October 3, and Sunday, October 4, 2020, Brookgreen hosts their annual Harvest Home Weekend. They'll have a variety of fun family activities that can all be done safely... outdoors and socially distanced. My kids love the pumpkin patch, scarecrow building and pumpkin decorating. I love the fact that we get to be outdoors together at one of the most scenic public gardens in the Southeast. In addition to admission to the gardens, activities like scarecrow building and pumpkin decorating also come with a small fee. But the memories are worth it! Food and beverage vendors are also on-site for this event. For more information, check out Brookgreen.org.