Plan now to participate in fun-filled Penguin experiences in early 2020!
Plan to interact with penguins at Ripley's Aquarium of Myrtle Beach in just a few short months! Pre-sales are already live for Penguin Encounters and VIP Penguin Experiences at the Ripley's Penguin Playhouse and make a great holiday gift idea.
A Penguin Encounter is an upgraded 30-minute learning experience where you get to interact and even pet a penguin while learning about this species from our Aquarium staff experts.
Go to the next level and try a VIP Penguin Experience which includes a full Penguin Encounter as well as a Penguin Painting Experience - and you get to take home an 8x10 canvas of the Penguin Painting that you helped to create!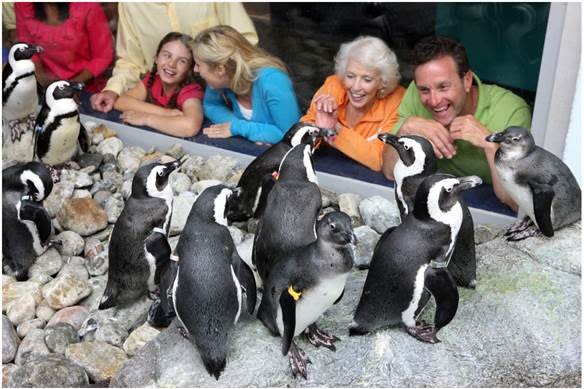 Both the Penguin Encounter and the VIP Penguin Experience are available for guests ages 4 and up. Find more information on these experiences and how you can pre-purchase.
"Ripley's Aquarium of Myrtle Beach is thrilled to offer experiences that bring guests up close and personal with South African penguins. We hope that these experiences help our visitors make memories that will last a lifetime," said Pablo Chavez, General Manager, Ripley's Aquarium of Myrtle Beach.
Ripley's Aquarium will also host the Innagural Penguin Dash 5K and 1 Mile Family Fun Run on February 15, 2020. This family-friendly, themed event will be a celebration of the newest members of the Ripley's Aquarium family – South African Penguins. Guests are encouraged to dress up and all ages are welcome. There is even a free Toddler Waddle taking place in front of Ripley's Aquarium that morning at 9 am. This event will start and end in front of Ripley's Aquarium at Broadway at the Beach. Race registration and special VIP packages are now live! Click here for more information. 
Ripley's Aquarium opened in Myrtle Beach in 1997 and boasts more than 14,000 fish on display as well as many interactive experiences. Guests can pet a stingray, bamboo shark, hold a horseshoe crab, and enjoy hourly dive shows. One featured exhibit is the 750,000-gallon Dangerous Reef, which has a 330-foot glide path through an underwater tunnel, allowing guests to come face-to-face with sharks, giant sawfish, and Gabby the Green Sea Turtle.
Ripley's Aquarium is located at 110 Celebrity Circle at Broadway at the Beach and is open 365 days a year.