This past week, for the first time since February, I ventured out to a couple of Myrtle Beach's best kids' attractions. We are season pass holders at Ripley's Aquarium (located at Broadway at the Beach), so we started there. My plan was to visit right at opening on a Monday morning to ensure it would not be crowded—and we had the best time! After being home for nearly six months, the boys were thrilled to be out and about. They both wore their masks (as did I) and understood that if it was crowded, we might have to go home. However, with the state's mandate on attractions opening at only 50 percent capacity, it was not an issue at all.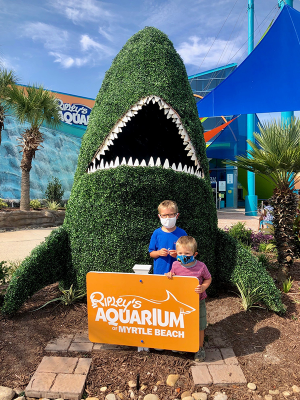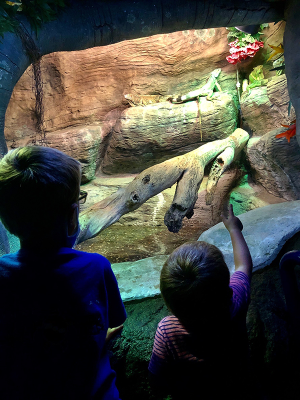 The boys got to see the penguins for the first time—a true delight—and got to explore much of the aquarium for a couple hours. Certain exhibits, like the horseshoe crab touch tank and other areas I would consider frequent 'touch points', were roped off or closed but the boys didn't seem to really notice. They were just so happy to be out of the house and doing something different! There are frequent sanitizing stations, reminders to social distance and a requirement to wear a mask. I was very pleased with how clean it was and how well people seemed to follow the safety guidelines! We will definitely head back in the coming weeks before our preschool reopens for fall.
A few days later, for my middle child's third birthday, I headed out again with the boys to Rockin' Jump trampoline park. It is one of his absolute favorite things to do in all of Myrtle Beach, and he has been begging me to go since our last visit back in February. Again, I made the plan to go right when the park opened to both avoid crowds and to ensure we were able to get in with the reduced capacity allowed. Neither turned out to be an issue. We were there for the 'Rockin' Tots' jump time from 9 to 11 a.m. (an affordable $13 for an adult and two children to jump for two hours!), and I felt like we were perfectly safe the entire time.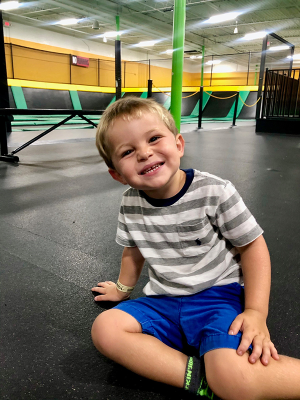 Again, a mask requirement is in place for children ages 10 and up but I made the boys wear theirs anyway just as continued good practice. There were lots of sanitizing stations, temperature checks, and reminders to social distance. In addition to those measures, the entire park undergoes daily disinfectant spraying or fogging using products that meet the EPA criteria for use against SARS-CoV-2, the novel coronavirus that causes COVID-19. Bravo! We will definitely head back again soon for a morning jump session.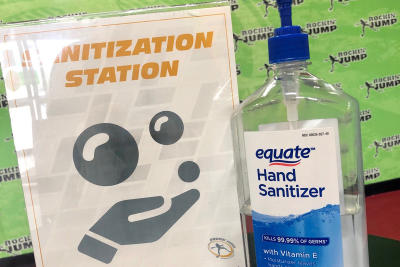 Spending the last six months really exploring the outdoors in Myrtle Beach, South Carolina, was a wonderful blessing, and we will continue to spend a lot of our time outside. But we were so very happy to be able to safely visit some of our favorite indoor attractions and look forward to supporting them in the coming months.