African Penguins Coming as Part of the Largest Expansion in Ripley's Aquarium of Myrtle Beach's 20-year History
Myrtle Beach, SC (October 29, 2019) – Ripley's Aquarium of Myrtle Beach is excited to announce Ripley's Penguin Playhouse will open in early 2020.
The 5,500-square-foot expansion is the largest in Ripley's Aquarium of Myrtle Beach's 20-year history. The African penguin habitat will have floor-to-ceiling viewing glass and a 360-degree crawl tunnel for guests to waddle through. This addition also includes a brand-new Oceans of the World gallery with eight tanks, housing fascinating species of fish from all over the world.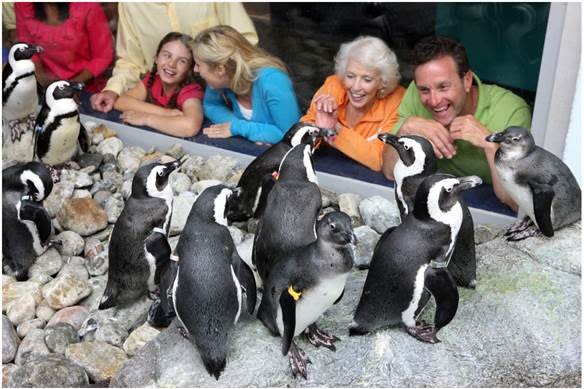 Sporting their black-and-white plumage, the African penguin is the only species of penguin found on the African continent, preferring warmer water temperatures, unlike their Antarctic counterparts. Their unique black stripes and spots serve as their identification, similar to a human fingerprint. 
The African penguin is one of the most endangered penguins in the world—numbers have declined by 60 percent in the last 28 years. Welcoming Ripley's new colony in 2020 is just the beginning of the Aquarium's conservation efforts, as an on-site penguin nursery will house and care for baby penguins, helping Ripley's Aquarium foster a growing flock.
Ripley's expansion features two new state-of-the-art classrooms for educational programs, school groups, and unique experiences that will allow guests to get up close and personal with these extraordinary birds.
Unique Experiences
Penguin Encounters - Interact—and even pet—Ripley's most adorable creatures beak-to-beak while learning about this species from Aquarium staff experts.
Paint with the Penguins - Pal up with a penguin to create—and take home—a one-of-a-kind piece of footprint art!
"Ripley's Aquarium of Myrtle Beach is beyond excited to welcome penguins to our Aquarium. This brand-new and completely immersive penguin habitat will not only captivate and entertain our guests but also educate visitors, teachers, and school groups. Our mission is to provide a top-quality, world-class aquatic facility that will promote environmental education, conservation, and research. We know this new penguin addition will support our educational and conservation missions while offering family-friendly entertainment for visitors of all ages," said Pablo Chavez, General Manager, Ripley's Aquarium of Myrtle Beach. 
Ripley's Aquarium opened in Myrtle Beach in 1997 and boasts more than 14,000 fish on display as well as many interactive experiences. Guests can pet a stingray, bamboo shark, hold a horseshoe crab, and enjoy hourly dive shows. One featured exhibit is the 750,000-gallon Dangerous Reef, which has a 330-foot glide path through an underwater tunnel, allowing guests to come face-to-face with sharks, giant sawfish, and Gabby the Green Sea Turtle.
Ripley's Aquarium is located at 110 Celebrity Circle at Broadway at the Beach and is open 365 days a year.
About Ripley's Aquarium of Myrtle Beach
Ripley's Aquariums are part of the Ripley Entertainment Inc. family of worldwide attractions, the global leader in location-based entertainment. More than 14 million people visit its 100-plus attractions in 10 countries each year. In addition to its three world-renowned aquariums and 30 Believe It or Not! Odditoriums, the Orlando, Florida-based company has publishing, licensing and broadcast divisions that oversee projects including the syndicated Believe It or Not! Television show, best-selling books and the popular syndicated cartoon strip, Ripley's Believe It or Not!, that still runs daily in countries around the world. Ripley Entertainment is a Jim Pattison Company, the second-largest privately held company in Canada. Learn more about Ripley's Aquarium of Myrtle Beach by visiting RipleyAquariums.com/MyrtleBeach and following them on Facebook, Twitter, and Instagram.