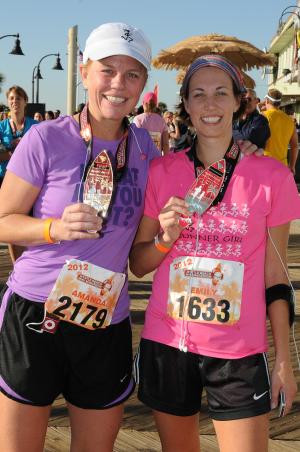 The countdown has begun for thousands of runners who will head to Myrtle Beach, South Carolina, for the annual Myrtle Beach Mini Marathon, Coastal 5k and Doggie Dash on Saturday and Sunday, October 19 and 20, 2019. This annual half marathon is a favorite among runners due to its flat course, mild temperatures and scenic coastal backdrop. The marathon weekend offers three separate events for runners at all skill levels: The Coastal 5k, Doggie Dash, and the Myrtle Beach Mini Marathon. 
The Coastal 5K event (3.1 miles) is set for 6 to 11 a.m. on Saturday, October 19, at The Market Common and features a loop course through a beautiful village setting, ending at Grand Park. The Doggie Dash is a one-mile 'fun run' for dog owners of all ages to enjoy with their four-legged companions and begins right after the Coastal 5k, around 8:45 a.m., at The Market Common. While my husband and I are not huge runners, we always try to compete in this event as all net proceeds from the Doggie Dash benefit the Grand Strand Humane Society. And the race photos usually turn out great with everyone's dogs running alongside! 
The big event, the Myrtle Beach Mini Marathon (13.1 miles), is set for 6 a.m. to 12 p.m. on Sunday, October 20. The mini marathon route begins at Coastal Grand Mall, travels down Robert Grissom Parkway, loops on 62nd Avenue North to North Ocean Boulevard, and ends by the Myrtle Beach Boardwalk (9th Avenue North). This surfing themed half marathon features surfboard finisher medals, surf-style bands, an awesome post-race beach party at Plyler Park, and over five miles of oceanfront running. It is one of the most beautiful finishes to any race along the Atlantic coast (I might be a little biased), and the fact that after you finish you can enjoy the boardwalk and downtown Myrtle Beach certainly sets it apart from other races. 
Whether you're a runner or a spectator, the Myrtle Beach Mini Marathon weekend is one jammed pack full of fun and fantastic weather. For more information or to register online, visit RunMyrtleBeach.com.