Are you ready to run?
Saturday, March 7th, the Myrtle Beach Marathon is back for its 23rd year! The race is listed as one of USA Today's "10 Great Winter Marathons." If a full marathon isn't quite your speed you also have the option for the half marathon, 5k, or Family Fun Run. The course is fast and flat with 9 miles of oceanfront views and the race day temperature this year is expected to be 50-60 degrees. These ideal running conditions make the Myrtle Beach Marathon a popular qualifier for the Boston Marathon.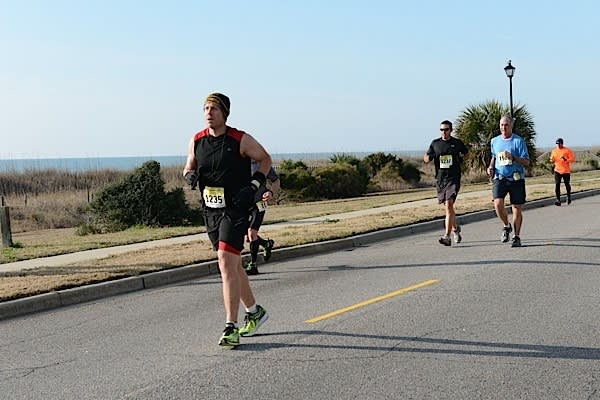 Dave and Buster's at Broadway at the Beach hosts this year's Health and Wellness Expo Friday, March 6, from 10 a.m.  to 8  p.m. While runners pick up their race packet they can also get 20% off food and unlimited gaming. Broadway at the Beach has attractions and dining for everyone and is a great location to kick off your race weekend. The race begins at 7 am at the intersection of Grissom Parkway and 21st Avenue N. After your run on Saturday the Runners Village will have live music, free beer, food, awards, and vendors.
With limitless dining options, world-class entertainment, beautiful beaches, and fun-filled attractions, Myrtle Beach is the perfect place for your race-cation. You can register until 8 p.m. on March 6th. Register here: MBMarathon.com.
Click here for deals on places to stay in Myrtle Beach.
City of Myrtle Beach Traffic Information for the 2020 Myrtle Beach Marathon
For more information, including an interactive course map, see MBMarathon.com.
Attention, drivers…  The Myrtle Beach Marathon and Half Marathon both begin at 7:00 a.m., Saturday, March 7.  Drivers should allow extra time to get to their destinations, as traffic will be congested during race hours.  Please watch for runners and drive with care!  Hotels should advise guests to park west of Ocean Boulevard on Friday, March 6.  Vehicles will not easily be able to cross Ocean Boulevard during the race hours on Saturday morning.  Remember that US 17 (commonly called "the bypass") is not part of the course, so use it to travel north and south on Saturday.
Plan ahead for travel on Saturday, March 7, and allow extra time to get to destinations.
Avoid the following intersections:  21st Avenue North and Grissom Parkway; 29th Avenue North and Grissom Parkway; Mr. Joe White Avenue and Oak Street; and, Mr. Joe White Avenue and Kings Highway.
Anticipate heavy congestion in the Grande Dunes Boulevard and Kings Highway area.
Northbound traffic on Ocean Boulevard is only available for race participants.
Please be patient and plan to share the road with runners or seek an alternate route.  Expect possible congestion between 4:00 a.m. and 2:00 p.m., and expect delays on Kings Highway, Ocean Boulevard, Farrow Parkway, Grissom Parkway and the following cross-streets: 
21st Avenue North – Greens Boulevard to Grissom Parkway (4:00 a.m. to 1:30 p.m.)
Grissom Parkway – 29th Avenue North to Mr. Joe White Avenue (4:00 to 11:00 a.m.)
Mr. Joe White Avenue – Grissom Parkway to Kings Highway (6:00 to 11:00 a.m.)
Kings Highway (Southbound Lanes) – Mr. Joe White Avenue to Farrow Parkway (6:30 to 8:00 a.m.)
Farrow Parkway (Local traffic to and from The Market Common will have access from US 17, or "the bypass," only.) – Kings Highway to Johnson Street (7:00 to 9:00 a.m.)
Pampas Drive – Mallard Lake Drive to Farrow Parkway (7:00 to 9:00 a.m.)
Johnson Avenue – Farrow Parkway to Nevers Street (7:00 to 9:00 a.m.)
Hackler Street – Johnson Avenue to Farrow Parkway (7:00 to 9:00 a.m.)
Nevers Street – DeVille Street to Farrow Parkway (7:00 to 9:00 a.m.)
Howard Street – Farrow Parkway to Reed Avenue (7:00 to 9:00 a.m.)
Emmens Avenue – Gabreski Lane to Farrow Parkway (7:00 to 9:00 a.m.)
Kings Highway – Center South to South Ocean Boulevard (7:30 to 9:00 a.m.)
Ocean Boulevard Closure – Mr. Joe White Avenue to First Avenue (7:00 to 10:30 a.m.)
Ocean Boulevard (Northbound Lane Only) – Along Ocean Boulevard to 82nd Parkway (7:30 a.m. to 12:15 p.m.)
Mr. Joe White Avenue – Ocean Boulevard to Grissom Parkway (6:30 to 10:30 a.m.)
Grande Dunes Boulevard – North Ocean Boulevard to US 17 (8:00 a.m. to 12:00 p.m.)
Kings Highway (Southbound Curb Lane Only) – Grande Dunes Boulevard to 65th Avenue North (8:00 a.m. to 12:30 p.m.)
65th Avenue North (Westbound Lanes) – Along 65th Avenue North to Frontage Road and East Coast Greenway (8:30 a.m. to 12:45 p.m.)
Frontage Road and East Coast Greenway – 65th Avenue North to Granddaddy Boulevard (8:30 a.m. to 1:00 p.m.)
Granddaddy Boulevard (All Lanes) – Drivers must U-turn after three-tenths of a mile. (8:30 a.m. to 1:00 p.m.)
Grissom Parkway (Southbound Curb Lane Only) – Granddaddy Boulevard to 21st Avenue North (8:30 a.m. to 2:30 p.m.)
48th Avenue North – Grissom Parkway to Oleander Street (9:00 a.m. to 2:00 p.m.)