The threat of COVID-19 has affected millions of individuals financially across all parts of the country. In tourism-dependent communities like ours, the shutting down of bars and restaurants—while necessary—yield big blows to hospitality and tourism workers as we head into what would normally be a busy time here in Myrtle Beach, South Carolina.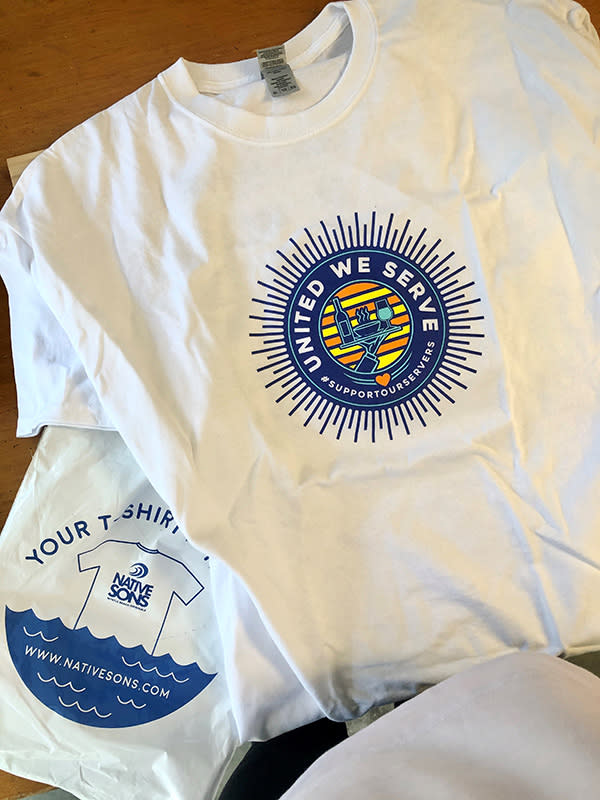 While we've heard a lot of stories of hardship, we've also heard a lot of wonderful stories about neighbors helping one another. One company here locally, Native Sons, has started a 'Support Our Servers' t-shirt campaign that we love. They've engaged with local industry leaders and restaurant associations to create a plan of action allowing diners to meaningfully give to the restaurants and servers they love. When you visit the website you can choose to purchase one of two t-shirts for $25 (mine says "United We Serve") or decals for $3 and whatever you select will be shipped directly to you. 
Here is the cool part. All of the proceeds from the sale of the shirt or decal will be donated to a restaurant of your choice. Tons of Myrtle Beach dining spots are available to choose, so while you can't be here in person for spring break right now you can still show your love to your favorite restaurant. My best friend is a server at Hoskins Restaurant, so I felt called to select their business for my t-shirt proceeds, but you could pick Hook & Barrel, Drunken Jacks, Benjamin's Seafood, RipTydz or any number of others.
There are many of us that are fortunate enough to be able to work from home, but our restaurant servers cannot. Even if restaurants temporarily convert to delivery or carry-out, they lose most of their revenue and the tips employers depend upon to survive. So if you're one of the lucky ones who is still able to work, consider helping those who are not as fortunate right now. There are so many ways to spread some sunshine, and this is just one we love.