MYRTLE BEACH, S.C., October 10, 2019– The Vacation Myrtle Beach resort group is in its fourth year in a partnership with the American Cancer Society in hosting the "Making Strides Against Breast Cancer Beach Walk and Family Fun Day" on Saturday, October 19, 2019.  The family event is open to the public and participation is completely free. 
"We are so thrilled to be working with the American Cancer Society for the fourth annual Making Strides event in Myrtle Beach," said Matt Klugman, Chief Operating Officer for Vacation Myrtle Beach.  "The event has grown over the past three years and we expect this year to be bigger and better than ever as we all join together for this important cause."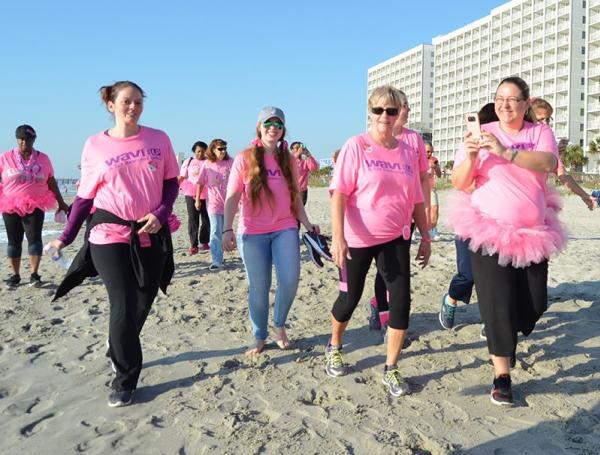 Registration for the 5K walk will begin at 8 a.m. with the walk beginning at 9 a.m. Participants will start and end at Crown Reef Resort at 2913 S. Ocean Blvd. in Myrtle Beach. All cancer survivors will get a free t-shirt, while all participants who donate $15 or more will also receive a t-shirt. 
The fun will continue with a post-walk celebration for the whole family to enjoy—rain or shine, and will include:
Treats for sale as a fundraiser from top executive chefs from Vacation Myrtle Beach
Mascot appearances
DJ and dancing
Mermaid photo opportunities for kids with Myrtle Beach Mermaids
Carnations to be handed out to cancer survivors from the Medieval Times knights
Troy Matheny, the Senior Community Development Manager for the Southeast Region of the American Cancer Society expressed his enthusiasm for the event.  "We are excited to be working with Vacation Myrtle Beach for this annual event and we plan to work together for years to come," said Matheny. "Myrtle Beach has always been important for our organization, so it just makes sense to have a community event that's a celebration for all of our combined efforts."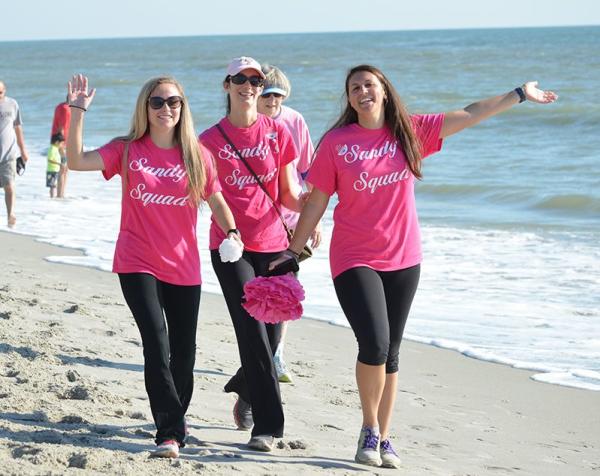 Pre-registration is not required, and any interested participants can park at Crown Reef Resort and resort staff will direct them to the beach walk. Those who would like to register and fund-raise in advance may sign up here.
Vacation Myrtle Beach is also offering a special Making Strides rate for beach visitors staying over the weekend where $5 from every reservation will be donated to the American Cancer Society. 
About VacationMyrtleBeach.com Resorts
VacationMyrtleBeach.com is the official vacation site of Myrtle Beach, S.C., offering the guaranteed lowest rate on nearly 4,000 accommodation units, ranging from studios and efficiencies to one-bedroom suites and two-, three-, four- and five-bedroom condos. VacationMyrtleBeach.com resorts also offer a wide range of award-winning properties and Myrtle Beach's best on-site amenities including pools, water parks, lazy rivers, whirlpools, restaurants, oceanfront pool bars, bowling center, tennis center, racquetball courts, fitness rooms, miniature golf course and even South Carolina's first swim-up pool bar. Ask about our special rates for accommodations and meeting space for retreats, meetings, and conferences.
About the American Cancer Society
The American Cancer Society is a global grassroots force of 2.5 million volunteers saving lives and fighting for every birthday threatened by every cancer in every community. As the largest voluntary health organization, the Society's efforts have contributed to a 22 percent decline in cancer death rates in the U.S. since 1991, and a 50 percent drop in smoking rates. Thanks in part to our progress, 14.5 million Americans who have had cancer and countless more who have avoided it will celebrate more birthdays this year. We're determined to finish the fight against cancer. We're finding cures as the nation's largest private, not-for-profit investor in cancer research, ensuring people facing cancer have the help they need and continuing the fight for access to quality health care, lifesaving screenings, clean air, and more. For more information, to get help, or to join the fight, call us anytime, day or night, at 1-800-227-2345 or visit cancer.org.