Around the beginning of May—sometimes earlier if we're having a particularly warm spring—we start to see some cannonball jellyfish wash ashore on our daily beach walks. One of the questions I'm asked frequently online is whether there are jellyfish in Myrtle Beach, and of course, the answer is yes. But that shouldn't cause too much concern or stop anyone from swimming. The jellyfish most commonly seen along our shoreline are cannonball jellyfish and this particular kind are not generally known for stinging humans. In fact, I've lived and swam in our ocean nearly my entire life and have yet to be stung!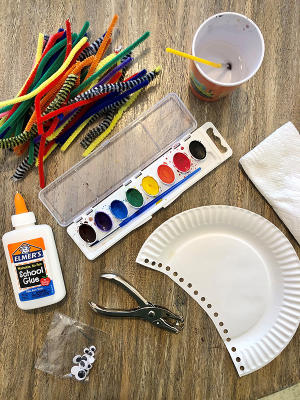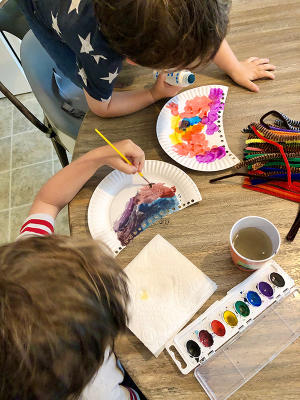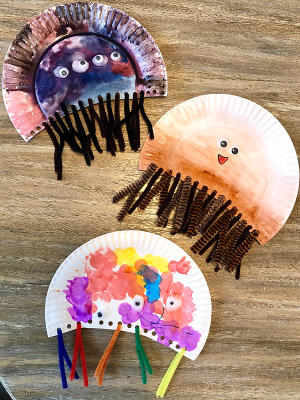 The cannonball jellyfish gets its name for its overall size and resemblance to a cannonball. They eat zooplankton and red drum larvae and are mostly at the mercy of the tides in terms of their movement. These guys also serve a fantastic purpose in a very important food chain as they are a primary source of food for the endangered leatherback sea turtle. The boys are infinitely fascinated by these sea creatures, and we felt inspired to make our own jellyfish the other day. The instructions are pretty straightforward and they don't require a ton of materials. Here is what you will need:
paper plate
hole punch
school glue
googly eyes (optional)
pipecleaners (or you could use yarn)
watercolor paint or markers
In preparation for the boys to make them, I cut the paper plate into the shape of the top of a cannonball jellyfish and made holes along the bottom for our 'tentacles.' First I had them paint or color their jellyfish's body (also called the medusa!). Then I had them glue on eyes. This is a good time to teach kiddos that jellyfish actually have more than two eyes! Some species have up to 16. And lastly, I had them thread their pipe cleaner tentacles through the holes. You could easily use yarn here, but pipe cleaners are easier for little hands to thread. We love the way these cuties turned out, and they serve as a great reminder on our fridge that we don't need to be afraid of jellyfish!