As the Grand Strand covers over 60 miles of coastline, we have our fair share of Christmas tree lightings and celebrations as we head into the holidays! These Christmas Tree Lighting events are the perfect way to kick off the holiday season and spread come cheer! There is something magical about the twinkling lights on the Christmas Tree amidst all the ornaments and ribbons. Here is a look at what to expect for Myrtle Beach area Christmas tree lightings in 2021:
Saturday, November 13, 2021
27th Annual Tree Lighting at Broadway at the Beach
6 to 9 pm 
Broadway at the Beach's annual tree lighting event will begin in Center Court with live performances from the Socastee High School Singers, Broadway Theater's Hot Jersey Nights Christmas Special, and more! Fireworks will follow the tree lighting at 8 pm.
Saturday, November 20, 2021
Lighting of the Landing
2 to 8 pm 
Festivities begin at 2 pm, but the tree lighting will be at 6 pm in Barefoot's Dockside Village. Fireworks will follow at 7 p.m. From 2 to 5 p.m., families will find a variety of activities, including face painting, DJ dance party, character appearances and more. The tree lighting ceremony will be hosted by Ed Piotrowski and will feature live entertainment from The Alabama Theatre, The Academy of Dance and Fine Arts, and more. Santa visits will take place following the tree lighting and will last through 8 pm. 
Annual Tree Lighting at The Market Common
6 to 8 pm
The popular Market Common tree lighting will take place in front of Grand 14 Movie Theater with plenty of live entertainment and family fun. There will be carolers and other performances, pictures with Santa, and vendors with holiday treats. Santa will arrive on his sleigh to light the tree and pose for photos, and free carriage rides will be offered from 5 to 8 pm.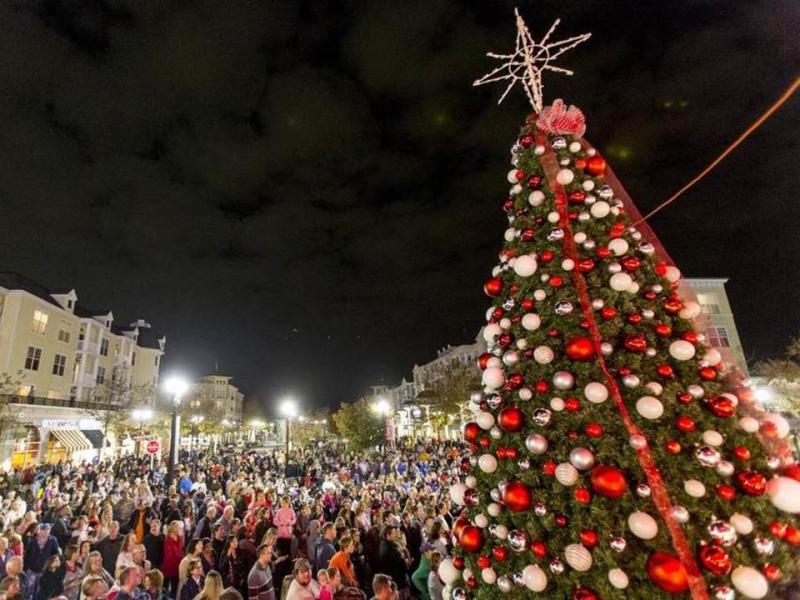 Tuesday, November 30, 2021
North Myrtle Beach Tree Lighting at McLean Park
6 pm
North Myrtle Beach's Official Christmas Tree Lighting Ceremony will take place at McClean Park this year. Located near Main Street, North Myrtle Beach, the park will also kids activities, live entertainment and refreshments for the ceremony. Families will also have the chance to visit with Santa and his friends. 
Thursday, December 2, 2021
City of Conway Christmas Tree Lighting
6 pm 
Downtown Conway's Christmas Tree Lighting is like one out of a Hallmark movie. Taking place in front of Town Hall along Main Street, the event features live music and more. Following the tree lighting, there will be a chance to see Santa and stay for some holiday shopping as downtown stores stay open later on Thursday nights. 
Saturday, December 4, 2021
Town of Surfside Beach Christmas Tree Lighting
4 to 9 pm 
The annual tree lighting ceremony for the Town of Surfside Beach will take place in front of Town Hall at 115 US-17 BUS beginning at 6 pm. The event always features music and visit from Santa Claus.
Murrells Inlet Christmas Tree Lighting
4 to 7 pm
Murrells Inlet rings in the holiday season with their annual tree lighting at Morse Park Landing next to the Hot Fish Club. Christmas tree lighting festivities include visits with both Santa and Mrs. Claus, along with holiday crafts, hot chocolate and cookies. 
Sunday, December 5, 2021
City of Myrtle Beach Official Christmas Tree Lighting
4 to 6 pm 
Celebrate the holiday season with the official tree lighting for the City of Myrtle Beach in the Garden of Hope on Carver Street in downtown Myrtle Beach. The evening features live music, hot chocolate, cookies and a socially-spaced photo opportunity with Santa. 
Learn more about celebrating the holidays in Myrtle Beach with the 2021 Holiday Vacation Guide.