Sky Zone (formerly Rockin' Jump Myrtle Beach) is the Myrtle Beach area's first indoor trampoline park and home to large open jump spaces, a challenge course, a vertical ops wall, dodgeball, a foam pit, rock wall and more. It's great any time of year, but it's an especially awesome attraction for times of year when it's cooler and you don't necessarily want to be outside.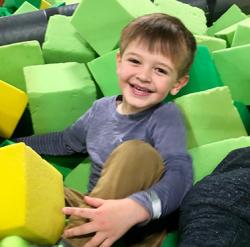 While I've visited Sky Zone Trampoline Park in Myrtle Beach on several occasions, this past weekend was the first time I've actually taken my two kids. I've taken tours and gone with adults as part of a team-building exercise, but I've never gone with my children (ages 1 and 4). Probably because they're so young, it hadn't really crossed my mind that they would be into it… or into it for very long.
I was so wrong! This past weekend, we visited during Sky Zone's "Little Leapers" jump time and had a blast. Their Little Leapers jump time is held weekdays from 9 a.m. to 11 a.m. and Saturday from 8 a.m. to 10 a.m. and is exclusively for children under 6 years of age. Those with very young children know this time frame is perfect to burn off tons of energy. And we were able to get home in time for lunch and a long afternoon nap.
Another plus is the cost of the Little Leapers jump time. It's a very affordable family activity, costing only $10 for the parent and one child (up to age 6) and only $3 more for each additional child or parent. I should note you will have to purchase their reusable socks if you don't already have a pair, but they are only $3 a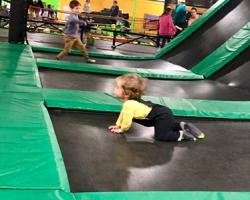 pair.
This past Saturday there was a good turnout of parents and children, but it had a much calmer feeling than times I've been in the past. Later afternoon and evening jump times are super exciting with bigger kids, teenagers and adults jumping. But the quiet morning time is better suited to those in the younger age group. Beyond regular jump times, they also offer a number of special events throughout the year and host awesome birthday parties. For more information, check them out online at www.skyzone.com/myrtlebeach.
Also, check out the coupon page for some great discounts on Sky Zone.