One of the holiday events our family looks forward to most each year has to The Great Christmas Light Show in North Myrtle Beach, South Carolina. The Great Christmas Light Show is a lighted celebration featuring over 2 million lights festively displayed along a 1.5-mile drive through the North Myrtle Beach Park & Sports Complex. The drive-through light show is open nightly now through December 30, 2019, except for Christmas Day, so there are plenty of opportunities to check it out! 
While the light show is magical at any age, it seems exceptionally enchanting for little ones. Over 500 magical light displays, some up to 55 feet tall, have been custom made for The Great Christmas Light Show, and visitors can experience 20 animated figures and holiday scenes where the lights move and seem to come alive.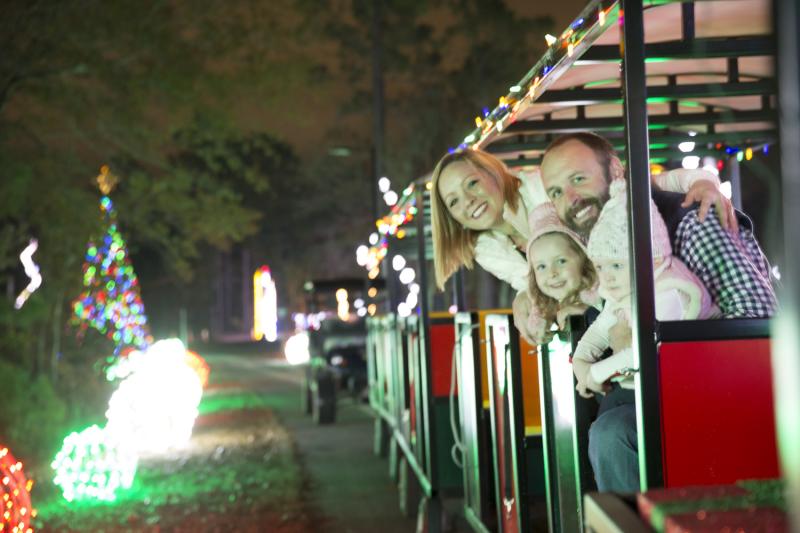 After driving through the light show, attendees can park their car and visit Santa's Village, where they can enjoy hot chocolate and s'mores, get an up-close look at the lights on the Santa Express Train Ride, go through the Chris-Maze and face their photo taken with Santa! Just keep in mind that Santa's Village only happens on Fridays, Saturdays and Sundays from November 29 through December 15. But beginning on December 19, it is open nightly with the light show! 
We've gone each year from when my first son was one-year-old, and it seems to grow each year! If you plan your visit on a weekend, be sure to allow extra time for traffic. While the city of North Myrtle Beach does a great job getting everyone in and out of the park, it can take a while to get into the main light show during peak visiting times. We've never found it to be a problem and just pack lots and lots of snacks for the kids.

Gates open nightly at 5:30 p.m. and remain open until 9:30 p.m. Pricing is per vehicle, based on the number of guests. It costs $15 per vehicle with 1-15 guests, $30 per vehicle with 16-30 guests, and $60 per vehicle with 31+ guests. Event organizers recommend calling (843) 280-5570 to schedule buses.

If you want to have the full Santa's Village experience, also plan on bringing extra cash. They have lots of fun activities to do (like the train ride and a Candy Cane Scramble), but most of them cost a little something. And don't forget to bring your camera. Photos with Santa are free, but visitors will need their own camera or phone to take pictures. For more information on The Great Christmas Light Show, check them out online at NMBChristmas.com.
Check out the Visit Myrtle Beach Holiday Getaway Guide.