One of the Most Architecturally-Significant Homes in America
A father's ploy to get his son out of Nazi Germany resulted in Myrtle Beach getting one of our country's most architecturally-significant homes.  It's called Youpon Dunes, named for a type of holly bush that is sometimes spelled yaupon. It is historically-significant locally because it was the winter residence of the visionary Simeon B. Chapin who was instrumental in Myrtle Beach's early development.  But on a national scale, it is one of the earliest, freestanding Postmodern, homes in the country.  In fact, the MoMA, The Museum of Modern Art in New York, held an exhibition, in the summer of 1933 (July 10th through September 30th), solely for the designs of this house before it was even built. 
I want to stress before I share this unusual story that, while you can see the house from North Ocean Boulevard as you drive through the picturesque stretch known as the Golden Mile, between 30th and 52nd Avenues North, it is privately owned.  It is NOT open to the public.  The property is gated and walled with tasteful signs indicating that trespassing is not allowed.  Enjoy its history and maybe take a peek as you drive past, but please don't encroach on the privacy of the owners.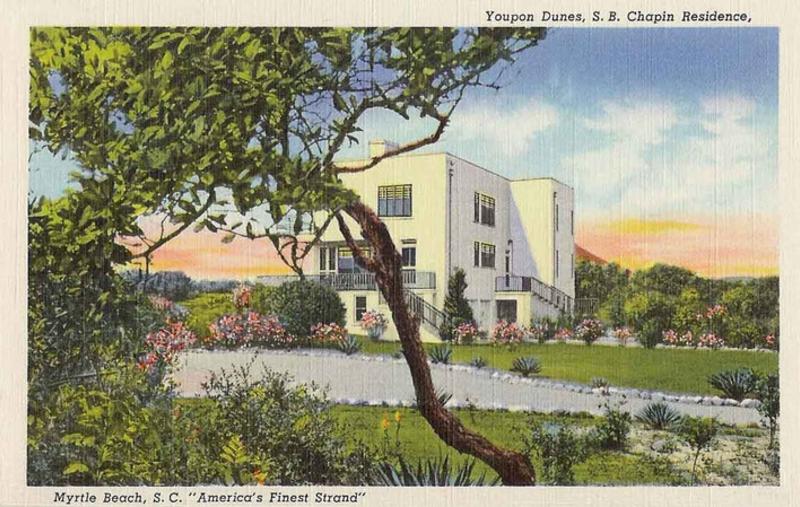 When its original owner took possession of it in 1936, everyone knew who he was.  Simeon B. Chapin was the financier and entrepreneur who had fallen in love with the oceanfront wilderness that was the burgeoning tourist destination, Myrtle Beach, in 1911.  When he got word the following year that the Burroughs family was going to sell a large tract of property, he took them up on their offer and then partnered with them to create the Myrtle Beach Farms Company now known as Burroughs and Chapin.  So well-known was he, not only here, but in Chicago and New York, that vintage Myrtle Beach postcards featured a picture of his home.  Printed at the top, it said, "Youpon Dunes, S.B. Chapin Residence, Myrtle Beach, S.C., 'America's Finest Strand.'"
His other southern vacation home was in Pinehurst, North Carolina.  His elder sister had a vacation rental there and had encouraged him and his family to visit her.  He was so taken with the town-- especially the golf course-- that he built a house that looked just like his sister's rental. 
While enjoying the golf there, he became friends with a certain Mr. Johnson.  He too was quite wealthy and fairly generous with that wealth, at least where his family was concerned. He gave his son, Philip, enough stock while the young man was still in his twenties, to make him a millionaire before the stock market crash of 1929, which allowed Philip to possess an exorbitant amount of cash during the years of The Great Depression. 
Philip Johnson was rather like a character out of an F. Scott Fitzgerald novel.  He had youth, charm, good looks, wit and lots of money.  He loved to spend time abroad and most notably in Berlin.  Despite that city's economy being devastated after the first world war, it was the cultural center of Europe.  Philip was most enthralled with the new architecture that was being created at its Bauhaus school of design. 
Meanwhile back home, his father was concerned that Philip was spending so much time in Germany in the early 1930s when the influence of the Nazi party was on the rise.  Whether Mr. Johnson knew that we were headed toward another world war or not, he knew that he wanted his son stateside.  However, Philip was a grown man.  His father couldn't make him come home.  So the elder Mr. Johnson hatched a plan with the help of his Pinehurst golfing buddy, Simeon Chapin.
At some point in their friendship, Chapin must have brought up the fact that he had been thinking about building a house in Myrtle Beach but had not yet begun to follow through on the idea.  Recalling that, Johnson suggested to or, more accurately, asked a favor of Mr. Chapin that would secure our city's place in American architectural history.  Going along with the scheme, Simeon Chapin commissioned Philip Johnson to return to the US and design his new home that later became Mr. Chapin's primary residence by the time of his death in 1945. 
It worked.  Philip returned.  However, whether that was entirely due to his father's doings is debatable.  Berlin was changing rapidly and not in a good way.  The Nazis closed down Bauhaus in 1933 along with every other notable cultural institution that didn't fit in with their objectives. However, one of Philip's acquaintances, William Priestly, was able to finish his thesis project before the school was shut down.  That project was the initial renderings for what we now know as Youpon Dunes.  That summer, Philip used his wealth and influence back in New York to create an exhibition at the MoMA to showcase those plans. 
So why don't you ever hear about the exhibition featuring this Myrtle Beach home?  Well, that is probably because Philip inadvertently misnamed it.  He knew his parents spent a fair amount of time in North Carolina and even designed a house for his mom in Pinehurst at one point.  I'm not sure that he'd spent much, if any, time there and most certainly didn't make his way to Myrtle Beach before.  And, as those of you from here know, people not from here sometimes just group the Carolinas together as one state.  I'm guilty of it as well elsewhere (Sorry North and South Dakota which I often refer to as The Dakotas without much knowledge of which cities are located in each).  Consequently,  Myrtle Beach's unprecedented foray into the modern art world was unfortunately entitled, "Summer Exhibition:  Project for a House in North Carolina by William T. Priestly."  
I don't know to what extent Philip Johnson realized that his father tricked him.  I'm under the impression that he saw the benefit of returning for himself and played along to appease his dad.  At first, Philip wasn't that gung-ho about designing Youpon Dunes. Although he was fascinated by architecture, he had yet to formally study it.  His only Harvard degree at that point was in philosophy.  He would return to Harvard at the age of 35 to earn his diploma in the field that eventually made him famous. 
Initially, he passed the commission on to Priestly and his one-time close colleague, Jan Rutenberg, but by the end was quite hands-on with the final design.  Of the three, Rutenberg was the most experienced and really the only one who could have pulled off the project alone, but the initial and final renderings of the other two make the credit for Youpon Dunes aptly split three ways.  However, Rutenberg is the only one who included it on his resume. 
For reasons unknown, his many collaborations with Johnson going forward have been omitted from the latter's biography.  Vess Rutenberg, former musician for the 90s rock band, The Lemonheads, and Jan's grandson, has made it his mission to bring his grandfather's legacy to light.  He created the first exhibition of his work in 2013 at the Indianapolis Museum of Contemporary Art. But Jan still primarily remains in the shadows of Philip Johnson whose prolific work includes the JFK Memorial in Dallas, the Crystal Cathedral in Grove Park, California, the Seagram and Sony Buildings in New York, and his own country home in New Canaan, Connecticut, called the Glass House. Its glass walls allow anyone on the outside to see every room.  There is a bedroom area off of the open concept living room, dining area and kitchen…  Has the question come to mind yet?  If so, you'll be relieved to know that there is a fireplace in the middle of the living room.  On the back side of the chimney there is a door to a small bathroom with a shower that is not on view.