Tis the Season for holiday fun and Ripley's Aquarium of Myrtle Beach has decked the halls with Christmas Trees for all guests to enjoy!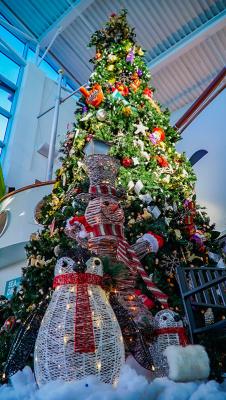 For the entire month of November and December, all guests to Ripley's Aquarium of Myrtle Beach get to see the Festival of Trees that includes more than 55 Christmas Trees decorated for every state in the United States plus trees that are themed for the venue! The entire Aquarium transforms into a Winter Wonderland with lights, bows, and beautifully decorated trees all set surrounding the awesome aquatic backdrop.
There is even a High Tea Under the Sea event where guests can enjoy hot tea, finger sandwiches, pastries and more while they tour through the Festival of Trees. This event takes place on Sunday, November 17th, 2019 and tickets are on-sale now at here. You can also book private events for High Tea Under the Sea for parties of 20 or more.
"The holidays are a great time for family and friends to get together and what better place to make holiday memories than Ripley's Aquarium of Myrtle Beach," said Pablo Chavez General Manager of Ripley's Attractions of Myrtle Beach.
As always, you can enjoy everything that Ripley's Aquarium of Myrtle Beach has to offer including the 330-ft underwater moving glidepath and come face-to-face with one of the largest collections of giant sharks on the East Coast. You can even touch sharks, jellyfish, stingrays and more! There is a new exhibit for 2019 Aloha Cove – a glimpse at Hawaiian life and culture.
Ripley's Aquarium is located at 110 Celebrity Circle at Broadway at the Beach.
Learn more about celebrating the holidays in Myrtle Beach with the 2019 Holiday Getaway Guide.