There's nothing like speeding across the waves, feeling the wind on your face, and the splash of the water as your jet ski powers through the surf. A jet ski is a wonderful way to get out in the water and enjoy sun and speed. If you'd rather cruise slowly and look for wildlife, you can do that, too. Between the Atlantic Ocean, the Intracoastal Waterway, and our inland rivers, the Myrtle Beach area offers a variety of great experiences with a variety of great water sports companies. For an amazing jet ski experience, check out these Grand Strand outfitters:
3 Locations:
1525 13th Avenue North, North Myrtle Beach, SC 29582
2051 Bridge View Court, North Myrtle Beach, SC 29582
4430 Kingsport Road, Little River, SC 29582
(843) 280-4100, info@actionwatersportz.com
If you are ready for some high-octane aquatic thrills, then be sure to book a thrilling jet ski adventure at Action Water Sportz. Zoom across the serene waters of the Intracoastal Waterway to discover the remote islands, secluded beaches, and pristine backcountry. Renting a jet ski is a wonderful way to find adventure on the Intracoastal's Waterway, in the backwater, and on the ocean. Also offers pontoon boat rentals.
2 Locations:
 410 South Ocean Blvd., Myrtle Beach, SC 29577, (843) 236-7245
2985 South Ocean Blvd., Myrtle Beach, SC 29577, (843) 448-7245
Since 1978, Downwind Sails Watersports has been providing vacationers and locals alike with premium water sport activities in Myrtle Beach at an affordable price. Their focus is on fun, safety, affordability, and quality service. Downwind also offers fun on paddleboards, kayaks, sailboats, parasails, and banana boats!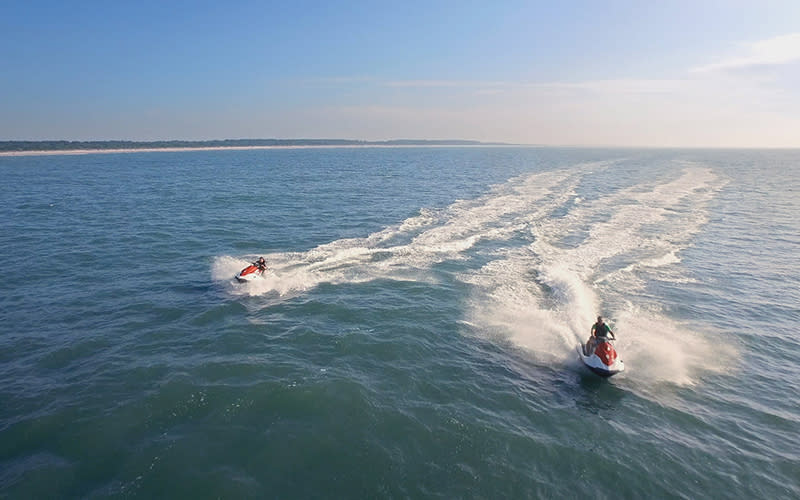 5843 Dick Pond Road, Myrtle Beach, SC 29588, (843) 650-7003
A top-rated company on Trip Advisor for customer service and pricing! Come check out their most popular activity, the Jet Ski Backcountry Adventure! With a wide variety of activities, Island Adventure has something for the whole family. Also offers pontoon boat rentals, jet ski rentals, kayaks, paddleboarding, wakeboarding, tubing, waterskiing, and wake surfing.
4042 Highway 17 Business, Murrells Inlet, SC 29576, (843) 357-7777
Jet Ski Express offers the largest riding area on the South end. Enjoy ocean and Inlet riding, dolphin eco tours or hourly rentals. Also available: scuba diving charters & lessons, ocean sightseeing/dolphin watch cruises, parasailing, kayak eco tours and rentals, banana boat rides and paddleboard rentals.
3 Locations:
8201 Marina Parkway, Myrtle Beach, SC 29572, (843) 839-2999
101 Fantasy Harbour Blvd., Myrtle Beach, SC 29579, (843) 903-3456
Harbourgate Marina, 2100 Sea Mt. Hwy, North Myrtle Beach, SC 29582, (843) 280-7777
Myrtle Beach Watersports offers a little something for everyone with locations and activities from one end of the Grand Strand to the other. Jet skiing, jet ski dolphin tours, pontoon boat rentals and more! Plus, friendly and personalized service keeps their customers coming back year after year!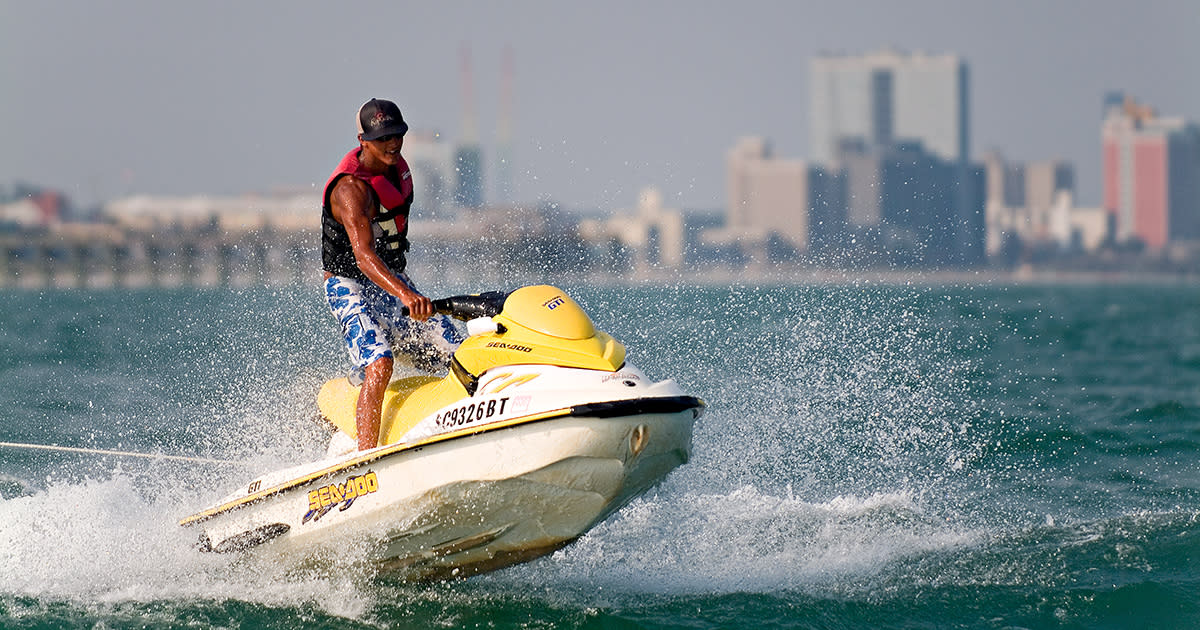 101 Fantasy Harbour Blvd., Myrtle Beach, SC 29579, (843) 353-7020
myrtlebeachwatersports@gmail.com
Imagine speeding over the glassy and beautiful backwaters of South Carolina, winding through the moss-covered oaks and going to places you can't access any other way! See nature untouched as you zip through some of the most scenic areas in the Grand Strand. Stop for pictures, stop just to take it all in, or don't stop at all, open it up and enjoy an adrenaline-filled ride for real jet ski enthusiasts! You can even record your entire experience by renting a GoPro to capture your very own backwater adventure!
See more about Myrtle Beach Watersports and Watersports discounts.