Long before Myrtle Beach was valued as a vacation destination for visitors, the towns slightly inland from the coast were the centers of activity in Horry County, South Carolina. The historic town of Loris began as a railroad town serving the lumber industry in the late 1880s, and is located just a short drive inland from the coast on the northern end of the Grand Strand. Not far from the North Carolina border, Loris offers a quintessential Southern experience for those enjoying small-town life and charm.
And with a small Southern town comes exceptional Southern cooking. Loris, South Carolina, is actually the birthplace of a regional dish called chicken bog, which consists of rice, chicken, sausage, onions and a variety of spices. Knowing Loris claims birthrights on chicken bog, and knowing first hand how delicious it is, it's not surprising the town is perhaps best known for their annual festival celebrating this beloved comfort food.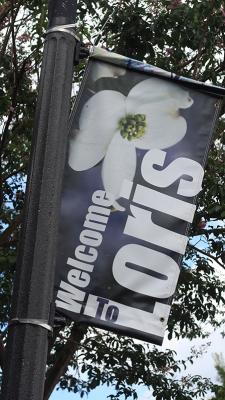 If you're up for adventuring inland to Loris one afternoon, here are a few things worth checking out:
Stroll Main Street. The revitalized downtown Main Street section of Loris offers some shopping and dining and a seasonal local farmer's market with fresh produce and home baked goods. Beyond the different possible stops, I think just the chance to see a historic former railroad town on foot is pretty neat. The brick buildings, landscaping, and layout of the Main Street area feel like charming glimpses into the past.
 
Eat at Shorty's Grill or The Grind. Shorty's Grill is located on Meeting Street in Loris, and is a good stop pretty much any time of day. They open at 5 a.m. for breakfast and continue serving up lunch and then dinner specials through 10 p.m. Beyond the exceptional Southern food, it very much feels like it could be the set of a movie.It's a prime example of the quintessential American diner, complete with counter stools and friendly staff. The chicken bog is a solid order choice, but my favorite might be their hamburger. The Grind is also a popular local favorite, and serves up great coffee and fresh, locally sourced homemade food.
 
Attend the annual Loris Bog-Off. And be sure to come hungry. The Loris Bog-Off is an annual festival that takes place each year on the third Saturday in October. The event is a great display of local food, art and music and is also home to a large kid's play pavilion, car show, concert and fireworks show. While the event first began in 1980 as a chicken bog cooking competition, it has grown over the years--generally attracting over 35,000 visitors and 200 vendors to the small town. It's a family-friendly event that offers an array of activities but if you ask me, the chicken bog is still the star of the show.
For more information on Loris and other Grand Strand communities, be sure to check out our neighborhoods section here.