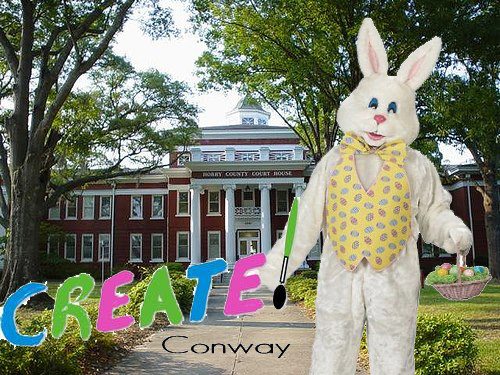 While it's only Monday morning, we can't help but already be thinking about the coming weekend. Especially as the weather continues to warm and staying indoors is so difficult! In thinking about this weekend, one particular event sticks out: CREATE! Conway's Equinox Art and Music Fest. This annual event is scheduled to be held this Saturday, March 23, from 10 a.m. to 5 p.m. in downtown Conway, South Carolina. Each year, local artists and musicians gather to celebrate creativity at the Conway Farmer's Market (near the historic Horry County Courthouse) located along Third Avenue.

Art demonstrations, glass blowing and live music will be among this year's highlights, and artists scheduled to attend include: Big Bam Boom, Jentry Rose, Dan Barnhart, Rusty Henderson, Sleeping Policeman, Reid Cox, Brian Roessler, Prettier Than Matt, and Just Add Salt. Also slated to make an appearance between 11 a.m. and 2 p.m.? The Easter Bunny! Who we're sure will be a popular guest with little ones and fun addition to the festival.

While the festival lasts from 10 a.m. to 5 p.m., it would be our suggestion that attendees take the opportunity to explore downtown Conway at some point during the day. Whether you order a Myrtle Beach-brewed beer from the Crafty Rooster, do a little shopping along Main Street or enjoy dinner at the Rivertown Bistro, we can promise it will be time well spent. For more information on the Equinox Art and Music Fest, click here, and for more information on all Myrtle Beach area events, visit http://www.visitmyrtlebeach.com/things-to-do/events/grand-strand-events/.