Earlier this week, we had the chance to check out the new location of Edventure Myrtle Beach, previously known as The South Carolina Children's Museum, at The Market Common. It was awesome! The new space is 3,500 square feet of space and flight themed exhibits, and offers educational programming, field trips, birthday parties and more.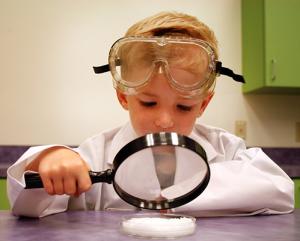 Children learn through hands-on exhibits incorporating science, technology, engineering and math (STEM) concepts with a definite focus on aviation. There is an interactive spaceship exhibit children can climb into with a 'mission control,' a 1960s-era playhouse with a video loop of the moon landing, and even a flight simulator!
While my kiddos weren't with me on this visit, I could see them loving each of the exhibits and we'll definitely be back once their summer camps end. My oldest son would gravitate towards the oversized legos while my youngest (who can and will climb anything) would love the NASA spaceship he could scale and explore.
We often tout Edventure as a great idea for rainy days, but it's equally as fun on sunny days, too! Especially now that it's located at The Market Common (just a quick walk away from Savannah's Playground) and parents can incorporate more than just the museum into their outing.
The other thing that's great about Edventure is the cost. Compared to much larger area attractions, general admission is a steal at $8 per person (2 years and older) and free for those under 24 months of age. And educators, seniors and military families are $7 per person. The museum is open 7 days a week, too! Monday through Saturday, hours are 10 a.m. to 6 p.m. and Sunday, hours are 12 to 6 p.m. For more information, check them out online at www.edventure.org/myrtle-beach.