As a lifelong Myrtle Beach area resident, I'm not sure why it took me 29 years to make it onto one of our area's dolphin watching cruises. I was missing out... Because now having done it, I can say It was one of the most memorable experiences I've had while out on the water along the Grand Strand. While there are multiple operators that offer great dolphin watching experiences-both out of Murrells Inlet and Little River-I hopped aboard Captain Mark Collins' vessel with Blue Wave Adventures Dolphin Watch Cruise.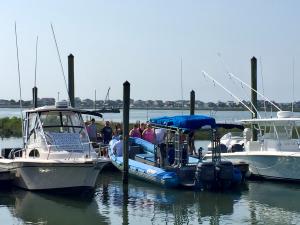 Their dolphin watch cruise runs seven days a week during peak season, with six cruises departing each day. All depart out of Crazy Sister Marina in Murrells Inlet, S.C., and head out along the Atlantic coastline. On the tour they search for dolphins, turtles, jellyfish, stingrays, sharks and any other wildlife that may appear. When I boarded, the crew prefaced there is no guarantee of seeing any dolphins, as they operate in an eco-friendly manner. I kept my expectations reserved, but within about 15 minutes we were all happily surprised with several playful dolphins! The crew was familiar with most of them, as they have over 40 named dolphins they regularly interact with. It was such a treat to be up close to these remarkable creatures, especially in the company of a marine biologist!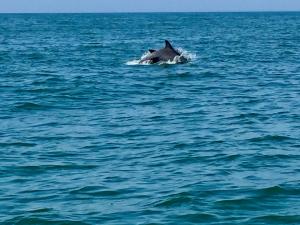 Beyond learning a ton about these amazing mammals, the cruise itself was so much fun. It was a gorgeous morning, and I think it would have been well worth the cost of the tour for the boat ride alone. I felt very safe in the hands of licensed Master Captain Mark Collins (he has 26 years of experience!), and the vessel is custom built and US Coast Guard inspected. The 360-degree view during the excursion was one of the things I liked most about the tour.
This is a perfect family-friendly activity for those wanting to get out on the water and learn a little about an important animal and ecosystem. A couple things to note: children under 3 and pregnant women are not recommended for this trip, and morning tours offer the best chance of seeing dolphins.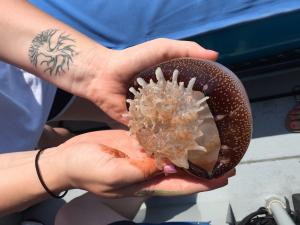 If you're feeling up for a little adventure and have always wanted to see dolphins interacting in their natural habitat, this tour is for you. The tours last an hour and a half each, and tickets are $25 for children ages 3-12 and $31 for adults. Another thing I liked was the opportunity to snap some pictures of the dolphins jumping near the boat, so I'd definitely bring along a camera to document the day. For more information and to purchase tickets, head over to bluewaveadventures.com.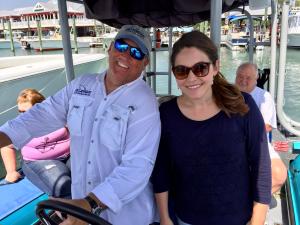 Blue Wave Adventures Dolphin Watch Tour - Murrells Inlet, SC Video