Whether you're celebrating with a significant other or a group of friends, the Myrtle Beach area is an ideal spot to spend Valentine's Day. And since this year's holiday falls on a Thursday, I'd say the perfect gift for the one you love would be a long weekend away at the beach! There are tons of last-minute accommodations deals to be found, and plenty of special happenings all along the Grand Strand.
To start, you'll probably need dinner reservations at one of our romantic restaurants. Some of our favorites that are hosting special Valentine's Day meals include:
The Sea Captain's House
Live music, an oceanfront view and a special 3-course menu makes for the perfect date night. The Valentine's Day Dinner at The Sea Captain's House is $80/per couple and includes dishes like filet and lobster tail or Veal Osso Buco. Call (843) 448-8082 for reservations and don't leave without trying the Kahlua and hazelnut milkshake.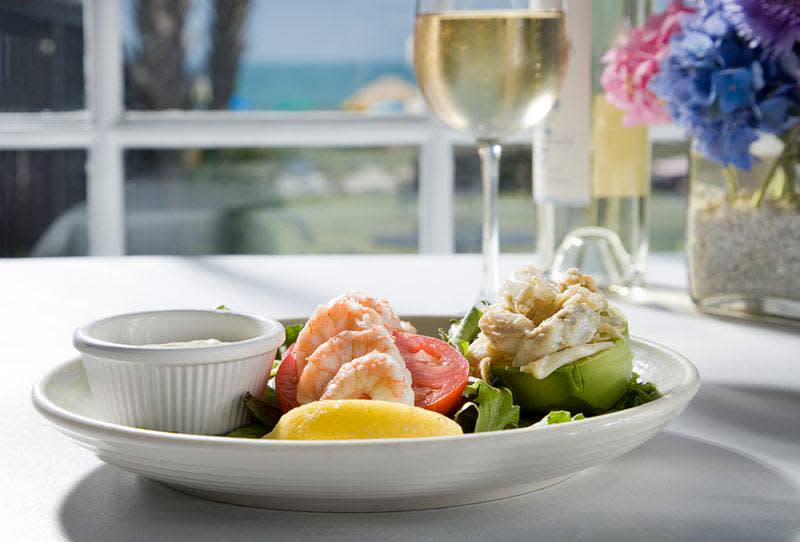 The Cypress Room
You can have your special Valentine's dinner at the wonderful Cypress Room restaurant Friday or Saturday. For $54.95 per person (not including tax and gratuity), dinner guests can choose from a special 3-course menu that includes baked oysters Rockefeller, petite filet and lobster, seared diver scallops and shrimp, chocolate ganache tart and more. Also included is a glass of champagne for you and your partner. Call (843) 449-6406 for reservations.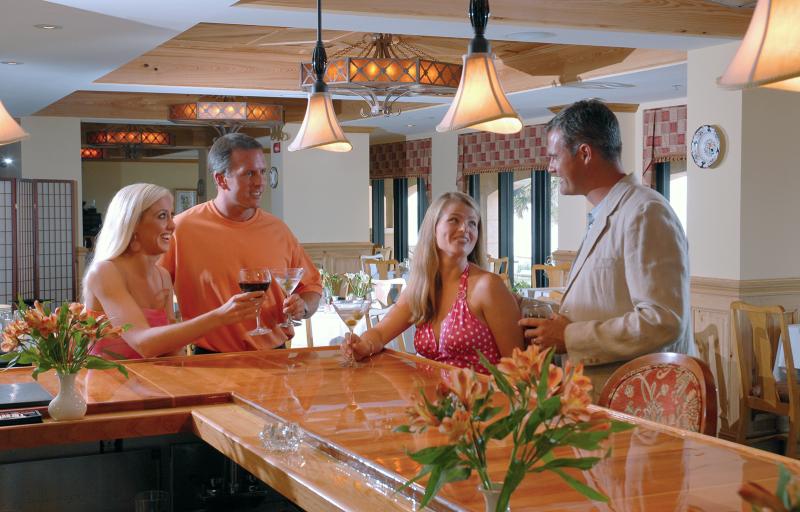 Hook & Barrel
A special 'Sweetheart Dinner' at Hook & Barrel in Myrtle Beach runs from Thursday—Saturday. Enjoy their regular menu items as well as a la carte specials such as strawberry beet salad, filet Oscar, and local catch. Reserve your table by calling (843) 839-5888.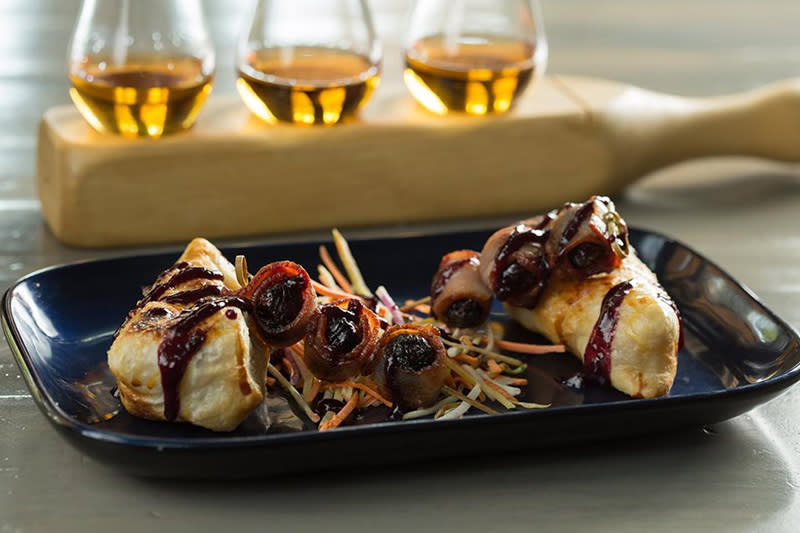 Waterscapes
WaterScapes inside the luxurious four-diamond Marina Inn at Grande Dunes is also offering their special Valentine's Day menu throughout the weekend. From February 13-16 enjoy a 5-course, romantic menu includes things like lobster chowder or ahi tuna tar tar, seared scallops or grilled 5-ounce filet mignon, and chocolate mousse for $49 per person.  Reservations are required by calling WaterScapes Restaurant directly at (843) 913-2845.
The Melting Pot
The Melting Pot is a popular Valentine's date night spot every year. The holiday seems like the perfect time for strawberries and chocolate fondue. They have an incredible 4 course spread for $69 per person, or you can spring for their VIP package for $200 per couple and receive a curtained-off table in a more private area, 4-course meal, three long-stemmed roses plus petals decorating the table, chocolate covered strawberries to take home and a commemorative framed photo. Call (843) 692-9003 for more information and to make reservations.
Beyond amazing dining options, other fun Valentine's Day activities in the Myrtle Beach area include:
Complimentary Valentine Carriage Ride at The Market Common
Celebrate Valentine's Day at The Market Common with a complimentary carriage ride through the tree-lined streets of the popular shopping and dining district. While you're there, spend a little time shopping with your loved one or enjoy dinner at one of their eleven fabulous restaurants. Carriage ride pick up and drop off is in front of Dolce Lusso Salon from 3 to 6 p.m. Visit MarketCommonMB.com for more information.
"Salute to the Music" Valentine's Dance at St. Andrew
Columbiettes will be hosting a "Salute to the Music" Valentine Dance which will include 50's, 60's and 70's music. Light refreshments will be served for a nominal fee. Proceeds Go To Support Local Charities. The price is $10 per person. Tickets can be obtained by calling Laura at 914-536-1012 or at the door.
Valentine's Day at the Castle
Celebrate your sweetheart at Medieval Times this Valentine's Day in royal style. Their $110 all-inclusive couples package is valid from February 3-17, 2019, and includes two admissions, a framed photo of the royal couple, two souvenir glasses of champagne and a light-up rose. For more information and to make reservations, call (843) 236-4635.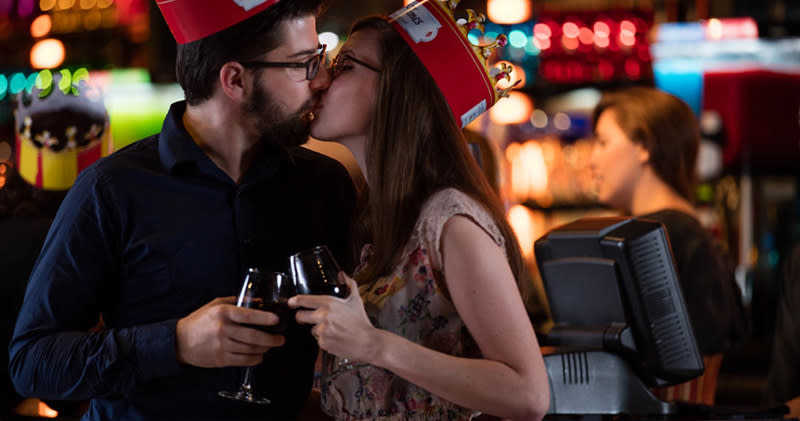 Ripley's 7th Annual 'Splash of Love'
Feast on a fabulous 4-course dinner while enjoying a romantic atmosphere surrounded by beautiful ocean life! A ticket to this event includes admission to the Ripley's Aquarium, dinner for two, one long stem rose, souvenir photo, and one drink ticket per person for $120 (plus tax) per couple. For an upgraded Tunnel of Love ticket ($180 per couple), you can dine with the sharks, receive an extra drink ticket and souvenir photograph and enjoy live music from a strolling musician. New this year is the You're My Penguin package which includes an elegant 4-course meal in the Penguin Playhouse which also includes a bottle of champagne at your table, 3 drink tickets, and a box of truffles. Reservations are required and can be made by calling (843) 916-0888 ext 3238. The event is both February 13th and 14th.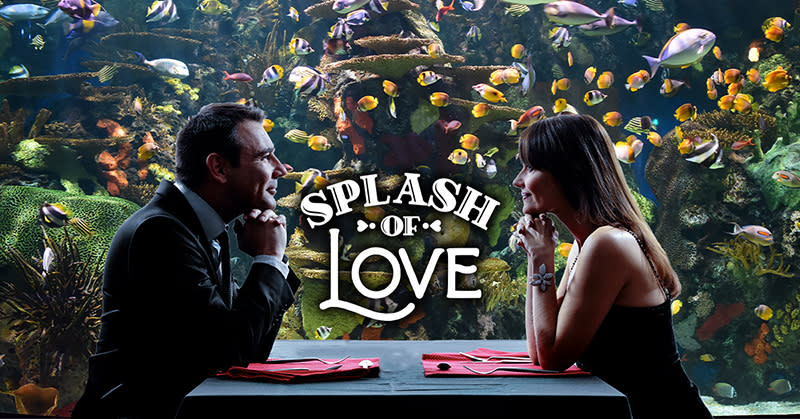 There are also several opportunities to get married or renew your wedding vows this Valentine's Day:
'Romance in the Gardens' at Brookgreen Gardens
Renew your wedding vows on Valentine's Day at Brookgreen Gardens! At 3 p.m., a non-denominational ceremony will be held at the boat landing at Brookgreen Creek, with a reception at Leonard Pavilion. Each couple will receive a personalized certificate and a professional photograph. Music provided by harpist, Rebecca Nissen. A Southern Cake reception will take place after the ceremony and champagne will be served, along with punch, cake, nuts, and mints. Each bride will also receive a miniature bouquet of flowers. The cost is $40 for member couples and $50 per non-member couples, which includes admission to the gardens. Event limited to 50 couples. Call (843) 235-6000 for tickets.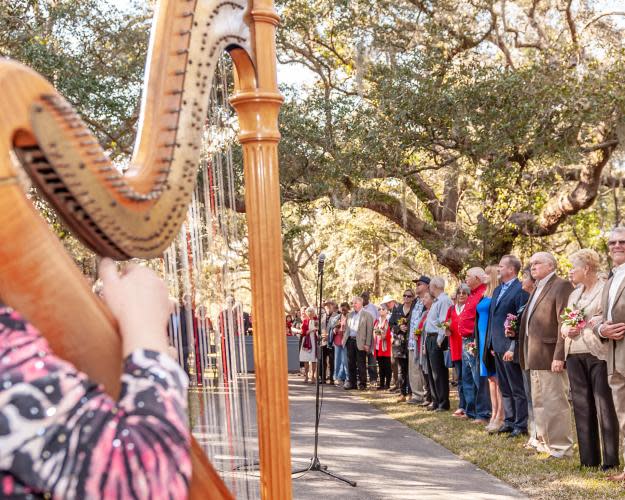 Kaminski House Wedding Deal
If you just can't wait to tie the knot, the Kaminski House Museum has a "sweet deal" for couples on Valentine's Day. They are offering couples an opportunity to get married on the lawn for $100.00. Couples will have 45 minutes to say their vows and pose for photography on the lawn.
Lulu's Tropical Re-Union Wedding Vow Renewal Ceremony
A Tropical Re-Union Wedding Vow Renewal Ceremony is definitely the most unique present you could give your spouse for Valentine's, and it's FREE. Couples can renew their wedding vows at LuLu's restaurant in North Myrtle Beach on Friday, February 14, at a 4 pm complimentary wedding vow renewal ceremony.  Arrive a little early to settle in and stay for the fun.  Couples will enjoy a romantic afternoon on LuLu's private sandy beach with a champagne toast, wedding cake, flowers for the brides and a customized commemorative wedding vow renewal certificate. Prizes will be awarded to the couples who were married the longest, shortest, and who are dressed the most festively. Register at LuLuBuffett.com/northmyrtlebeach/.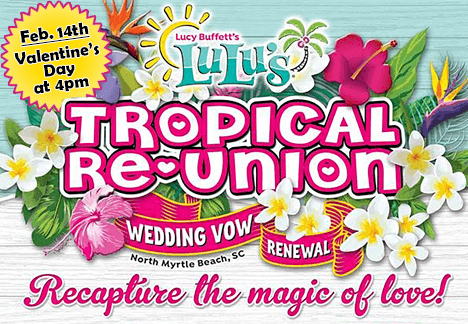 Click here for Valentine's Day deals and discounts or more Valentine's Day events.