St. Patrick's Day in Myrtle Beach: Where to Celebrate in 2019
If you're lucky enough to be spending St. Patrick's Day weekend in Myrtle Beach, South Carolina, here's a list of some of our favorite places to celebrate the lucky holiday:
North Myrtle Beach St. Patrick's Day Festival and Parade
The 31st Annual North Myrtle Beach St. Patrick's Day Festival and Parade is bound to be a huge event. It always is! The annual, one-day event features a large parade beginning at 9 a.m. on Saturday, March 16, followed by the festival lasting from 11 a.m. to 4 p.m. The festival features around 150 vendors from food to crafts to services and more and boasts three stages of live music and entertainment and a children's area with rides. This popular event happens rain or shine and attracts around 30,000 people each year. The festivities are located on Main Street in North Myrtle Beach and are all just a quick walk away from the beach.
Murrells Inlet Luck of the Marshwalk

This event is on Sunday, March 17th and offers a chance for attendees to try their luck and win over $1000 in cash and prizes. All are encouraged to dress up in their best St. Patrick's Day green, and secret leprechauns will roam around the parties from 2 to 8 p.m. giving out colored coins to their favorite costumed attendees. Additionally, participants can collect colored coins from each restaurant and bar along the Murrells Inlet Marshwalk. These coins give participants a chance to win one of the secret leprechaun prizes. Additionally, all Marshwalk restaurants will offer food and drink specials and live music throughout the afternoon and evening. Learn more on the event page. 
9th Annual Irish Fest at The Market Common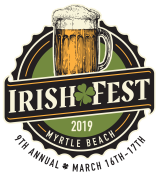 The family-friendly, TWO-DAY Irish Fest at The Market Common will take place on Saturday, March 16, and Sunday, March 17, in Grand Park (509 Farrow Parkway, MB). Saturday, the event will last from 11 a.m. to 7 p.m., and Sunday's hours are 12 to 6 p.m. The Irish Fest at Grand Park will feature live music throughout the day, beer, Irish food, craft, vendors and a variety of children's activities. Being located at The Market Common is a huge plus for this event, as there is usually tons of free parking nearby along with other restaurants and shops.
St. Patrick's Day on the Avenue
Popular Broadway at the Beach will be hosting a St. Patrick's Day celebration on Sunday, March 17, on the Avenue. Enjoy live music by The Kevin Nichols Band outside from 3 to 7 p.m. Participating restaurants will offer authentic Irish fare for purchase and plenty of green beer at this super fun street party.
Ripley's Aquarium Sharks & Shamrocks
Saturday, March 16, Ripley's Aquarium offers a way to partake in festivities for the holiday while also enjoying the beauty, entertainment, and excitement of the Aquarium. There will be special food and drink offerings throughout the venue including beer and Irish spirits plus there is a Lucky Scavenger Hunt for all ages with a chance to win a grand prize – Swim with Rays experience for 2 people as well as Ripley's swag pack!
As always Ripley's Aquarium offers a Local Discount to residents of Horry, Georgetown, Brunswick and New Hanover counties of half-priced admission and there is also always a Military and Veteran's Discount available with ID that is also half off for the service person and their dependents.
St. Paddy's Day Boulevard Bash
St. Patrick's celebrations are back on the Myrtle Beach Boulevard! Enjoy green beer and special activities all day with the beautiful Atlantic Ocean just steps away. Learn more on the event page. 
Looking for more events? Search Myrtle Beach area event listings.
Looking for Irish pubs and restaurants?
Try The. Ole. Irish. Pub., The Old Bull & Bush Pub & Eatery, Finn McCool's, or oceanfront Molly Darcy's.
Erin go Bragh!