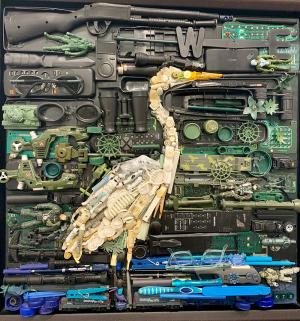 Can't You Sea? is a powerful new exhibit at the Burroughs and Chapin Art Museum running through September 8, 2019. Can't You Sea? brings awareness to one of our world's most immediate and biggest environmental problems--plastic ocean pollution—through artwork made from plastic found in coastal areas around the world.
Six artists/activists, Dianna Cohen, Alejandro Duran, Sayaka Ganz, Pam Longobardi, Aurora Robson, and Kirkland Smith, employ discarded plastic as both an artistic medium and as subject matter. One of my favorite pieces was composed of discarded lighters, and another was made from over 100 milk cartons that one Starbucks location collected in just one day. Local teens created an art installation inside of the lobby and outside of the museum, you'll find a large octopus sculpture full of collected plastic.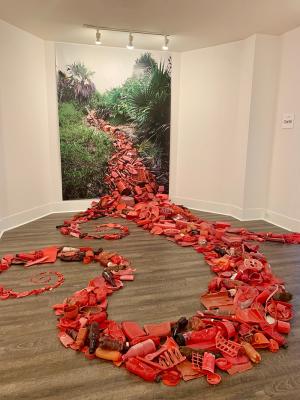 Throughout the summer the art museum will have a series of events, lectures, and summer camps to compliment the message. Attendees will meet artists, authors, researchers, state and local activists, educators and filmmakers. 
The Franklin G. Burroughs-Simeon B. Chapin Art Museum is free to visit and open Tuesday through Sunday. The museum is located at 3100 South Ocean Boulevard, Myrtle Beach, SC, just across the street from the ocean—making it one of the few museums in the world with this view!  They have a beautiful indoor porch where you can have tea and coffee, read a book, and take in the beautiful ocean scenery.