This past Valentine's Day--instead of our usual fancy dinner out--my husband and I took a couple's pottery class at the recently opened Lineta Pritchard Pottery Studio. The pottery studio is located downstairs at the Franklin G. Burroughs-Simeon B. Chapin Art Museum in Myrtle Beach (it's a lot easier just to call it the Myrtle Beach Art Museum) and offers a combination of different classes for all levels of experience.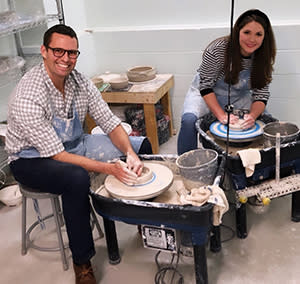 We took the class with two other couples, and we were all beginners. It was such a fun change of pace from a normal date night, and so neat to be creating something together as a group. The Art Museum's Lineta Pritchard Pottery Studio includes six pottery wheels, an area for hand-building, stations for glazing and cleaning, and a kiln room. For our group of six, we had two instructors helping guide us on wheel throwing bowls. It's more challenging than you might think, but we had excellent teachers offering instruction every step of the way.
We each created two different bowl type pieces and got to select glaze colors. The instructor, Arielle, said she would finish glazing and firing them for us, and they should be ready to pick up any day now! It was such a fun atmosphere, too. There was music playing, light snacks and we brought along our own bottle of wine to share. While there aren't any couples classes currently advertised on their schedule, I'm told they do plan to have more of them. If you're interested in a one-time group class like the one we took, I would give the museum a call to see about setting it up.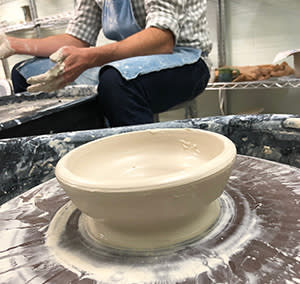 Otherwise, what they do have advertised includes two classes: a three-week session and a six-week session. The three-week sessions meet twice a week and the six-week sessions meet once a week. This is a great option for those visitors who come during shoulder season months for longer periods of time! Prices for the three- and six-week sessions are $250 for non-members. For the couples class, we paid $60/couple and found that to be very reasonable for all that was included.
While the Myrtle Beach Art Museum offers a plethora of children's programs upstairs, it is important to note the pottery classes are for ages 16 and up. And for those who are interested in taking a class, but wouldn't be around a couple weeks later to pick up your pottery, it sounds like the instructors might be willing to ship! The one-on-one attention and assistance at the Myrtle Beach Art Museum is just one of the reasons we love it so much. It makes a fantastic addition to any Myrtle Beach vacation itinerary, whether taking one of the pottery classes or just stopping by to visit the latest exhibits. To learn more about what they have going on this spring (including more information on the pottery offerings), check them out online at www.myrtlebeachartmuseum.org.