The Myrtle Beach area is known for its 60-mile long beach and a plethora of amazing attractions, but like most places, the region also has an interesting history. Most of the Grand Strand area resides within Horry County (pronounced O-ree), and residents and visitors are lucky enough to have the Horry County Museum at their disposal, so they can learn about the area's rich history and partake in many educational programs.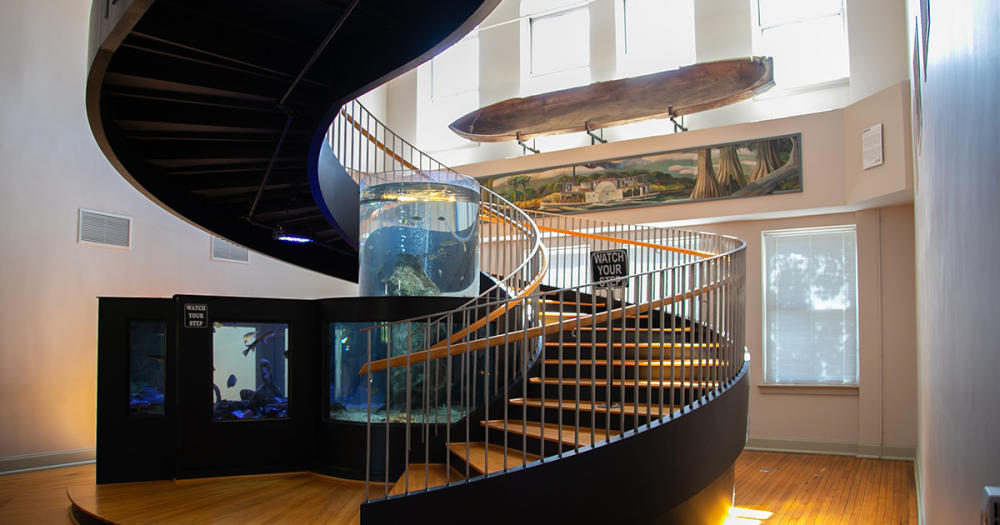 Did you know that Horry County was once home to Native American tribes, or that events from both the Revolutionary and Civil Wars played out here? Did you know that a century ago, the coastline was virtually vacant? The Museum offers exhibits on these topics and much more. There's a wall honoring local veterans who served in World War I and World War II, and there's an exhibit that includes a silver platter that was taken from the dining table of Adolf Hitler.
That's just a taste of what the Horry County Museum offers. Located just a few miles west of Myrtle Beach in the historic town of Conway, the museum is housed in the renovated 1905 Burroughs School, which is on the National Register of Historic Places. Here you'll find exhibits on natural history, textiles, development of the local tourism industry and more, and you'll also find an amazing photography exhibit. Enjoy the museum's magnificent lobby, which is graced by a sweeping staircase and a huge fish tank that was featured on the Animal Planet TV show, "Tanked."
In addition to the main museum, the Horry County Museum also developed The L.W. Paul Living History Farm which is also in Conway. At the L.W. Paul Living History Farm, you can witness various agricultural and domestic demonstrations that will show what life was like for a farm family in the early 1900s.
Events at the Farm change with the seasons, so check the website throughout the year to see what's happening. As the agricultural year progresses, events and demonstrations change to interpret the activities that take place on the Farm annually.
The Horry County Museum also offers various events that shed even further light on how our community has changed over the years. They work with schools and other groups to provide tours and field trips, free of charge. For more information, or to schedule a field trip to either Horry County facility, contact Marion Haynes at 843-915-7861.
A visit to the Horry County Museum is always an adventure. Check it out on your next visit to the Grand Strand area.
Before you go:
There's no charge to visit either the Horry County Museum or the L.W. Paul Living History Farm, but they do accept donations, so be sure to take a few extra dollars.
Horry County Museum address: 
805 Main Street
Conway, South Carolina 29526
Museum hours: Tuesday through Saturday, 9 a.m. - 5 p.m. (Excluding government holidays.)
L.W. Paul Living History Farm address:
2279 Harris Short Cut Road
Conway, SC 29526
Hours: Tuesday - Saturday, 9 a.m. - 4 p.m. (Excluding government holidays.)