I've participated in two cooking classes at Horry-Georgetown Technical College's beautiful International Culinary Institute over the past couple months and had so much fun learning new dishes-or new takes on old dishes to try at home. The fairly new International Culinary Institute (ICI) is striking in appearance but somewhat tucked away near The Market Common in Myrtle Beach, and I'm going to go ahead and call it a hidden gem for visitors to the Myrtle Beach area.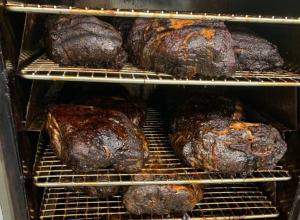 Their continuing education culinary courses are open to the public, usually take place in the evening or on weekends and are well priced (around $79), especially considering how participants can expect a generous meal and some leftovers. I attended a special shrimp and grits cooking demonstration and also a Latin American Cuisine class. Others that you can find include Best Italian Desserts, Caribbean BBQ Class, Fresh Homemade Pasta, Grilling at the Barbecue Pit, Paella and More, Cake Rolls and More, Youth Taco Truck and many others.
While the format of the class can change based on subject matter, in my experience participants first watch the chef/instructor demonstrate cooking each dish. Once they finish, you split into small groups and each prepare one of the courses of the meal. For the Latin American Cuisine class, we had four courses and four small groups. The chef and two assistant chefs walked around and helped out each group. We had all levels of skill in the class, from those who never cook to a few restaurant employees with experience in the kitchen.
After each dish was prepared, the entire 16-person class sat down together to enjoy the meal. It was almost more fun getting to sit down to a large dinner with new friends than it was cooking! From start to finish, the class lasted 3 hours, and we even received a certification of completion for taking the course. If you're someone who is interested in cooking or food in general, I feel confident you would enjoy it.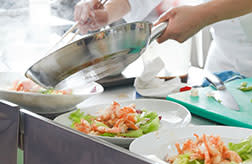 Here are a few things to keep in mind: These classes are small and fill up very quickly (a testament to how fun they are!). If this is something you want to do, check the schedule online and register ASAP. I registered nearly two months in advance, but online registration was easy and I received an email confirmation with additional instructions about location, dress, etc. While it's very easy to make friends in the class, my sister and I did it together and we both agreed that it was definitely more fun with a friend. I also noticed a few other couples were participating together, and it does seem like a fun alternative date night event.
For more information on all of the culinary classes offered, check out Horry-Georgetown Technical College online at https://www.hgtc.edu/jobtraining/class-search.html?subj=CA.