It's no surprise that a few years ago, Trip Advisor rated Alligator Adventure as the number one attraction in North Myrtle Beach, South Carolina. It's as unique an attraction as it is memorable, and a place I've enjoyed every time I've visited. Anything that involves learning about animals is fascinating to me, but even if I wasn't so interested in wildlife I think I would still find Alligator Adventure to be a worthy stop.
The 15-acre park features over 200 species of animals on display at any given time, from reptiles to other exotic animals, including birds and mammals. The stars of the show are--of course--the alligators, and the park features hundreds of gators alone. What I find most intriguing about the park is how up close guests can get to the actual alligators or crocodiles.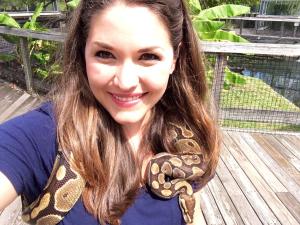 There are round the clock feeding shows and live gator handling shows by handlers that allow visitors a closer look at the behavior of these large apex predators. There is a snake handling show that allows visitors the opportunity to touch live snakes in a safe environment. And then there is the show featuring Utan, a 20-foot crocodile purported to be the largest on display in the United States. He weighs in at a whopping 2000 pounds!
Other notable alligator exhibits include one featuring albino alligators and one where hundreds of alligators sunbathe on shore of a natural lake running along the length of the park. The snake exhibits are also worth checking out, as they feature pythons, boas, vipers and other snakes native to the Carolinas. Newer exhibits that I also really enjoyed included hyenas (we got to see hyena puppies while there!), Chilean flamingos and tortoises.
I visited the park several times over my childhood and into my teenage years growing up in North Myrtle Beach. Recently visiting it as an adult was a treat, too, but it will probably be another year or so before I venture back with my boys in tow. At ages 3 and 6 months admission is free for them, but I'm afraid they wouldn't quite be able to appreciate all the park has to offer--even though I certainly would!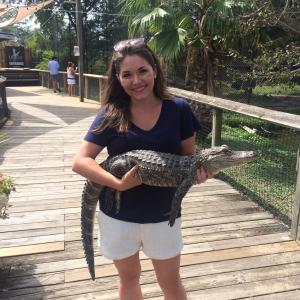 Alligator Adventure is open seven days a week and ticket prices range from $13.99-$22.99, depending on season and age. It is located along Highway 17 South in North Myrtle Beach near popular Barefoot Landing. One thing I like about the park is that if you purchase a ticket, you can receive a '2nd Day Free' pass that allows for free return admission within seven days from the purchase of your original ticket. For more information or to purchase tickets, check out www.alligatoradventure.com.
Watch the Video to Learn More about Alligator Adventure in North Myrtle Beach, South Carolina