Explore more than 20 African American cultural sites along the Grand Strand, in both Horry and Georgetown Counties.
The South Carolina African American Heritage Commission (SCAAHC) has created The Green Book of South Carolina, the first mobile web travel guide to African American cultural sites across South Carolina. This mobile book offers visitors and residents a user-friendly guide to celebrating and enriching cultural experiences across South Carolina, including several historic sites throughout the Grand Strand.  It's a contemporary homage to the original Green Book first published in 1936 that featured safe harbors and welcoming establishments for African Americans throughout the United States.
Below you'll find more than 20 African American cultural sites along the Grand Strand. If you know of additional sites that should be on this list, please complete the Suggest a New Location form at GreenBookofSC.com.
Horry County African American Cultural Sites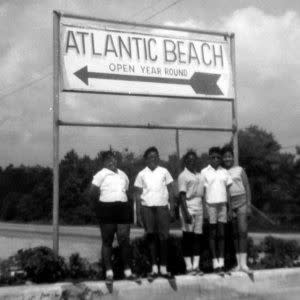 Nicknamed "The Black Pearl," this was established around 1934 as an oceanfront community for blacks denied access to other area beaches because of segregation laws. The area was one of the most popular beach resorts on the East Coast for blacks from Virginia to Florida. Its hotels, nightclubs, restaurants, shops, and pavilion were packed every May to September. As other area beaches began desegregating in the 1970s the beach saw fewer visitors. The town of Atlantic Beach, chartered in 1966, is one of a few black-owned and governed oceanfront communities in the United States. Marker erected by the Atlantic Beach Historical Society, 2005.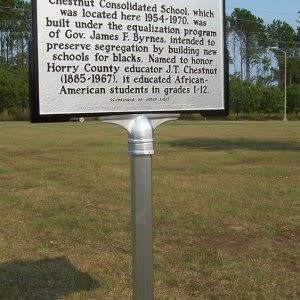 Located on this site from 1954-1970, this school was built under the equalization program of Gov. James F. Byrnes which intended to preserve segregation by building new schools for black students. Named in honor of Horry County educator J.T. Chestnut (1885-1967), it consolidated schools in several northeastern Horry County communities. The one-story brick building was demolished in 1995. Marker erected by the Chestnut Consolidated High School Alumni Association, 2011.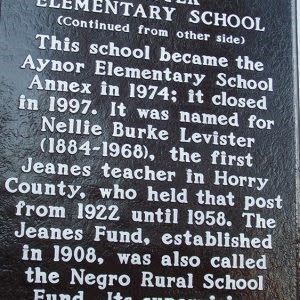 Georgetown County African American Cultural Sites
The first pastor of this c. 1865 church was Rev. Augustus Z. Carr. The present church building, constructed in 1882 of wood, is located approximately 100 feet from the original site. In 1908, the building was substantially remodeled and took its current appearance. The brick Gothic Revival building features two square crenellated towers on the front and gothic-arched window and door openings. Included in the Georgetown Historic District.